Celebrated Spanish actress Carmen Maura plays a ditzy mom in Mikael Buch's new gay romantic comedy Let My People Go! Maura, you may recall, was the unforgettable lead in gay Spanish auteur Pedro Almodovar's unforgettable hysterical farce from 1988, Women on the Verge of a Nervous Breakdown. That was Maura as Pepa Marcos, the pill-popping voice-over actor with the intensely colorful apartment. Certainly, a role as a Jewish mom in a zany family, including a gay son with a gorgeous Nordic boyfriend, sounds like a pretty perfect vehicle for more Maura.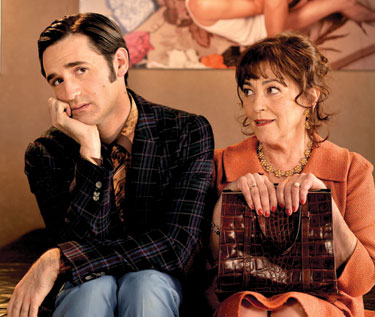 Let My People Go: Rubin & Mom
And Let My People Go! is also just the cream of the gay crop at this year's Washington Jewish Film Festival, one of the world's oldest and largest Jewish film festivals. The 23rd annual festival presents 55 films over 11 days, ending Sunday, Jan. 13, at the Washington DCJCC with Hava Nagila (The Movie). Oscar-nominated director Roberta Grossman's documentary focuses on the classic Jewish song and includes interviews with everyone from Harry Belafonte to Leonard Nimoy to LGBT-popular artist Regina Spektor. The French-language Let My People Go! – screening Thursday, Jan. 10, at the French Embassy and Saturday, Jan. 12, at the DCJCC — is just one in a special focus on French cinema, which includes the Thursday, Jan. 3, opening night film Paris Manhattan by Sophie Lellouche, screening at the United States Navy Memorial.
Other films of interest to LGBT filmgoers include: Bill Shelley's curated show of rare archival clips, "Lou Reed, The Velvet Underground, Nico, Andy Warhol and the Sounds of Dissent," set for Wednesday, Jan. 9, at the DCJCC; and Israeli gay filmmaker Tamar Tal's award-winning family documentary Life In Stills, screening Monday, Jan. 7, and Sunday, Jan. 13, at the DCJCC.
This year's WJFF also includes a novel pub crawl on Sunday, Jan. 6, with nine short films being screened over drinks at three bars on U Street, and all for just $30 including one drink at each bar. One short being screened is Shabbat Dinner, in which two gay boys explore their sexuality while their families argue over politics.
The Washington Jewish Film Festival runs to Jan. 13 at various locations. Ticket prices vary, while a festival pass runs $75, or $30 for those under 30. Call 202-777-3231 or visit wjff.org.