Anthony Wayne didn't grow up with Sylvester. In fact, the Norfolk, Va., native was only a kid when the flamboyant and openly gay disco legend died of complications from AIDS in 1988.
But the more Wayne learned about Sylvester, the more he was convinced that Sylvester "is one of the unsung heroes of this time, especially the way music [and culture] has evolved to what it is." Sylvester, Wayne asserts, "basically tore down barriers for people like RuPaul and all these other people now who are able to have the freedom that they do."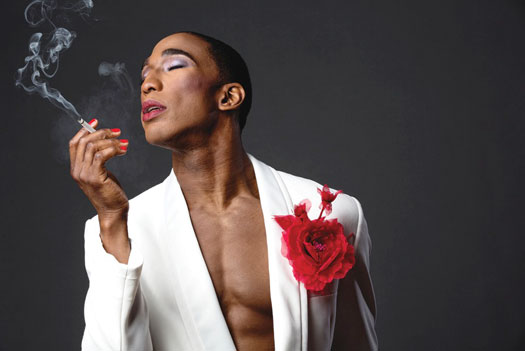 Anthony Wayne as Sylvester
(Photo by Nathan Johnson)
Wayne is a fledgling Broadway performer who the past couple years has appeared in Anything Goes and Priscilla, Queen of the Desert, and is now gearing up for the spring revival of Pippin. He was inspired to create a Broadway-style show in tribute to the life and philosophy of the man born Sylvester James and best known for his hits "(You Make Me Feel) Mighty Real," "Dance (Disco Heat)" and "Do You Wanna Funk." Wayne first presented Fabulous, One More Time: A Sylvester Concert last fall at New York's (le) Poisson Rouge nightclub. He's now bringing it to Washington for a one-night-only engagement at the Howard Theatre.
But it's not just a one-man-show. "Once they came down at the beginning singing 'It's Raining Men,' it was just like kismet," says Wayne, referring to Jacqueline B. Arnold and Anastacia McCleskey, who were two of the three phenomenal Divas suspended from the ceiling in Broadway's Priscilla. The duo will reprise that song in the show, portraying the Sylvester-supporting act Two Tons O' Fun/Weather Girls.
Says Wayne, "It's so exciting and so incredible to be able to pay homage to this man who paved the way for me to have the freedom and to make the choices and do the things that I'm doing." — Doug Rule
Fabulous, One More Time: A Sylvester Concert is Sunday, Jan. 27, at 8 p.m. The Howard Theatre, 620 T St. NW. Tickets are $25 in advance or $35 day of show. Call 202-588-5595 or visit thehowardtheatre.com.