Maryland Del. Heather Mizeur (D-Montgomery Co.), who could become the Free State's first out lesbian candidate for governor should she officially announce such a bid, announced Wednesday that she raised more than $155,000 over a 10-week period, but campaign finance reports show she still lags behind other potential rivals seeking to replace term-limited Gov. Martin O'Malley (D).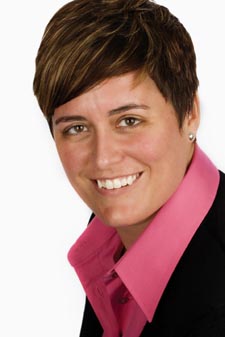 In an email sent to supporters, Mizeur touted that she raised $155,671 during the period from Nov. 1 to Jan. 9, compared to O'Malley, who raised $93,976 during the same period prior to his 2010 re-election fight.
According to campaign finance reports filed on the Maryland State Board of Elections website, Mizeur raised $248,831 in 2012 and has over $381,000 cash on hand. She reported in the email to supporters that she had raised $248,761.
Mizeur told her supporters that 64 percent of her contributors over the past year were donors who gave $100 or less. She also said that she was meeting many people across Maryland who encouraged her to run for governor in 2014.
"In every corner of the state, voters tell me they want a Governor with clear ideas for the future and a track record of results," Mizeur said in a statement. "I'm honored that so many are encouraging me to run, and I will never stop working to strengthen our economy, protect our natural resources, and ensure that every Marylander receives equal protections and rights under the law."
Mizeur, who has established herself as an advocate for education, small business, civil rights and environmental causes since being elected delegate in 2006, has seen her profile rise, even debating former Gov. Bob Ehrlich (R) on television regarding the 2012 presidential race. NewsTalk host Bruce Depuyt even jokingly referred to Mizeur making a run for governor official, billing the debate as "the former governor against the future governor."
Yet despite any support Mizeur may be getting on the ground, she's running behind several of her other opponents in fundraising, due in part to starting her fundraising much later than other Democrats. Attorney General Doug Gansler (D) filed a report Wednesday that showed he raised more than $1.2 million in 2012 and had $5.2 million in cash on hand. Lt. Gov. Anthony Brown reported raising $1.2 million during 2012 and having $1.6 million in cash on hand. Howard County Executive Ken Ulman reported he raised $1.1 million in 2012 and has $2.1 million on hand.
For Republicans, campaign finance reports show that Frederick County Commissioner Blaine Young, the only announced candidate for governor, raised nearly $450,000 in 2012 and has $349,000 in cash on hand. Harford County Executive David Craig raised more than $232,000 and has $202,000 on hand.
[Photo: Del. Heather Mizeur (courtesy of campaign website).]
[UPDATE: The original post incorrectly stated the year that Mizeur was elected to the House of Delegates. It has since been corrected.]