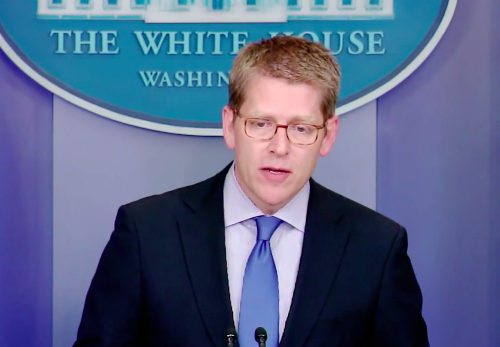 One day after the Supreme Court announced arguments on the two cases before the court regarding same-sex marriage are scheduled for late March, the White House is keeping mum on whether President Barack Obama will weigh in on the Proposition 8 case.
Asked by NBC's Peter Alexander if Obama would publicly oppose Proposition 8 and advocate for same-sex couples to have the right to federal benefits, Carney demurred.
"For comment on specific Supreme Court cases I would point you to the Department of Justice," said Carney. "On the issue of DOMA, the administration's position on this is well known and has been and that's that the president has determined that Section 3 of DOMA is unconstitutional and that his administration will no longer defend equal protection challenges against it in the courts. The DOJ has participated in the DOMA cases consistent with that position and asked the Supreme Court to resolve the question."
Carney added, "On Prop. 8, the administration is not a party to that case and I have nothing for you on that."
Asked again if the president would speak out actively, Carney reiterated he had no new information.
Although Obama has said he opposed California's Proposition 8, which amended the state's constitution in 2008 to ban same-sex marriage after already granting that right to same-sex couples, he has not addressed the broader issues raised in the rulings against Proposition 8, in particular whether he believes the U.S. Constitution prohibits states from banning same-sex marriage.
Plaintiffs in the case have urged the Obama administration to take a public stance on the case, and with lead attorneys Ted Olson and David Boies expected to raise that broad question in their arguments before the high court, they are urging President Obama to weigh in.
Asked by Metro Weekly at a press briefing on Dec. 11 if the administration would take a public stance on the broader questions raised by that case, Carney gave no new updates. In an interview with Time the following day for the magazine's annual "Person of the Year," Obama again refrained from weighing in.
"We are looking at the cases right now," Obama said. "I've already been very clear about DOMA, so there is no doubt that we would continue the position we're on, that DOMA is unconstitutional and should be struck down. And I think the Prop. 8 case, because the briefs are still being written, I should probably be careful about making any specific comments on it."
Yesterday, the justices announced the high court would hear arguments on the Proposition 8 case, Hollingsworth v. Perry, on March 26. On March 27, the justices will hear arguments on the DOMA case, U.S. v. Windsor. Rulings are expected to be issued in June.
[Image: White House press secretary Jay Carney (YouTube screenshot).]