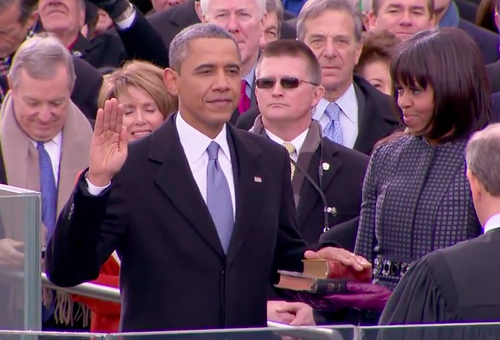 In an inaugural first, President Barack Obama called for full equality for "our gay brothers and sisters" during his second inaugural address.
Speaking shortly after Supreme Court Chief Justice John Roberts delivered the oath of office, Obama alluded to the Stonewall Riots and his support for marriage equality during his 20-minute speech.
"We, the people, declare today that the most evident of truths – that all of us are created equal – is the star that guides us still; just as it guided our forebears through Seneca Falls, and Selma, and Stonewall," Obama said, repeating a phrase he used during a Barnard College commencement speech in May 2012.
"Our journey is not complete until our gay brothers and sisters are treated like anyone else under the law – for if we are truly created equal, then surely the love we commit to one another must be equal as well," Obama added as the Supreme Court justices, who will consider two cases regarding the right of same-sex couples to marry later this year, sat feet away.
Obama's reference to LGBT equality – from the first president to openly endorse same-sex marriage – was a historic first that did not go unnoticed.
"It was beautiful," Sen. Tammy Baldwin (D-Wis.) said of Obama's reference to the 1969 Stonewall Riots in the same sentence as the 1848 women's rights convention in Seneca Falls, N.Y., and the 1965 civil rights march in Selma, Ala. "It was a beautiful tying together of the American tradition of making real our founders' words."
According to Human Rights Campaign President Chad Griffin, the reference to Stonewall was a "testament to the valiant contributions of LGBT Americans past and present who seek nothing more than to be treated equally by the country they love."
In a statement, Griffin said Obama's remarks were particularly important as the momentum for marriage equality continues to build.
"As the merits of marriage equality come up for debate from state houses to the halls of the U.S. Supreme Court, and a broad majority of Americans are standing up for liberty and fairness, the President's unequivocal support for equality is a clarion call that all Americans should receive with celebration," Griffin said.
Baldwin, who was sworn in as the Senate's first out member earlier this month, lauded Obama's second inaugural speech as hitting the "perfect tone."
"I thought it was really magnificent and, I think, it was what everyone was hoping for," Baldwin told Metro Weekly. "It was about how to bring the nation together in such difficult economic times and partisan times."
Among those who could be seen applauding the president's call for gay equality was Obama's 2008 presidential opponent, Sen. John McCain.
The Arizona Republican, who opposed the repeal of "Don't Ask, Don't Tell," told Metro Weekly that his applause did not signal a shift in his opposition to same-sex marriage.
"I was applauding his belief that all of us should be together," McCain said.
Obama's speech was not the only signal of a shifting political landscape on LGBT rights. The Rev. Luis Leon of St. John's Episcopal Church in D.C. delivered the benediction and made reference to gay Americans.
"We pray for your blessing, because without it, we will see only what the eye can see, but with your blessing, we will see that we are created in your image, whether brown, black or white; male or female; first-generation immigrant American or Daughter of the American Revolution; gay or straight, rich or poor," Leon said.
Leon replaced Rev. Louie Giglio, who withdrew from the ceremony shortly after an anti-gay sermon he delivered in the mid 1990s was unearthed by ThinkProgress. Four years ago, same-sex marriage opponent Pastor Rick Warren delivered the invocation despite protests from Obama's liberal base.
Richard Blanco also delivered his poem "One Today," becoming the first LGBT poet to participate in a presidential inauguration.
[Image: Obama takes the oath of office (Screenshot courtesy of YouTube.]
WATCH Obama's remarks here: