It's never as magical the second time around, but the second inauguration of President Barack Obama definitely offers plenty new to celebrate. After all, since the first inauguration in 2009 President Obama has become a supporter of marriage equality, and several states, including lovely Maryland, as well as D.C., have started granting marriage licenses to same-sex couples.
To most properly celebrate, the LGBT belle of the inaugural balls, of course, is HRC's Out for Equality, set for Monday, Jan. 21, at the Mayflower Renaissance Hotel. The event includes performances from Cyndi Lauper, Audra McDonald and her husband and fellow Broadway star Will Swenson, singer Frenchie Davis, comedian Ross Mathews and the Gay Men's Chorus of Washington D.C. And the $375 price tag also gets you open bar and cocktail buffet.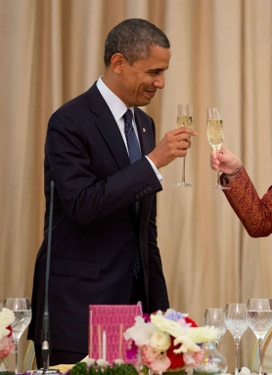 (Photo by Lawrence Jackson / WhiteHouse.gov)
Among other LGBT-related dress-up events, there's SMYAL's free Youth Inaugural Ball, co-sponsored by The DC Center, the city's LGBT community center, and intended for those younger than 21. Held Friday, Jan. 18, starting at 6 p.m. at Southeast D.C.'s THEARC Community Center, this ball includes free food and drinks and a red-carpet entrance. Meanwhile, the Center for Black Equity/DC Black Pride has put together an Inauguration Happy Hour, set for Sunday, Jan. 20, from 3 to 5 p.m. at Mova Lounge.
But what if you really want to let your hair down and have some fun? "I feel like there are plenty of stuffy events over the Inauguration," says Ed Bailey. Not so at Bailey's nightclub Town, where Saturday, he's booked international dance singer Kerli and DJ Hector Fonseca for what he's billing as "D.C.'s largest Inauguration Dance Party." And then Sunday, "we're going to kind of make fun of [the Inauguration]." The occasion is another WTF party, this time on both floors and dubbed the Glitter Ball, complete with the option of costumers getting "glitterbombed" — coated in hairspray before glitter is dumped on them.
Across town on Sunday, Ziegfeld's offers a special show celebrating three triumphs: the federal Martin Luther King Jr. holiday, the Obama Inauguration – and the birthday of the first lady of Ziegfeld's, the force of nature who goes by the name Ella Fitzgerald. Meanwhile, Phase 1 of Dupont – in the former Apex/Badlands space – offers a special Sunday night party celebrating Inauguration Eve. And the original Phase 1 in Southeast offers four nights of revelry it's packaging as Red, White & Booze: Inauguration Weekend 2013, including a night of burlesque with the DC Gurly Show Friday, and the mask-wearing party Masqueerade Saturday.
Whatever you do and wherever you go, don't get too drunk or stay out too late: The actual inaugural oath and address takes place Monday beginning around 11:30 a.m. on the steps of the U.S. Capitol. It's time for history being made a second time – and there's still magic in that.
For more info on these and other area gay bars, visit metroweekly.com/nightlife.