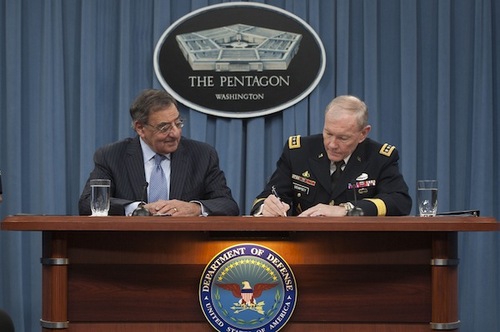 The same day the Defense Department lifted the ban on women in combat, advocates are calling on Defense Secretary Leon Panetta to immediately grant full benefits to same-sex military couples.
In a letter sent to Panetta today, Rep. Adam Schiff (D-Calif.) called on the outgoing defense secretary to take administrative action in order to grant the spouses of gay servicemembers a number of benefits still denied to them after the repeal of "Don't Ask, Don't Tell."
"Well over a hundred of these statutory benefits are contingent on marital status. These benefits will remain unavailable to legally married same-sex couples unless the Defense of Marriage Act (DOMA) is repealed or declared unconstitutional by the Supreme Court this year or individual statutes are modified by Congress," Schiff wrote. "In the meantime, there are several executive actions that you can take to ease the burden and increase the inclusiveness of all of our service members and their families."
According to the congressman's office, Schiff plans to circulate the letter among his colleagues. Among other things, the letter calls for Panetta to grant same-sex spouses military identification cards; access to Morale, Welfare, and Recreation programs; and allow access to family programs, including deployment support, marriage and family counseling, relocation assistance and financial management.
"Department of Defense current policy is treating same sex service members, their spouses and families as second class citizens," Schiff wrote.
The renewed call for Panetta to act comes two days after President Barack Obama called for full equality for "our gay brothers and sisters" in his second inaugural address and one day after it was first reported Panetta would lift the longstanding ban on women in combat.
Advocates, meanwhile, remain puzzled by Panetta's inaction. Allyson Robinson, executive director of OutServe-SLDN, praised Panetta for acknowledging gender has as much to do with being fit for combat as sexual orientation, but urged him to fulfill his commitment to gay servicemembers.
"This doesn't need to be complicated," Robinson told Metro Weekly, stating that the decision to lift to ban on women in combat seems significantly more complicated than the actions Panetta could take to extend benefits to same-sex military couples. "All of the studies have been done. The secretary knows exactly what he needs to do to grant the full sweep of those benefits and it could be done immediately. It continues to baffle me that he chooses to delay on these things."
After repeated calls for Panetta to act during the past 18 months, LGBT-rights advocates are now seeking to turn Obama's call for full equality on Inauguration Day into action.
The Human Rights Campaign announced yesterday that they are mobilizing their network of supporters to call on Panetta to issue military IDs to the spouses of gay servicemembers in an action launched yesterday. Although HRC believes the military needs to update all of their nondiscrimination policies, they are calling on Panetta to act on military IDs after the wife of a lesbian Army officer at Fort Bragg in North Carolina was denied membership to a private spouses club operating on the base because she was not eligible for a military ID.
The Pentagon recently backed the decision of Army leaders at Fort Bragg to not intervene in the case, citing a 2008 department Instruction that does not prohibit non-federal entities operating on military installations from discriminating on the basis of sexual orientation. Today, HRC also renewed its call for Panetta to take regulatory steps on his own to ensure equal treatment for gay servicemembers.
"Secretary Panetta can easily take regulatory steps on his own to ensure equality for the brave gay and lesbian service members and their families who already sacrifice so much for this nation," said HRC Vice President for Communications Fred Sainz in a statement. "We urge the Secretary to act immediately, and ensure all members of the armed services have equal access to housing benefits, military ID cards, legal services and spousal privileges. These regulatory changes can be made independently of existing federal law, like the Defense of Marriage Act."
Due to the lack of a universal policy, discrimination remains acceptable in certain branches of the military but not others. Earlier this month the Marine Corps ordered spouses' groups operating on Marine installations to grant access to the spouses of same-sex servicemembers or face eviction.
It remains to be seen if Panetta will act before leaving office. Former Sen. Chuck Hagel's Senate confirmation hearings for defense secretary are scheduled to begin Jan. 31. Hagel has promised to "do everything possible to the extent permissible under current law to provide equal benefits to the families of all our service members."
According to Robinson, she has received no indication that there is a willingness to act on this issue "beyond the fact that Secretary Panetta seems concerned with cementing his legacy."
"There is obviously a need for leadership," Robinson told Metro Weekly. "If you follow the story on the end of combat exclusion that initiation came from the chiefs. They have the courage to act on combat exclusions; they, thus far, have lacked the courage to act on these benefits for same-sex military families."
Indeed, earlier today White House press secretary Jay Carney told reporters the order to end the ban on women in combat was one Obama agrees with, but did not come directly from the president.
"This is something that he and the secretary have discussed in their regular meetings over time," Carney said of Obama and Panetta. "But obviously, this is a decision that is generated by the Joint Chiefs and the secretary, which is appropriate — not a directed decision. But it's certainly one that the president believes is appropriate, and I think that's a position he's held for some time."
After Panetta and chairman of the Joint Chiefs of Staff, General Martin Dempsey, lifted the ban on women in combat Thursday afternoon, Obama said in a statement he is "absolutely confident that — as with the repeal of 'Don't Ask, Don't Tell' — the professionalism of our armed forces will ensure a smooth transition and keep our military the very best in the world."
The White House has not indicated if Obama will directly order Panetta to act on granting benefits to same-sex military couples, instead directing requests for comment to the Defense Department. According to Cmdr. Leslie Hull-Ryde, a Defense Department spokesperson, "the Department is conducting a deliberative and comprehensive review of the possibility of extending eligibility for benefits, when legally permitted, to same-sex domestic partners."
Nevertheless, Robinson says Obama's views could not be clearer.
"I think the president made the 'commander's intent' crystal clear in his inaugural address," Robinson said. "It is the duty of the secretary and the chiefs to take the president's clear intent and finish the work we've begun with the repeal of 'Don't Ask, Don't Tell' by granting to the full extend under the law equal treatment to same-sex military families."
[Photo: Secretary of Defense Leon Panetta and chairman of the Joint Chiefs of Staff, General Martin Dempsey, lift the ban on women in combat (Courtesy of Erin A. Kirk-Cuomo/Defense Department).]
[Editor's note: This post has been updated to include a statement from a Defense Department spokesperson.]