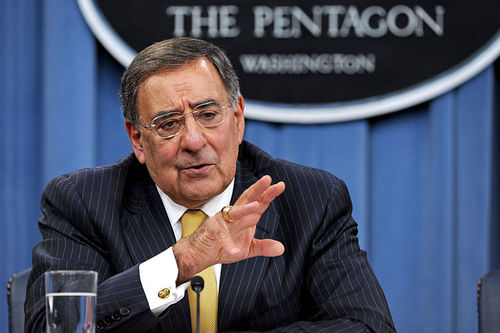 Following controversy at the Army's Fort Bragg in North Carolina, pressure is mounting on the Defense Department to issue new regulations granting the spouses and partners of gay servicemembers military IDs.
After a Pentagon announcement late Tuesday to back the decision by Army leaders at Fort Bragg to not intervene in the case of a military spouses club that denied membership to Ashley Broadway because she is ineligible to receive a military ID card under Pentagon regulations that refuse to recognize her marriage to another woman, Lt. Col. Heather Mack, LGBT-rights advocates are calling on Secretary of Defense Leon Panetta to update military policy.
"This situation would not have occurred if the Pentagon was not dragging its heels on updating military regulations to include the families of gay service members," said Human Rights Campaign President Chad Griffin in a statement released Wednesday.
First reported by BuzzFeed's Chris Geidner, the Pentagon's decision to back Army leaders at Fort Bragg comes one week after the Marine Corps instructed legal staff that spouses clubs operating on Marine bases must admit same-sex spouses or face eviction.
According to an email from the Marine Corps commandant's staff judge advocate obtained by the Associated Press last week, "We would interpret a spouses club's decision to exclude a same-sex spouse as sexual discrimination because the exclusion was based upon the spouse's sex."
"We do not want a story like this developing in our backyard," the email continued.
The actions by the Marines was not enough for the Army to follow suit, however, with an Army spokesman at Fort Bragg telling BuzzFeed that "federal discrimination laws don't extend to sexual orientation."
According to a Fort Bragg spokesman, "The Association of Bragg Officers' Spouses, to the judgment that we have here at Fort Bragg, are not in violation of federal discrimination laws because federal discrimination laws don't extend to sexual orientation."
A directive revised in 2008 before the repeal of "Don't Ask, Don't Tell" prohibits private groups operating on military bases from discrimination on the basis of race, color, creed, sex, age, disability or national origin, but has yet to be updated to include sexual orientation.
"It makes no sense that the spouse of a service member can face discrimination in one branch of the Armed Services yet be protected from discrimination in another," said Griffin, announcing that HRC would send a letter to Panetta today calling on him to immediately issue new regulations granting military ID cards to the spouses and partners of gay servicemembers.
HRC joins OutServe-SLDN in calling for the secretary of defense to update military policy. After the Marines announced an update to their policy regarding spouses clubs last week, OutServe-SLDN called on Panetta to "use his authority immediately to bring consistency across the services with regard to this issue and in doing so, a greater measure of equity to LGBT service members and their families."
With Panetta expected to be replaced by Chuck Hagel after his Senate confirmation hearings, Hagel has promised he will "do everything possible to the extent permissible under current law to provide equal benefits to the families of all our service members."
[Photo: Leon Panetta (Credit: R. D. Ward/Defense Department via Wikimedia Commons).]