Did you know Rachel Maddow wrote a song?
"I asked her if she wanted to sing it," says Erin McKeown. "She refused. She describes her singing voice as 'weapon-grade."'
So McKeown just sings the powerful, progressive fight song on her own. Titled "Baghdad to the Bayou," the two co-wrote it originally for a 2010 World Wildlife Fund benefit concert. McKeown has known Maddow since the lesbian MSNBC talk-show host's early days as a radio DJ on her local station in western Massachusetts. Other than one appearance on Maddow's former Air America radio show, the two had never collaborated before the new song, which closes out McKeown's pointed but playful new set Manifestra.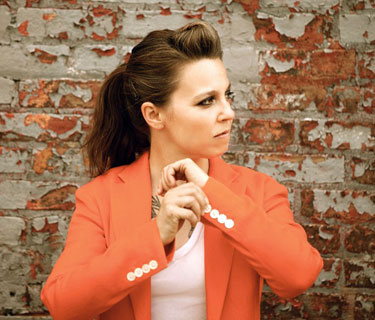 Erin McKeown
(Photo by Merri Cyr)
Science, not music, was on McKeown's mind as a kid growing up in Fredericksburg, Va. She didn't truly discover her passion and talent for music until attending Brown University. Her repertoire over the past 14 years is notably eclectic and experimental – though always tuneful, with strong melodies and clever lyrics expressed through a sweet, beguiling voice. In 2007 the normally folk-oriented pop artist released a phenomenal album of jazz and swing standards, Sing You Sinners. To her, it wasn't an aberration. "My music is completely based in swing," she reasons. "Even the stuff that sounds far away from swing has come from the same rhythmic place for me and just evolved through writing."
The wonderfully realized Manifestra is the first truly politically oriented album of her career – a reflection of the policy and social-justice activism she's increasingly taken on. McKeown, who identifies simply as queer, says, "There are a lot of reasons to make music, but for me, I need to make music for a community purpose now."
The political nature of the new material makes it especially appropriate for a show in Arlington the night of Obama's inauguration. McKeown has dubbed the show the "Teeny Tiny Big Ol' Inauguration Ball."
"I will be making policy recommendations after each song," she jokes.
Erin McKeown performs Monday, Jan. 21, at 8 p.m. Iota Club and Café, 2832 Wilson Blvd., Arlington. Tickets are $15. Call 703-522-8340 or visit iotaclubandcafe.com.