Sam Arora, the Maryland delegate who received a barrage of criticism from the LGBT community after he infamously switched from supporting and cosponsoring a marriage equality bill to opposing it – opposition that, along with several fellow Democrats, led House leadership to recommit the bill to committee, effectively killing the bill during the 2011 legislative session – dodged a question on a local news show earlier this month regarding what made him switch his position.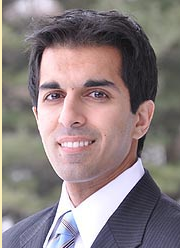 Arora, a Democrat from Montgomery County representing parts of Wheaton, Glenmont, Aspen Hill, Williamsburg Village and Laytonsville, was on WJLA's NewsTalk with host Bruce DePuyt on Jan. 8 discussing the agenda for the 2013 legislative session when a caller asked him why he had switched from supporting marriage equality to opposing it.
A similar bill to the one that was killed in 2011 passed the General Assembly in 2012, without Arora's support. After being signed into law by Gov. Martin O'Malley (D) and placed on the November ballot, 52 percent of Maryland voters agreed to uphold the law and allow gay and lesbian couples to obtain civil marriage licenses.
In responding to the caller's question, Arora did not give a specific reason as to his change of heart, saying, "I think a lot of us wanted the goal of full legal equality for all couples. We had different ways of getting there. Ultimately, the governor's bill passed, the voters approved it and I think one thing we can all celebrate is that gay and lesbian couples will have the same legal rights we all have, and the state is going to move forward now …."
When DePuyt interjected to push Arora on his cosponsoring the 2011 bill, Arora said his aim had been to find a way to give same-sex couples full legal equality, and thought he had found another way. Arora said he offered an amendment, but that the state didn't go along with his idea. But Arora did not cite any specific reason or influence for his change of heart.
When he first ran for the House of Delegates in 2010, Arora said he supported marriage equality, and came in third in the Democratic primary for one of three delegate seats available in District 19.
Maryland's chief LGBT rights group, Equality Maryland, had endorsed Arora's fellow delegates, Benjamin Cramer and Bonnie Cullison, and Democratic candidate Jay Hutchins during the primary, but supported Arora over two Republicans in the general election after he expressed support for a marriage-equality bill. But Arora later backed off of his campaign promise, shocking even his fellow delegates.
[Photo: Del. Sam Arora official photo (courtesy of Maryland General Assembly website). Video: NewsTalk interview with Bruce DePuyt (courtesy of WJLA).]