"I understand how it feels to feel different, and to feel like you want to find others, you want to find a community and be a part of something," says singer-songwriter Emeli Sandé. "I definitely didn't have that as a kid."
Sandé grew up the eldest of two daughters born to a mother from England and a father from Zambia. "Because I was, you know, very different from everyone around me up in rural Scotland," she says, her brogue becoming more pronounced when naming her home. "I think I just created my own kind of world with music. I just loved the big singers like Nina Simone and Anita Baker and Mariah Carey."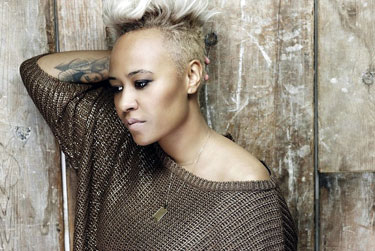 Emeli Sandé
Feeling different and gravitating toward big soul singers? Little wonder the gay community has been drawn to her. "It's always been the gay community that really connects first," she admits. "I have a big gay fan base, which I think is fantastic."
It was Sandé's dad who encouraged her to pursue a musical career – though, as a teacher, he also stressed the importance of education and getting a degree. In fact, Sandé was a pre-med student and had already earned a bachelor's degree in neuroscience when her musical career took off. That was three years ago.
But despite the science and medical background, Sandé's stunning debut album Our Version of Events is instead more focused on the traditional topic of love – in no small part a reflection on the fact that Sandé got married last fall. Love the album music fans did, on both sides of the pond. The album even topped a New York Times critic's year-end best list.
Says Sandé, "I want to make songs that I'm proud of, and music that will last a long time." '
Emeli Sandé performs Monday, Jan. 14, at 8 p.m. The Howard Theatre, 620 T St. NW. Tickets are $16 in advance, or $18 day of. Call 202-588-5595 or visit thehowardtheatre.com.