"When this opportunity started to develop, to really get great access at the [Washington National] Cathedral, and make some new images, I just sort of shook my head and thought to myself, 'This is why I left economics."'
Roughly 15 years ago Colin Winterbottom, a native of Rockville, left a career in economics to pursue his childhood passion of photography full time. Since then, Winterbottom has made his name capturing architectural landmarks and monuments in D.C. and beyond, generally rendered in black-and-white and at close range: classy and classic, yet anything but stuffy and staid. Winterbottom describes his approach as "trying to create images that have a kind of drama and soulful feeling; photographs that show not just what a place looks like, but how it feels to be there."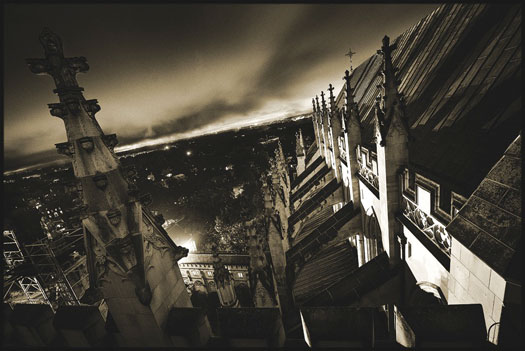 Storm Clouds
(Photo by Colin Winterbottom)
He was initially inspired to pursue urban architectural photography because he saw a niche for intriguing images, not just postcard-style glamour shots. "I was frustrated that all we really saw were [photos of] tulips in front of the White House, and that sort of thing."
Long View Gallery is currently presenting an exhibition of Winterbottom's photographs taken in collaboration with the Washington National Cathedral. It's a sneak peek of a larger, long-term exhibition that the cathedral plans to install in a gallery space this spring. The project, which grew out of Winterbottom's efforts documenting the work of structural engineers assessing damage from the August 2011 earthquake, aims "to give people a fresh way to look at the cathedral." It's also exactly the type of photographs that Winterbottom had long sought to make of the Cathedral.
"[Prior to this project] it was sometimes even difficult for me to visit the cathedral because I would think to myself, 'Boy, if I could just set up a tripod down here, or take a photo from up on a ladder to get really up into the vaulting – I could really do something more exciting."'
Gothic Resilience is on display through Feb. 10 at Long View Gallery, 1234 9th St. NW. Call 202-232-4788 or visit longviewgallery.com.