War is a drug on which human society appears to be hopelessly addicted.
That, at least, is the sad essence of An Iliad, Lisa Peterson and Denis O'Hare's intriguing contemporary adaptation of Homer's three-millennia-old epic poem. Though mostly focused on the key players, causes and events of the great, decade-long Trojan War, An Iliad veers from the outlines of Homer's script long enough to link that bloody past to our war-torn world's present. At one point Scott Parkinson, serving as the show's storytelling Poet, even spends a few minutes calling out the names of every major war that has afflicted Earth since the days of ancient Greece – all the way up to today's multiple conflicts in the Middle East.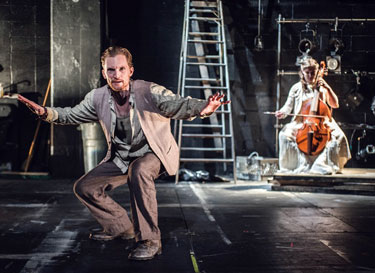 An Iliad: Scott Parkinson and Rebecca Landell
(Photo by Theodore Wolff)
That might sound uninvitingly didactic and heavy-handed on paper, but as performed at Studio the play is surprisingly compelling, even occasionally stirring. Naturally, as a one-man play – with incidental musical accompaniment by Rebecca Landell – such a feat is largely a credit to Parkinson. The Shakespeare Theatre Company veteran invests so much of himself in the role, you'd be forgiven for thinking he originated the part, or perhaps devised it as a star vehicle to effectively show off his full arsenal of actorly chops. Parkinson portrays 11 different classic characters throughout the 90-minute play, from a flamboyant Hermes to an honorable Hector to a seductive Helena.
But certainly co-adaptor Denis O'Hare also deserves a fair share of credit. A regular on HBO's True Blood who years ago won a Tony Award for playing the lead in Take Me Out, O'Hare was An Iliad's original actor when the show was first staged in New York last year. In adapting Homer's Iliad with Peterson, O'Hare helped incorporate enough action so that it didn't become simply a dry recitation of an unwieldy story. For example, the play's actor is instructed to get as carried away with rage as Achilles was while relating a couple of the Greek warrior's key battles. In those moments, you're not just asked to imagine some distant, remote, mythological scene – you are there. You sense just how heady war can be, and just how ugly war can make a man.