Does anyone just watch the game anymore? From betting pools to commercials to the halftime show, the punting, grunting and tackling over pigskin during the Super Bowl is almost beside the point.
Speaking of pools and halftime – and grunting: Who wants to bet Beyoncé will sing live this time around? Or that Kelly Rowland and Michelle Williams will join her for a short Destiny's Child reunion?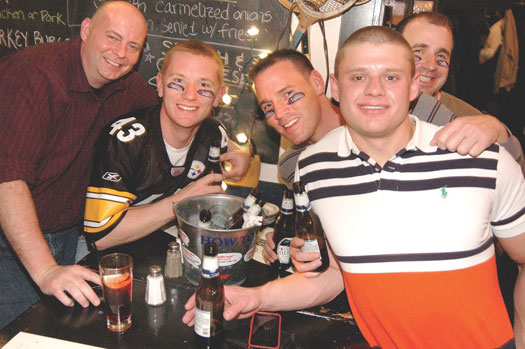 Nellie's Sports Bar in D.C.
(Photo by Ward Morrison)
Even if neither of those things happen, there are still other gay reasons to watch this Sunday's game between the Baltimore Ravens and the San Francisco 49ers, which starts at 6:30 p.m. Chief among them: watching pro-gay Ravens linebacker Brendon Ayanbadejo. "[Marriage equality] needs to be passed federally," he recently said. "Why not be the person to carry that message not only to the United States but to the rest of the world? I have this huge platform [via the Super Bowl]."
Pro-gay activism – to say nothing of actual gay identity – is still so rare among professional ballers as to make one root for the Ravens reflexively. Of course, there's also the fact that Baltimore is just up the parkway. And in that case, Club Hippo's Super Bowl Party, starting at 4 p.m., is probably the best place to go.
But if you're looking for somewhat more neutral turf – especially given the 49ers at least represent gay mecca – then there are plenty of other, closer options around. In fact, most, if not all, bars with a big-screen TV will be showing Super Bowl XLVII. From Mova Lounge to Green Lantern to Freddie's Beach Bar, there's a place for every gay in the village to go to enjoy the spectacle, with drink specials and camaraderie, maybe even a little flirting.
But if you want a little – or a lot – more, you won't go wrong at either of the region's LGBT sports bars. Nellie's will offer a special Super Bowl menu of nibbles and bits, plus a pool run by the Federal Triangle Soccer Club, along with its normal drink specials. PW's in Bowie will offer a free buffet, buckets of beer and other drink specials, and members of PW's Inferno softball team are expected.
But wait, other bars intend to entice. JR.'s will have a pool in which the winner will get $250, with another $250 going to charity. The 17th Street institution will also have on hand all the new beers advertised during the Super Bowl, plus its usual Sunday Funday drink specials.
The DC Eagle, paired with the Beltway Bears, offers its second annual Bears, Bowls and Balls chili cook-off, where $7 gets you a bowl of unlimited chili and hotdogs, plus one draft beer and dessert, starting at 5 p.m. Number Nine will offer its 2-for-1 happy-hour drink specials during the entire game, past the usual nightly 9 p.m. cutoff.
And finally, the DC Gay Flag Football League will once again touch down at the 18th and U Duplex Diner – though non-flaggers are also welcome to make a pass. In addition to various drink specials, the kitchen will offer po'boys and jambalaya in honor of New Orleans playing host to the game.
For more info on these and other area gay bars, visit MetroWeekly.com/nightlife.