Whitman-Walker Health, the local nonprofit community health center that specializes in HIV and other LGBT-related health issues, announced this morning it will open a new, modern "health care home" at 1525 14th St. NW as part of an expansion of the clinic's current services.
The new center will host the bulk of Whitman-Walker's patient services, providing a one-stop location where patients can be referred to a doctor, nurse practitioner and other specialists who will help with everything from ensuring patients obtain the appropriate tests to filling out paperwork or refilling prescriptions.
The new space of 43,000 square feet of space, secured via a long-term lease with Furioso Development, will expand Whitman-Walker's offerings for primary medical care, mental health and addiction counseling, dental care and legal services. The larger space will also house new services such as optical care, acupuncture and massage, pulmonary-function testing and a travel-medicine clinic.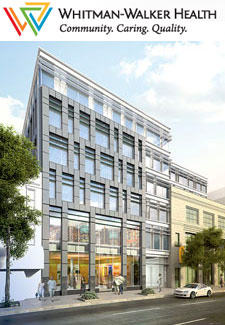 (Image via Whitman-Walker.org)
The construction and renovation of the new health care home will take about 18 months to complete, and should be ready for use by the spring of 2014.
"Whitman-Walker has nearly doubled our patient base over the past six years and we expect growth to continue as more residents access care through the new health reform law," Don Blanchon, executive director of Whitman-Walker Health, said in the Tuesday morning release. "This new facility will enable WWH to meet the health care needs of our community and provide the highest quality care in a 21st Century health care home."
According to Whitman-Walker, since 2009 the health center has experienced a 24 percent increase in the number of primary medical care patients; a 37 percent increase in the number of dental care patients; and a 29 percent increase in the number of people seeking the center's STD/STI Clinic. Even larger increases have occurred in the number of patients seeking addictions counseling. The number of mental health care patients being treated at Whitman-Walker has increased by 85 percent since 2009, prompting the community health care provider to seek a space larger than the one it currently uses for health services.
Blanchon told Metro Weekly in a follow-up interview that the "team model" of integrated health services that will be provided at the health care home has proven to be more effective in providing patients with comprehensive care.
He also said that Whitman-Walker would continue to occupy its Elizabeth Taylor Center location, at 1701 14th St. NW, to house its administrative services and to play host to various community health and wellness events.
Blanchon said the new health care home would fit well into its Logan Circle neighborhood, with many members of the LGBT community moving into new residential developments in the area. He said those LGBT people may increase Whitman-Walker's patient base as people seek affirming, comprehensive and culturally competent health care, particularly those who may not have previously had access to health insurance but who will under the newly implemented exchanges as part of the Affordable Care Act.
"People will have health insurance, but they will also have choices," Blanchon told Metro Weekly. "Whitman-Walker has always provided high-quality, affirming and culturally competent care. I expect we'll be able to continue that in the future."