Despite billing as "the first modern superhero," Zorro isn't strictly a superhero in Constellation Theatre Company's Zorro. In fact, in this entertaining stage adaptation of the famous tale, the sword-fighting crusader is portrayed as something of a foil for the man behind the mask, Diego de la Vega. Diego (a supremely charismatic Danny Gavigan) seems to gain inner fortitude the more he fights as Zorro, until eventually he makes his own stand, sans mask, identity revealed. The superhero then fades into an everyday hero – who gets the girl, natch – someone everyone can aspire to be.
In other words, even a skeptic, or a non-superhero fan, can warm to Janet Allard and Eleanor Holdridge's new take on this old story – and one that has been mostly absent from the stage. There's a British-born Zorro musical, with music by the Gipsy Kings, reportedly cutting a slow path to Broadway. Otherwise, Constellation's new, "world premiere" production seems to be the only theatrical Zorro of at least recent vintage.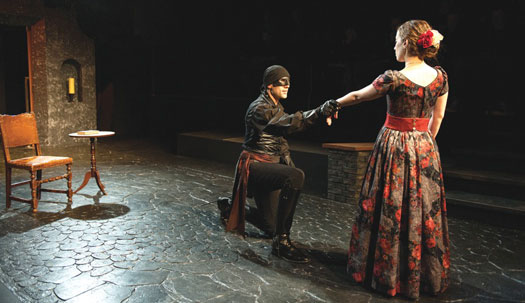 Zorro
(Photo by Andrew Propp)
Nearly a century old, Zorro started as a work of pulp fiction by Johnston McCulley, going on to inspire Disney, countless filmmakers, and creators of even more venerated superhero characters, most notably Bob Kane and his Bruce Wayne, aka Batman. But fighting crime and corruption anonymously, all while wearing a disguise, can only ever have limited appeal, at least to grownups. So the identity-revealing resolution, and Diego's resolve to grow up a stronger man, is key to the tale's success here.
Allard and Holdridge's Zorro adds still more charm in the way their lead female character, Lolita Pulido (a tart Stephanie LaVardera), refuses to be a hapless, put-upon pawn in a war over her affections waged by Diego and Capitan Ramon (Andrés Talero). In fact, this modernized Lolita eventually picks up a sword to fight for herself and her own choice in a mate.
The swirly story starts with Diego's return from school to his contested, colonial California village in the early 19th century, a time of violence and corruption. Lolita is turned off by Diego's half-assed, unsuccessful attempt to spare the honorable Fray Felipe (Michael Kramer) from public lashes by the corrupt "Fat Man" in charge of the town, Sergeant Gonzales (a gleeful Carlos Saldana). Meanwhile, Diego's patrician father, Alejandro de la Vega (Jim Jorgensen), pushes his son to seek Lolita's hand in marriage – something that Diego realizes will require super-human scheming to accomplish, ergo, he concocts Zorro. Meanwhile, Capitan Ramon asks Lolita's father for permission to marry his daughter – but Lolita's father Carlos Pulido (Carlos Juan Gonzalez) and mother Catalina Pulido (the vivacious Vanessa Bradchulis) would prefer she wed Diego. For her part, Lolita is uninterested in either man. But, naturally, she does take a shine to Zorro. So Diego as Zorro makes increasing nighttime visits to see the damsel, further complicating matters.
Zorro



-1/2
To Feb. 17
Source
1835 14th St. NW
$25 to $45
800-494-8497
www.constellationtheatre.org
The tall actor Danny Gavigan carries off his split personality role with aplomb – easily switching from a sonorous, svelte leading man in black leather as Zorro, to a foppish, effete Diego in dashing colonial garb. Naturally, Constellation's brilliant, Helen Hayes Award-winning costume designer Kendra Rai gets Gavigan and his cast mates off on the right feet, helping them all pop in fanciful, period-appropriate duds. Melissa Flaim also deserves credit for her work as dialect coach. Though some maintain consistency better than others, the cast speaks in a fetching Spanish-inflected, western-accented English. Casey Kaleba on sword-fight scenes and Mariano Vales and Behzad Habibzai on original music and sound all contribute their own kind of magic to the tale. And it's all further assisted by the decision of Holdridge as director and the company's A.J. Guban on sets to pack the audience on two sides of the action in a center stage in Source Theatre's black-box space. If you look closely, you can make out the letter "Z" – Zorro's trademark – in the layout.
It's just one way Constellation is leaving a mark.