There are only three things certain in life: death, taxes and petty arguments about the Oscars. (Well, four if you count Joan Rivers. She will outlive us all.) There's an inherent ridiculousness to the Academy Awards — it's basically a gaudy evening of Hollywood celebrating the genius that is Hollywood — but, isn't that why we watch? It's absurd, and entertaining and — if we're lucky — even a bit controversial. Sharpen your knives, people; Oscar night is coming.
Best Picture
The Academy nominated nine films for best picture this year, yet somehow The Master wasn't one of them. That snub alone is proof that the expanded race for the top Oscar doesn't solve any problems. Nevertheless, the nominees are an awfully strong crop, from the heartbreaking (Amour) and challenging (Zero Dark Thirty) to the classic (Lincoln) and pioneering (Beasts of the Southern Wild). Too bad none of them will win. It's been years since the Oscar for best picture was actually awarded to the best film nominated — or, even the second or third best — so, expect to see Ben Affleck onstage at the end of the night. Argo is a crowd-pleasing movie about the redemptive power of movies. It's all but guaranteed to win.
What Should Win: Beasts of the Southern Wild
What Will Win: Argo
Best Director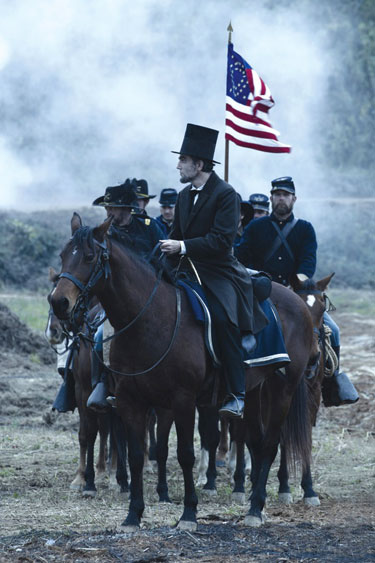 Lincoln
Every director nominated for an Oscar this year is brilliant. Each one stands out, but there's really only one way this race to end. Steven Spielberg is one of the great American directors ever and Lincoln is his superb return to grace. Let's hope he has space in his rec room for another trophy.
Who Should and Will Win: Steven Spielberg (Lincoln)
Best Actor
Everything I wrote about Spielberg? That goes double for Daniel Day-Lewis. He didn't just portray Abraham Lincoln — he made an indelible mark on American culture by creating an archetype of Lincoln. Now, when we imagine the 16th president, we imagine him through the lens of this magnificent performance.
Who Should and Will Win: Daniel Day-Lewis (Lincoln)
Best Actress
It's a damn shame that the foreign-language bogeyman stands in the way of Emmanuelle Riva taking home this Oscar. The work she does in Amour is stellar and deserves wider appreciation. Jessica Chastain is a heavy favorite to win this category for her subtle, strong role in Zero Dark Thirty, but keep an eye on this race — Quvenzhané Wallis could ekes out a surprise win for her wild-eyed performance in Beasts of the Southern Wild.
Who Should Win: Emmanuelle Riva (Amour)
Who Will Win: Jessica Chastain (Zero Dark Thirty)
Best Supporting Actor
I don't think I saw an actor last year who startled me as much as Philip Seymour Hoffman did in The Master. His manipulative, paranoid, megalomaniac cult leader was downright thrilling to watch. Sentiment tends to trump accomplishment on Oscar night, though, so expect to see Robert De Niro win for making an effort for the first time in a decade-and-a-half.
Who Should Win: Philip Seymour Hoffman (The Master)
Who Will Win: Robert De Niro (Silver Linings Playbook)
Best Supporting Actress
We all know how this is going to end, don't we? Anne Hathaway was the ringer of Les Misérables — she absolutely nailed a "I Dreamed A Dream" — and managed to do it all while Tom Hooper nearly shoved a camera down her throat. It's awfully unconventional to award an Oscar for one scene, but sorry, Helen Hunt. This isn't even a race.
Who Should and Will Win: Anne Hathaway (Les Misérables)
Best Original Screenplay
Look, I know that Moonrise Kingdom won't win an Oscar. The film has lovely dialogue, a surprisingly adept sense of developing narrative, and it reflects Wes Anderson's idiosyncratic sensibilities. Zero Dark Thirty has the legitimacy of a serious film, and it will likely win. A guy can still dream, though, right?
Who Should Win: Wes Anderson and Roman Coppola (Moonrise Kingdom)
Who Will Win: Mark Boal (Zero Dark Thirty)
Best Adapted Screenplay
David O. Russell accomplished the nearly impossible with Silver Linings Playbook — he got the Academy to recognize the significance of a romantic comedy. That's enough to win my support, even if it isn't enough to topple the Oscar behemoth that is Lincoln.
Who Should Win: David O. Russell (Silver Linings Playbook)
Who Will Win: Tony Kushner (Lincoln)
Best Animated Feature
Tim Burton's Frankenweenie is a great movie, but nobody has an Oscars category locked down like the folks at Pixar. They've won six of the last 12 Academy Awards for best animated feature, so even if Brave was atypical work for the studio, expect that dominance to continue.
What Should Win: Frankenweenie
What Will Win: Brave
Best Foreign Language Film
I hate this category. Lumping every foreign language film together is insulting to filmmakers involved and practically guarantees that none of their work will get the attention it deserves. Michael Haneke's Amour is one of the best films at the Oscars. How many people watching the Oscars will notice — or care?
What Should And Will Win: Amour
Best Documentary Feature
I want to think that How to Survive a Plague will win an Oscar. I want to think that it will win, and people will watch it, and a murky, terrible part of U.S. history will become better understood. I'm hoping I'm wrong, but I don't think a film as bleak as David France's can topple a crowd-pleaser like Searching for Sugar Man.
What Should Win: How to Survive a Plague
What Will Win: Searching for Sugar Man
Best Cinematography
Roger Deakins is the most influential filmmaker you don't know. He's the cinematographer of choice for the Coen brothers and Sam Mendes. He's consulted for Pixar. He's been nominated for an Academy Award 10 different times and he has never won. Skyfall is a gorgeous, visually captivating film — and it will finally give Deakins the Oscar he's long deserved.
Who Should And Will Win: Roger Deakins (Skyfall)'
Best Original Score
The swelling score John Williams composed for Lincoln emphasizes all of the sentimental, inspiring themes that made Spielberg's film so appealing to so many people. Williams isn't a lock — keep an eye on Mychael Danna, who was nominated for Life of Pi — but he's a heavy favorite.
Who Should And Will Win: John Williams (Lincoln)
Best Original Song
We all win if Seth McFarlane doesn't.
What Should and Will Win: "Skyfall" by Adele and Paul Epworth (Skyfall)
Best Visual Effects
A Bengal tiger amid stunning marine seascapes is much, much more impressive to see than a bunch of short, hairy dudes surrounded by stuntmen in motion-capture suits.
What Should Win: Life of Pi
What Will Win: The Hobbit
Best Makeup
Visual effects aside, those hobbits sure do look convincing.
What Should And Will Win: The Hobbit.
The DC Center will be hosting its annual Oscar-viewing-party fundraiser, "Glamour, Glitter and Gold," Sunday, Feb. 24, at 7 p.m. at Town Danceboutique, 2009 8th NW. Tickets are $15 general admission, or $45 for VIP, which includes special seating, hors d'oeuvres and a swag bag including movie tickets and movie-related merchandise. Visit the thedccenter.org.