Jawbone's UP wristband is a fantastic piece of tech. Lying dormant on the wearer's wrist like futuristic jewelry, its sleek and minimalist exterior carries no evidence to the power contained within its $129 body. Incorporating a pedometer, activity monitor, idleness alert and sleep tracker, it combines with a smartphone app to allow users to monitor their general health and well-being via activity, sleep and diet. The data can be shared with others to create virtual social activity clubs, generating targets and comparing with friends to spur further activity. It's a contemporary, chic approach to fitness tracking, and it's a great way to keep on top of your health. It has, however, one obvious, inexcusable flaw.
The UP connects to a smartphone via a hidden connector, which inserts into the phone's headphone socket. This allows it to sync with the device, sharing its collected data and updating the user's stats. This is all simple and easy-to-use stuff, so what's the problem? The app at the center of the UP's healthy universe, with which it syncs and generates its data, is iOS only. If you don't own an iPhone, iPad or iPod Touch, you can't use the UP, as it lacks any other syncing tech – it can't even connect to a PC. Jawbone has shut out every other ecosystem in favor of Apple's OS.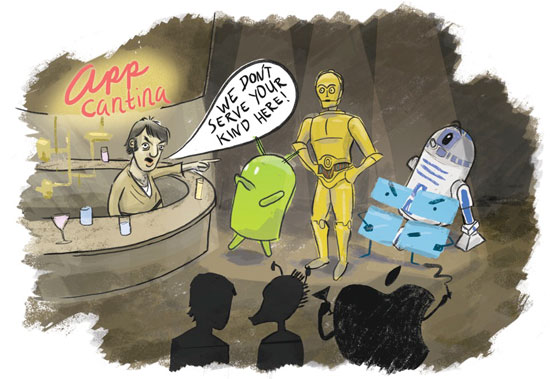 Now, iOS is huge, there's no arguing that. According to Apple, they sold 75 million iPhones, iPads and iPod Touch's around the world between October and December. In that same period, Apple shipped almost 18 million iPhones in the U.S., becoming the No. 1 manufacturer of phones for the first time. Jawbone is tapping into a market large enough to guarantee there will be sufficient demand for the UP. They could leave the UP as iOS-only, and enjoy lucrative success.
This would be fine had Jawbone, like many manufacturers, designed the UP specifically for the iPhone. Except, they didn't. As far back as 2011, when the first generation UP was released, Jawbone confirmed to press that an Android app would be released "soon." Someone needs to explain to Jawbone the definition of soon. Glance at their Facebook page and it's filled with posts from Android users eager to purchase the UP, with each offered a generic response – they have no ETA, it's coming soon, they'll be notified upon availability. It's vague and frustrating.
Jawbone's complacency is nothing new to Android users. Many developers, when crafting an app, choose iOS as their lead platform before porting over to Android after launch. For indie developers, iOS is much more attractive – a small pool of devices, a large user-base, and less worry over compatibility and bug-fixing. Android's vast array of choice is also its Achilles' heel, as the sheer number of screen resolutions, processors, versions of Android and manufacturer software customizations can wreak havoc with an app, and add delays and additional cost to the testing and development stage – two things an upstart developer or studio must avoid.
Windows Phone is a much better alternative from a development standpoint, with strict hardware guidelines, no carrier or software overlays, and timely updates to keep each handset's firmware in check. Its problem, though, is market share.