Madonna might have urged us all to "strike a pose" and "vogue," but the women of Casa Ruby have taken that instruction to heart, creating a labor of love that will see them in the spotlight through the year to come.
Casa Ruby, a multicultural community center that specifically caters to the Latino and transgender communities, is set to launch a calendar featuring 12 transgender women affiliated with the center. The "calendar girls" were chosen from a group of 30 to model clothes, makeup and hairstyles – looks created with assistance from graduates of Casa Ruby's first makeup-artistry class. That inaugural two-month class ended in December.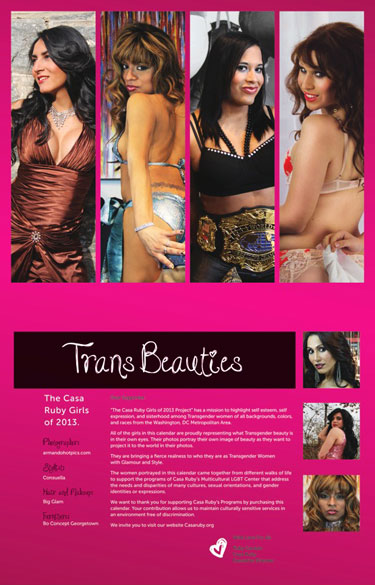 Casa Ruby Girls of 2013
The makeup-artistry class, taught by local makeup and hair artist Eduardo Carcamo of V Glam Cosmetics, is intended to provide transgender women and others who wish to work in the fashion industry with a "crash course" in styling, teaching them skills that will enhance their employment opportunities, particularly with beauty shops or salons. A second-makeup artistry class is scheduled to start with orientation on Saturday, Feb. 9, 9 a.m. to noon.
Aside from Carcamo, the principal work on the calendar came courtesy of several others working behind the scenes. Consuella Lopez, who produced the calendar, was joined by her fellow stylists Rithy Lon, Jason Paul and Neven Radovic of Nival Salon and Spa for hair. BoConcept in Georgetown offered space for the shoots, executed by Armando Trull. Rene Kauder of Stella & Dot handled jewelry.
To launch the calendar, Casa Ruby's founder, local transgender activist Ruby Corado – who along with Lopez and Trull chose the models for the finished product – has scheduled two events for that Saturday. First, at the GALA Hispanic Theatre, there will be a three-hour exhibit, 3 to 6 p.m., at which Casa Ruby students will showcase displays they have created highlighting each month. The women who model the months will be on hand to autograph calendars.
A second event, later that evening at Ziegfeld's/Secrets nightclub in Southwest D.C., will feature a runway show starring the women of Casa Ruby, followed by a party.
Each calendar costs $20, and for every calendar sold Corado has promised to donate $1 to the DC Trans Coalition, another group with which she is actively involved. Calendars may be purchased in person, or online at casarubycalendar.org.
The calendar launch will serve as one of Casa Ruby's biggest fundraisers to date, helping the community center continue its educational programs such as makeup artistry and medical assistance, as well as support Casa Ruby's drop-in center, helping people with clothing, food and referrals to city agencies.
"I always try to give them something when they come," she says of the center's clients. "Whether it's food, clothing – whatever I can out of my pocket or off my back."
When Corado, who emigrated from El Salvador to escape that country's civil war, first set foot in the District in 1986, she recalls there were almost no services for the Latino community in D.C., and none for transgender people. She had to rely heavily on the support of new friends and acquaintances within the LGBT community, and now sees herself as continuing that tradition at Casa Ruby. Even though District agencies have since become more responsive to the needs of the LGBT community, Casa Ruby, under Corado's leadership, provides an alternative means of assistance for those who don't want to deal with or may be intimidated by a government bureaucracy.
"This is a safe space," Corado says of the center. "Everyone is welcome. People can drop in, they can spend time here, they can use the computers at our cyber center, have some snacks. I want to do anything I can to provide them with resources they need."
Casa Ruby's calendar launch and fundraiser will be held Saturday, Feb. 9, from 3 to 6 p.m. at the GALA Hispanic Theatre, 3333 14th St. NW. Casa Ruby is located at 2822 Georgia Ave. NW. For more information, call 202-355-5155 or visit casaruby.org. The drop-in center is open Monday to Saturday, noon to 8 p.m.