For some Washington-area residents, Tracks, the iconic Navy Yard gay nightclub that closed its doors in 1999, is a venue that will be with them forever. Losing Jay Schmidt, however, may make that memory all the harder to hold.
A fixture of the club's front bar, Schmidt greeted untold thousands to Tracks. His longtime friend and former Tracks coworker, Patrick Little, has taken on the sad responsibility of spreading the news among the Tracks community — news given him by Schmidt's sister — that his friend died last fall of coronary disease. Little says he learned of Schmidt's passing about two weeks ago.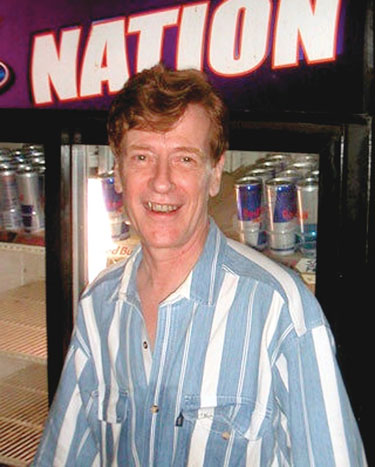 Jay Schmidt
(Photo by Patrick Little)
Schmidt, who began working at Tracks in 1984, would greet newcomers and chat them up, serving a side of sincerity and genuine kindness along with customers' drinks, Little attests – as do dozens of Facebook posts paying tribute to Schmidt.
"The best way to describe Jay is a gentleman's gentleman," says Little. "He was that steadfast bartender, entertaining, loyal and reliable. He genuinely cared about his customers and his close friends.
"At the time we worked together at Tracks, being gay, the only time you could fully express yourself was when you were at the bar, and Tracks was so big that you needed someone to hold your hand at times. Jay was that guy to many people."
Schmidt, born and raised in Pottstown, Pa., graduated from Duke University, then went to work for a pipe-organ business. He worked at Tracks on Thursdays, Fridays and Saturdays as a bartender and manager until the club's closing. After Tracks, Schmidt worked at Navy Yard's Nation nightclub until 2006, then at Club Five. He also served as a bartender for Revolution, an alternative dance party in the D.C. area.
A fan of classical music, Schmidt was particularly interested in Anglican pipe-organ music. Little recalls accompanying Schmidt to Washington's National Cathedral to listen to the pipe organ played there. Schmidt was also an avid reader who loved history, and would talk at length about various historical events. Little says these interests were obvious to anyone visiting Schmidt's Dupont Circle apartment, where he maintained extensive collections of books and music.
"He could talk with anybody about anything," says Little.
Robert Mendenhall, a longtime Tracks patron who knew Schmidt well, remembers Schmidt being "as iconic to Tracks as Tracks was iconic to D.C." Mendenhall describes a scene with Schmidt always being the face that welcomed him to Tracks, always the bartender who remembered his drink of choice.
"Jay Schmidt was such a nice man," says Mendenhall. "He had a special quality when he tended bar that most bartenders are missing now. What impressed me the most is he always greeted me whenever I would run into him outside of the club with a hug and a kiss, and a genuine interest in how you were doing."
Posting to Facebook, Little has advised those mourning Schmidt's passing that Schmidt's sister is planning a memorial event for sometime in the spring, and that he'll share those details once they become available. There is no doubt, however, with Schmidt being such a central figure in a large chapter of D.C. gay history, that the Tracks Reunion Weekend 2013 planned for April won't be full of past patrons sharing memories.
"Jay was such an incredible man and loved by so many," Little says. "All of us that knew him will miss him dearly."