It's the very picture of domestic life. Sandra Bernhard is at home in New York City. Her girlfriend, Sara, is at the store picking up something for dinner. Her 14-year-old daughter Cicely is watching a basketball game at her new school. And the dog is back.
"Hold on one second," Bernhard says. "George, my dog, just came home." She excuses herself for a moment to talk in cute, funny voices to her pup.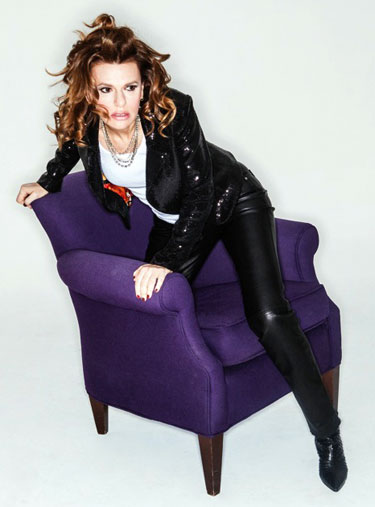 Sandra Bernhard
(Photo by Kevin Thomas Garcia)
"George goes off with his New York pet concierge every day," she says. "We've had him three-and-a-half years. We got him when he was eight weeks old at the North Shore Animal League. We're so proud of him. He's grown into such a fine young man."
She laughs after the last line. It resonates, but why? Oh, that's right. It was part of her WASP parody from her show and movie, Without You I'm Nothing, now more than 20 years old. In that instance, it was Mrs. Jensen talking about her boy, Chip.
It's a classic of the Bernhard canon, but, at 57, it's just a slice. There was King of Comedy, countless appearances on Late Show with David Letterman, her characters Charlotte Birch (The L Word), Nancy (Roseanne) and Roz (Crossing Jordan), her books, her albums, her stage shows, and more. Her cartoon voiceovers alone offer an impressive résumé. Bernhard is comedy and drama, singing and standup. Most importantly, she is uncompromising.
Family life may have mellowed Bernhard a bit, but she's still full of fight and bite. And, as always, she's genuinely kinder than her image might indicate. That is, of course, as long as you don't fuck with her. Assuredly, there is a warrior inside Sandra Bernhard.
METRO WEEKLY: You look as fit and strong as ever. What's your secret?
SANDRA BERNHARD: Everything in moderation. I love to eat, but I never eat crap. I never eat anything hydrogenated or just downright bad. But I might have a piece of cake or a piece of pie, something that's fun. It's moderation, and I do work out quite a bit. I walk a lot. I don't drink. I don't smoke. I've never done drugs.
MW: You don't drink anymore?
BERNHARD: I never drank, sweetheart.
MW: Oh. I thought you had the occasional gin and tonic or whatever.
BERNHARD: Well, yeah. By "occasionally" we're talking once or twice a year. I'm just not a drinker. I don't like the taste of liquor. I'd say it's probably a blessing. It's just nothing good comes out of it.
If you've had a big drinking problem and you've been a fucking mess and you fucked up your life a hundred times, you cannot make it. You can't keep it up. It breaks a body down. It breaks the mind down. You cannot do it. So the children are cleaning their shit up.
METRO WEEEKLY: The show you're bringing to D.C. on March 2 — I don't see a title for it? How is it being billed?
BERNHARD: The show's called I Love Being Me, Don't You? It's the title I've been using for the show for the past two years. There are so few places I've actually gone to. I'm just really starting to go back out on a much more diversified, intensified tour of many cities I haven't been to in a long time. And the show has completely evolved since I recorded it live in San Francisco two years ago. I'd say it's at least 80 percent different since then. It just keeps going through evolutions. It's a real mixture. A lot of things influenced my work over the years. From burlesque to standup to cabaret to theater to rock 'n' roll – it's all a big blend. I'll have my band with me. It's evocative. It's sexy. It's personal. It's big. It's small. It's all over the place.
MW: There is no particular mood?
BERNHARD: It's moody. [Laughs.] It's mood-y.
MW: Are you familiar with Anthony Wayne, New York-based artist with the show Fabulous One More Time: A Sylvester Concert? He was at the same venue, Howard Theatre, late January.
BERNHARD: No, I don't know him. I should know him, since Sylvester has been such a big part of my oeuvre.
MW: The venue itself is pretty incredible.
BERNHARD: Oh, I know. It's a revival of the great, black theater. I'm excited to be there. I wish I could come in the day before, but I'm also doing two nights at Frostburg [State] University in Maryland. So I can't even come in before and fully absorb my Washington, D.C., experience, which is a bummer. But sometimes a girl has to do what a girl has to do.
MW: You can pretty much keep up with us on C-SPAN. Although, the Obama White House has made the city alittle more hip.
BERNHARD: That's why I'm hoping I can get Michelle out to my show on Saturday night. Maybe not. A girl can hope. "Mm-mm, can't be seen with that white girl; I've got enough trouble on my plate."