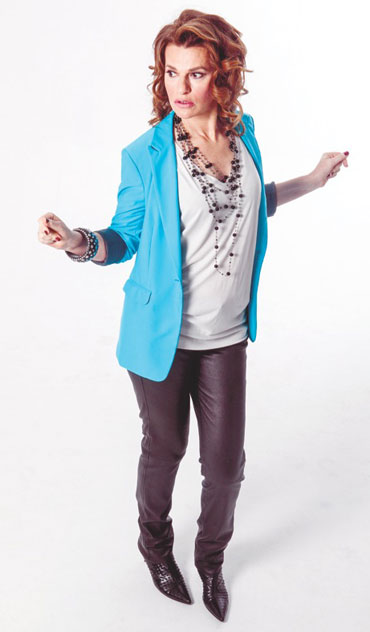 Sandra Bernhard
(Photo by Kevin Thomas Garcia)
MW: Being D.C., will your show get a little more political than it might elsewhere?
BERNHARD: Yes and no. The amount of political stuff in my show now is sort of just fun. There's really nothing to say. You don't need to hit anybody over the head. Thank God for Rachel Maddow and that whole crew. I don't feel like I need to take that on. I want to have some fun. There might be a smattering of that, but not what you'd expect. It's not a bitchfest about what's going on. We're all burned out from the second election. Everyone needs a break – a psychic break.
The senators, the Republicans, all the people that fall from grace – that's always ripe for fodder. But when you live in D.C., does anybody really want to hear that shit again? There's got to be a way of doing it that's a little more creative, and hopefully that's what I do. I don't want to be that person who goes on talk shows and shit. I'm not a talking head, per se. I'm no good at memorizing the talking points. That's a very specific thing. Like my friend Lizz Winstead, who's brilliant, she can sit there and talk the nuts and bolts of politics. But I cannot.
MW: Well, one last thing on politics. New York got marriage equality no so long ago. Was that a big deal to you?
BERNHARD: Well, I guess it's a step in the right direction for a lot of people. I think it's different for me because I'm a performer. I've always approached my life in such a different way, anyway. I had my baby on my own. I met my girlfriend a year after I had my baby. So I don't really follow the typical rules. And I don't have to. I have a certain amount of financial independence and freedom that most people do not have.
I can say that my girlfriend and I are domestic partners in California, and I just got her on my [Screen Actors Guild- American Federation of Television and Radio Artists] insurance, which adds $300 a month. Is that enough of a commitment? [Laughs.] How much does the bitch need? [Laughs.]
MW: Speaking of New York, did you get out for Fashion Week this month?
BERNHARD: You know, I actually went to shows for the first time in a very long time.
I went to these young designers, Tome. I went to their presentation. They've been making some very cute shit for me. Then I went to Rag & Bone, because I'm very, very good friends with the designer, who's married to Gucci Westman; they live in my building. That was a fabulous show, and they turned me out. Then I went to Ralph Rucci, who's also a friend of mine who dresses me for the super-duper glamorous moments. Then I went to Thom Browne, who's also a friend, and who's been giving me some tiny, shrunken suits.
I like to wear things I look great in. I like people who push it to the outer limits, who are artists, people who love what they do like I love what I do. Those are the clothes I like to wear and the people I like to hang out with. These are my friends, people that actually dress me. I thought it was appropriate. As a matter of fact, in the Eric Wilson review of Thom Browne's show, he quoted my Twitter from the other day. The New York Times needs to cut the bitch a check!
They were all great, great shows and really fun and unique. It was fun to step back into that world again.
For a while, there were all these people, there was no reason for them to be at Fashion Week. They're not associated with fashion. They don't have any passion for fashion. I've been in it, around it, since the late '80s, and I really love it. It was always so special to me. And I try to bring something special to it and add to it. So when everybody else and their sister started going, I was like, "I just gotta back off this shit. I don't wanna just be one of those stupid people in the front row." But this time there weren't too many people there, almost nobody I recognized.
MW: Did you take a break because fashion had become too accessible?
BERNHARD: It was another place for people to come and be publicity whores. The Kardashians, all these people who are not really part of the sensibility of fashion, the emotion of fashion.
MW: Like the Kardashians, fashion makes me think of reality TV, like Project Runway, RuPaul's Drag Race. You've been critical of celebrity, so I'm wondering what you think of reality TV. Is it making celebrity more egalitarian, or is it just out of hand?
BERNHARD: It's satellites circling. There's the extreme, trashy reality 15 minutes, and this other satellite of great, talented people, shows like Downton Abbey, Girls, interesting shows you can find all over the place. Eventually, I think people will come back around to things that have resonance, with people that actually write things, produce things, direct things, act in things.