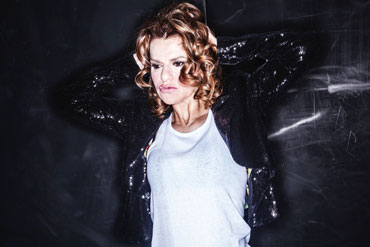 Sandra Bernhard
(Photo by Kevin Thomas Garcia)
MW: You were doing a show on Logo, right? DTLA?
BERNHARD: Yeah, that was a little scripted show. I filmed a couple of episodes. A friend was involved in it, asked me to come and do it. It was cute, kind of a dramatic role. That was fun. But they did it and Logo picked it up. It wasn't like they did it for Logo. It was a cool little gay soap.
MW: So, no other TV plans?
BERNHARD: Oh, I very much do have TV plans. My friend David Brind who wrote a film called Dare that I had a small part in, he'd coming up with an idea for me and another actress. I'm not even going to talk about – I want this shit to happen, so you can't put it out there. I'm going to L.A. next week to have a meeting with David and this actress. We're going to sit down and come up with our pitch, and then I go back again in April. Then we go to all the different networks and pitch it and then, insha'Allah, somebody picks it up and we shoot the pilot and then, insha'Allah, they pick it up. So that's something I'm really working on right now.
I'm also working on a show that I want to create based on my life when I first came to L.A., as a manicurist by day and performer by night, called 351 North Canon, which was where I was a manicurist from 1974 to 1979. It would be based totally on my early years in L.A. It won't be me starring in it – it will be some fun, groovy actress. At night, she's off doing all the crazy things she does and performing and falling into the whole crazy gay-disco scene and being a fag hag, this crazy bisexuality of that time, the wonderful friends that I made…. It will be a real slice-of-life. I want it to be fun, but real. A little bit dramatic. It's one of those shows that could really cover the whole time period.
MW: As a former shampoo boy, I can't wait.
BERNHARD: It's an ambitious project. There are so many period pieces now and I just think that '70s thing has not been done. And it's all hung around my character, this girl who's this big explosion of fun and light and unbridled enthusiasm. The salon I worked at had hanging macramé baskets of vines and greenery and was all woodsy. I want to recreate the sort of crazy all-over-the-placeness of the time, and the simplicity, pre-Internet, which made it so different.
MW: Now I'm going to have a hard time getting the theme song from Three's Company out of my head. Moving to the other side of the Atlantic, I want to ask about Morocco. Is that still a special place of you?
BERNHARD: I'm sitting here staring at my incredible antique map, "Maroc," a French map of Morocco, probably from 1930 or something, in my living room. Morocco is always sort of my dream. Hopefully, I'll go back sometime in the next year. The years go by and we've just been so frigging busy. But, yeah, it's really kind of my spiritual homeland. It just washes over you when you're there – the colors, the smells, the people, the music, the spiritual journey of it for every minute you're there. It's amazing. It's like nowhere else and it's been untouched in so many ways by modern civilization. You have a wonderful opportunity to step back in time.
MW: You talk about being busy, and I'm reminded of looking at your filmography recently. I had no idea just how extensive it is. TV shows, movies, shorts, voiceovers…. You must be a workhorse.
BERNHARD: Yeah, I kind of am. It's funny. I really go about it in such a relaxed way. I've never been one of those performers with a big, overarching plan to my career. Things have just sort of fallen into place. I've met people in a very natural, organic way, who have become collaborators, people I've worked with for a while. Sometimes you just move on. I'm a Gemini, so I'm very, very fluid. I've very open to the endless journey. That's why I love Morocco – the winds just take you. I love that experience. It's like floating through life, knowing that every time you get on that plane you might meet the next person who takes you to that next level. It's a great thing. I've always stayed very open. You constantly become inspired and your work is always fresh. You're never like, "What am I going to do next?? How am I going to do it??" As an artist, you can't force what's next. It just has to happen.
MW: Then you have the mortgage payments.
BERNHARD: You still have your dates on the books. You go do your gigs. Hopefully, you get that TV show, do this, that, and the other thing. I'm just talking about the naturalistic experience of being a creative person. You can kind of do both. Of course you have to work, but while you're working you can stay open to all sorts of incredible people and experiences.
MW: But are you a little more cautious now that you have your family?
BERNHARD: I think I avoid people I know are going to be totally crazy at this point. Before I had my daughter, I would probably throw myself into situations that were a little more risky. I don't mean like physically harmful, but like people who might waste my time or drain my energy. Now I definitely assess the situation before I jump fully into it. She's my first priority and it takes so much energy to be a mother, and to also be the full financial support of the family. My girlfriend is freelance and somebody has to be here to anchor the place when I'm on the road, so there's a lot of responsibility on her shoulders. We work it out in a way that's healthy for both of us. It's totally co-parenting. Sara is just as much a mom as I am. Sara has been my partner for our entire relationship with Cicely.