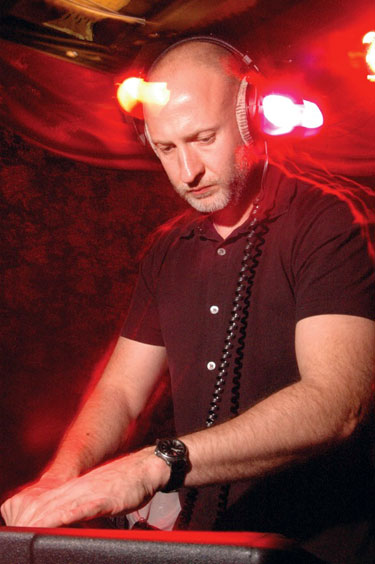 Bob Mould
(Photo by Todd Franson)
MW: Have you thought about what sparked all of this television exposure now? You've been on the music scene for decades, after all.
MOULD: A bunch of things. I think the autobiography helped to galvanize the core audience. I think that sent the first signal. I think the Disney Hall tribute in November of '11 showed maybe the influence that my work has had on people. I think the Sugar reissues was sort of a momentous thing – the Copper Blue was a really big record 20 years ago, and it still means a lot to people. So by putting that out there, and then having the good fortune of a really strong complementary rock record — Silver Age — to come out right behind it, was good planning I guess. I think there's also been an early '90s alt-rock revival, and maybe I caught some of that. Just right place, right time. We all do what we think is really great work, and sometimes nobody notices. Other times, the timing is right.
MW: Rich, this year you'll be making your return to the stage at California's famed Coachella Festival, after first appearing there a few years ago as part of the Bob Mould Band.
MOREL: Yeah, my band Deathfix. We're starting our U.S. tour on March 8th. We're going out for almost four weeks, but it's sort of split up with a couple breaks in between. And then we're going to be playing Coachella in April, which is really exciting for us, because this is for our first release. It's two weekends in April. And then after that we have tentative things that aren't locked down. So whenever we are trying to schedule a Blowoff, it's confusing. But it's a great situation to be in.
MW: Talk a bit about Deathfix.
MOREL: It's something I started with Brendan Canty, who was originally in Fugazi. We've since added Mark Cisneros and Devin Ocampo on bass and drums. We recorded the album last year, and now are in the middle of rehearsing for the tour and getting set for the release. I'm completely delighted with the record, because it's a real collaborative effort with all four of us. And it's a great live experience. When we play, a lot of stuff is improvised. It's new ground for me on that front. And it's been really exciting. I'm eager to get out on the road and show up in people's towns.
MW: I understand Canty was also in the Bob Mould Band. I guess that makes Bob the connector?
MOREL: Bob is the connector. Didn't you read the press release? [Laughs.] He introduced me and Brendan. In 2005.
MW: But on top of that you still have your Pink Noise remix and production work as well?
MOREL: Yeah, I'm doing a new song with Jody Watley. A club record. We're writing it together. I had sent her a track a year ago, and then she did vocals and sent it back. And now I'm working on a proper mix. And I brought in my bass player from Deathfix, Mark Cisneros, to play basically Chic-sounding bass, which sounds amazing on it. So that's in the works now. I'm not sure when that's going to come out. She sounds awesome on it. I mean, you know her voice the minute you hear it. She just sounds fantastic. '
MW: Are you still working with Cyndi Lauper? I know she's got her musical Kinky Boots with Harvey Fierstein coming to Broadway this spring.
MOREL: Yeah, I wrote a couple songs with her for that musical. She has a reality show now too. So there's a lot happening with Cyndi. I'm not presently working with her on anything. '
MW: You mean you're not part of the reality show?
MOREL: I was on the phone in the reality show. I didn't see it, but I got messaged that there was a phone conversation happening and I was the person on the other end of the phone. So my voice has been on it, that's all I know. [Laughs.]
MW: Back to Blowoff, I wanted to ask both of you if you think you'll be throwing the party 10 years from now?
MOREL: Absolutely, if we're having as much fun and it's as successful as it is now.
MOULD: It's been a great 10 years. We've just had such a great time, and D.C. has always really been the home for us in this. New York has been great. San Francisco, we had four years where it was really solid. Now we're giving it a rest, because there are a lot of other parties that are in the spotlight right now. San Diego's been great. Chicago every year over Memorial Day [and International Mr. Leather] is awesome. Bear Week in Provincetown in July is huge for us.
But D.C. is home. That's where we started this thing, and people have been so supportive here. We didn't know this party would get big, we didn't know the party would have the influence that it seems to have had on gay nightlife. We didn't see any of that coming, so, 10 more years of it? Sure, why not?
I know since Blowoff started and got real popular there have been other parties that started traveling a lot. I'm really content with what we've got. I think we keep it pretty special, and I think people appreciate that. It feels like we're sort of an anchor event for a lot of the bigger get-togethers, like IML and Bear Week.
MW: Any chance for new Blowoff music in the future, even another Blowoff record?
MOULD: Yeah, at some point it would be good to get back together and try to write a couple things.
MOREL: That would be great.
MOULD: When Rich and I started working on what became the first Blowoff album, we had fucking no clue as to what we were actually trying to do, again. I think that's with all of this stuff. You just get together and you try to figure out strengths and weaknesses and similarities and things like that. And you end up with these songs. Since we've known each other and worked together for 10-plus years, I think there's like a bigger vocabulary, a bigger knowledge base to work with, so it could be really fun.
MOREL: Also, I think this is the longest that I've consistently worked with somebody, 10 years. That's a long haul.
MOULD: Same here. My first band back in the '80s had an eight-year run. Since then I've been real fortunate to work with a lot of different great musicians, but 10 years is the longest working relationship I've had.
And it's been a wild 10 years. I think we helped to change nightlife in D.C. And I think it might have helped the neighborhood become a little gayer over there.
The 10th anniversary Blowoff is this Saturday, Feb. 9. Doors at 11:30 p.m. Nightclub 9:30, 815 V St. NW. Tickets are $12. Call 202-265-0930 or visit 930.com or blowoff.us.
For more information on Bob Mould, visit bobmould.com. For more on Rich Morel and Deathfix, visit morelworld.com.