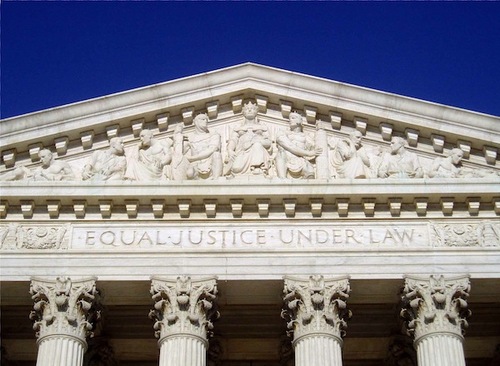 Opponents of California's Proposition 8 filed their one and only brief with the Supreme Court before oral arguments are scheduled to begin next month, arguing that the measure "denies gay men and lesbians their fundamental right to marry in violation of the Due Process and Equal Protection Clauses."
"This Court has characterized the right to marry as one of the most fundamental rights — if not the most fundamental right — of an individual," attorneys for the American Foundation for Equal Rights, led by Ted Olson and David Boies, argue in the 54-page brief.
The brief also states that the case, which concerns a measure that amended California's Constitution in 2008 to ban same-sex marriage after already granting that right to same-sex couples, deserves "heightened scrutiny" due to the history of discrimination faced by gays and lesbians.
"With the full authority of the State behind it, Proposition 8 sends a clear and powerful message to gay men and lesbians: You are not good enough to marry. Your loving relationship is not equal to or respected enough to qualify to be called a marriage," the brief reads.
Because of their sexual orientation—a characteristic with which they were born and which they cannot change—Plaintiffs and hundreds of thousands of gay men and lesbians in California and across the country are being excluded from one of life's most precious relationships. They may not marry the person they love, the person with whom they wish to partner in building a family and with whom they wish to share their future and their most intimate and private dreams. Although opening to them participation in the unique and immensely valuable institution of marriage will not diminish the value or status of marriage for heterosexuals, withholding it causes infinite and permanent stigma, pain, and isolation. It denies gay men and lesbians their identity and their dignity; it labels their families as second-rate. That outcome cannot be squared with the principle of equality and the unalienable right to liberty and the pursuit of happiness that is the bedrock promise of America from the Declaration of Independence to the Fourteenth Amendment, and the dream of all Americans. This badge of inferiority, separateness, and inequality must be extinguished. When it is, America will be closer to fulfilling the aspirations of all its citizens.
The brief is a preview of the oral arguments Olson and Boies will present to the Supreme Court justices on March 26. The high court is expected to issue a ruling in the case by June.
It remains to be seen if President Barack Obama will weigh in on the Proposition 8 case and the broader arguments raised by the plaintiffs, including whether same-sex couples are protected by the Constitution to marry. In an interview with San Francisco's KGO-TV yesterday, Obama demurred from weighing in.
"The solicitor general is still looking at this," Obama said. "I have to make sure that I'm not interjecting myself too much into this process, particularly when we're not a party to the case. I can tell you, though, obviously, my personal view, which is that I think that same-sex couples should have the same rights and be treated like everybody else, and that's something I feel very strongly about and my administration is acting on wherever we can."
Yesterday, the Associated Press reported the Obama administration has not yet made a final decision as to whether to file a "friend of the court" brief, according to a senior administration official. The administration's deadline is Feb. 28.
[Photo: Supreme Court building (Courtesy of Wikimedia Commons)]
Read the full brief here: