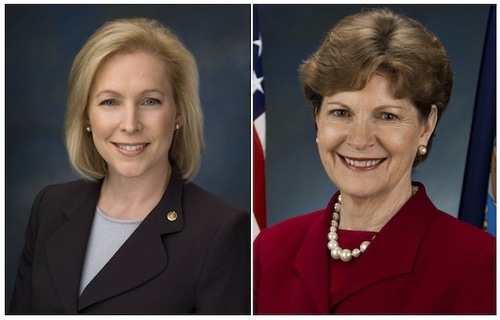 Coming on the heels of the Pentagon's decision earlier this week to extend certain benefits to same-sex military families, members of the House and Senate introduced legislation this week that would grant full benefits to gay servicemembers and their families.
With the Pentagon forced to limit the number of benefits extended to same-sex military families due to the Defense of Marriage Act, lawmakers are hoping to change the definition of "spouse" in various regulations to include same-sex couples.
Rep. Adam Smith (D-Wash.), the ranking members of the House Armed Services Committee, introduced the Military Spouses Equal Treatment Act on Thursday, which would change the definition of "spouse" in various areas of U.S. code related to recognition, support and benefits for married servicemembers and veterans.
The Senate version of the bill was introduced today by Sens. Jeanne Shaheen (D-N.H.) and Kirsten Gillibrand (D-N.Y.) as the Charlie Morgan Military Spouses Equal Treatment Act, named after the 48-year-old New Hampshire National Guard Chief Warrant Officer Charlie Morgan who died of breast cancer Feb. 10.
"The story of Charlie Morgan offers a powerful example of why we need immediate action to end LGBT discrimination in our military," said Shaheen in a statement. "Charlie served on the front lines for our country, but because of her sexual orientation her family is wrongfully being denied many of the same benefits given to those who stood beside her. That is an unacceptable reality and I'm committed to doing all I can to make sure that no spouses, children and families are denied benefits they have earned and rightly deserve."
Added Gillibrand, "This legislation is an important step forward in achieving full equality for all of our men and women serving and fighting for our nation."
Shaheen announced the legislation on the floor of the Senate yesterday, the same day funeral services were held for Morgan in New Hampshire. Morgan was a public advocate against DADT and a plaintiff in OutServe-SLDN's lawsuit challenging DOMA and other federal statutes that deny benefits to gay servicemembers. Due to DOMA, Morgan's widow, now a single parent to the couple's 5-year-old daughter, is not eligible to receive various military, Social Security and other benefits.
"This bill would make sure that servicemembers and veterans with same-sex spouses receive the same benefits as their heterosexual counterparts," Smith said of the House version of the bill in a statement. "All spouses of those serving in our Armed Services make tremendous sacrifices for our country, and no one should be prevented from receiving hard-earned benefits simply because they are the same sex as their partner."
According to OutServe-SLDN, the bill is necessary even if DOMA is struck down by the Supreme Court because it addresses separate laws governing support and benefits for military members and veterans and would provide greater uniformity of benefits for same-sex spouses.
"Treating service members equally, without partiality or favoritism, is one of the most basic principles of sound military leadership," said Allyson Robinson, executive director of OutServe-SLDN, in a statement. "For this reason, equality for LGBT troops and their families is a national security issue. Commanders should not be forced to treat some service members like second-class citizens because the federal government does not recognize their marriages."
[Photos: Sens. Kirsten Gillibrand (left) and Jeanne Shaheen (Courtesy of the U.S. Senate).]
Watch Shaheen's Senate floor speech honoring Morgan here: