President Barack Obama will award the Presidential Citizen Medal to the late Jeanne Manford, the White House announced today.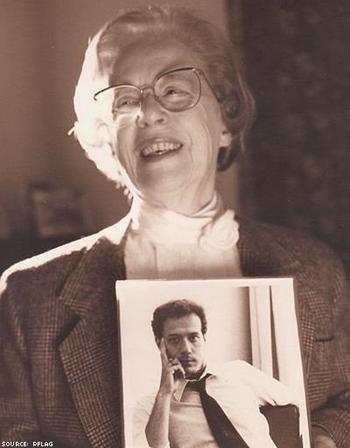 Manford, who died in January at the age of 92, founded Parents, Families and Friends of Lesbians and Gays (PFLAG) and was one of the LGBT-rights movement's first straight allies.
"It is my distinguished honor to award these individuals the 2012 Citizens Medal for their commitment to public service," Obama said in a statement announcing the 16 recipients. "Their selflessness and courage inspire us all to look for opportunities to better serve our communities and our country."
The White House received nearly 6,000 nominations for the medal, which was established in 1969 to recognize Americans who have "performed exemplary deeds of service for their country or their fellow citizens." The medals will be presented by the president on Feb. 15. Manford's daughter, Suzanne Manford Swan, will accept the medal on her behalf.
"I was able to share the news of this honor with my mom before she left us and I only wish the President could have seen the amazing smile that spread across her face," said Manford Swan in a statement. "My family is deeply touched by this honor and to represent the PFLAG family values of love and acceptance."
Manford founded PFLAG after her son, Morty Manford, who died of AIDS-related complications in 1992, was among those patrons at the Stonewall Inn in Greenwich Village when a police raid sparked the 1969 Stonewall riots. When Morty Manford was beaten during a Gay Activists Alliance demonstration in April 1972 and police failed to intervene, Jeanne Manford wrote a letter to the New York Post standing by her son.
"I have a homosexual son, and I love him," her letter read.
That same year Jeanne Manford marched with her son in New York City's Christopher Street Liberation Day March. The outpouring of support from those marching in the parade who asked her to talk to their parents led her to found a support group that later became PFLAG. Today, the organization has 350 chapters in the U.S. with more than 200,000 members.
Obama has been vocal in his admiration of Manford in the past, describing her story as "the story of America, of ordinary citizens organizing, agitating and advocating for change" during the Human Rights Campaign's annual dinner in 2009.
The White House released a video of members of the Office of Public Engagement informing medal recipients of their selection. Gautam Raghavan, the White House associate director of public engagement and LGBT liaison in the Office of Public Engagement, can be seen informaring Suzanne Manford Swan of her mother's selection for the medal.
[Photo: Jeanne Manford (Courtesy of PFLAG).]