With the inclusion of gay couples in comprehensive immigration reform uncertain, lawmakers are moving forward with legislation that would extend immigration rights still denied to binational same-sex couples.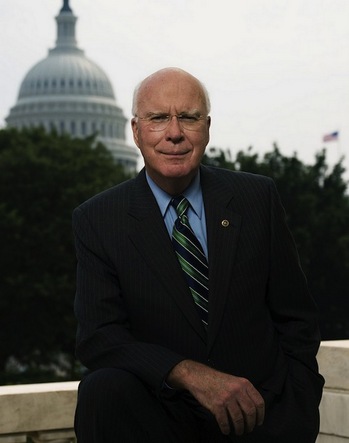 Earlier this week, bills were introduced in the Senate and House of Representatives that would recognize immigrants in relationships with Americans of the same-sex and grant them various protections, including eligibility for visas.
During a Feb. 13 Senate Judiciary Committee hearing on comprehensive immigration reform, Committee Chairman Patrick Leahy (D-Vt.) announced he and Sen. Susan Collins (R-Maine) will reintroduce the Uniting American Families Act (UAFA).
"We must also do better by gay and lesbian Americans who face discrimination in our immigration law," Leahy said during his opening remarks, according to Immigration Equality. "Too many citizens, including Vermonters who I have come to know personally and who want nothing more than to be with their loved ones, are denied this basic human right. This policy serves no legitimate purpose and it is wrong."
According to Rachel Tiven, executive director of Immigration Equality, Leahy's call for an LGBT-inclusive reform package "sets the tone for the Committee's work on fixing our country's broken immigration system."
On Feb. 5, Rep. Jerrold Nadler (D-N.Y.) reintroduced the Uniting American Families Act in the House of Representatives.
Collins, who in September became the first Republican senator to co-sponsor UAFA, has said she would be open to seeing rights for same-sex couples passed in comprehensive immigration reform or passed separately in the form of UAFA.
"Either way, I'd like to see it passed, whichever way is the easier route," Collins told The Huffington Post in December. "I'm not sure which way is the easier route."
Yesterday in the House of Representatives, Rep. Mike Honda (D-Calif.) also introduced the Reuniting Families Act, which would alleviate wait times for visas and extend rights to LGBT Americans and their foreign-born partners.
"Our family-based immigration system has not been updated in 20 years, separating spouses, children and their parents, who have played by the rules for years," Honda said in a statement. "For every day Congress delays, more families face separation."
According to the Family Equality Council, there are more than 36,000 binational same-sex couples living in the United States today. Nearly half of them are raising children. Without recognition of same-sex relationships in deportation proceedings, many of these families risk being torn apart.
Whether rights for same-sex couples will be included in immigration reform remains uncertain. Although President Barack Obama has said rights should be extended, the plan unveiled by a bipartisan group of senators late last month did not include protections for same-sex couples. Some Republicans have taken issue with the inclusion of such a provision.
The White House has been cautious to say whether the president is willing to compromise on that aspect of immigration reform.
During a Google "Fireside Hangout" held yesterday, Obama reiterated that he believes LGBT people should "not be treated differently when it comes to any aspect of American life, and that includes our immigration laws," but demurred when asked how willing he would be to compromise.
"What I'm trying to do right now is to give Democrats and Republicans in the Senate, and in the House, the opportunity to work through some of these issues to see where their compromises are, and not be too heavy-handed in a way that might end up breaking up these discussions because I think it's very important for us to get immigration reform done," Obama said. "But we've been very clear that we think that it makes sense for same-sex couples to be treated the same when it comes to immigration laws and every other law."
[Photo: Sen. Patrick Leahy (Courtesy of Wikimedia Commons).]