A wolf in sheep's clothing, Thornton Wilder's Our Town lulls with its gentle, sometimes humorous, depiction of small-town New Hampshire life in the early 20th century. But after two acts immersed in its comfortable confines, Wilder sheds the fleece for a final act growling with razor-sharp angst. As they must, the Ford's Theatre program seeks for the American context here –in this case, post-Civil War — but there is something distinctly un-American (as in pessimistically European) in the way Wilder undermines the comforts of an unexamined life. It's ironic to note that the Russians later banned a production of the play in occupied Berlin for fear it would spark a wave of suicides.
A harbinger of his ultimate theme, Wilder wanted Our Town produced with no scenery and few props. It is carried by a narrator, the so-called Stage Manager, who, in the first two acts, wryly and drily describes the history and goings-on of the town between vignettes in which its people come to life. Whether one sees the Stage Manager as an incarnation of God, his/her messenger, or something utterly human, he (or in this case she) is Wilder's essential device. Operating outside the action, she marks the continuum that exists both within and beyond our daily preoccupations; the endless cycle that measures life and yet dismisses it too. For Wilder, the agony is in knowing that, by our very nature, we are damned never to know what we've got till it's gone.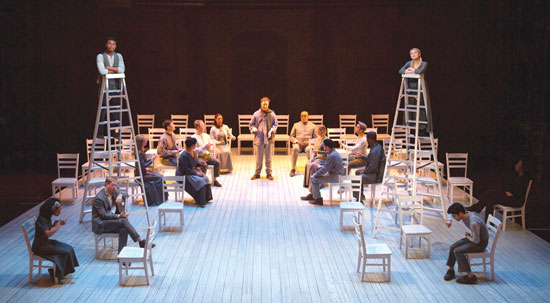 Our Town at Ford's Theatre
(Photo by T. Charles Erickson)
Thankfully, despite the demonic temptation of vehicles such as Touched by an Angel, director Stephen Rayne ensures that understatement rules the day and sets this tone with the un-apologetically no-nonsense vibe of his Stage Manager. Carrying the production with en effortless continuity, (the single named) Portia delivers a powerful mix of charisma, intimacy and challenge. It is no small feat to interrupt a fiction again and again without dismantling it, but Portia succeeds because her Stage Manager believes in our town, even as she makes an example of it.
Centered mainly upon two families — the Gibbs and Webbs — Act 1 establishes the town, its social strata, and its daily routines. Though small conflicts and longings surface like upended twigs in a river, they are soon drawn back under the bustling cycle and needs of community life. By Act 2, the Gibbs' son George is about to marry the Webbs' daughter Emily and Wilder's focus turns to marriage with all the subtle and not-so-subtle ties that bind.
Much a lead role by Act 2, Wilder's Emily remains rather improbably guileless, and herein lies the challenge. Giving her an enduring and irrepressible energy (at least until the third act), Alyssa Gagarin is convincing on the assumption that a girl of the 1930s would be a bit like Dorothy in The Wizard of Oz. But although her enthusiasm has its charm, it can never quite encompass a girl who is growing up. Neither does it serve to capture Emily's heart-rending goodbye in Act 3, which is far more poignant on the page than it is here. Having said that, what Gagarin expresses of bright-hearted youth, she does well and memorably.
As her beau, Nickolas Vaughan is a fresh and unfettered George, despite his contemporary American voice. Combining excellent comic timing and a sense of character, he defies Wilder's simply sketched boy, giving him warmth and dimension.
As Mrs. Gibbs, Jenn Walker shines for exuding a quiet but forceful presence that speaks volumes to this woman's stoicism and adds an unsettling weight to her half-voiced longings and worries. Using his sonorous tones to good effect, James Konicek's Doc Gibbs is hard to miss and his comic timing with son George is clever, but he could do a bit more to get behind Wilder's veneer of superficiality. As for the Webbs, although it is hard to see any marital chemistry, Kimberly Schraf gives her Mrs. Webb a drily delivered humor tinged with world-weary sadness, and Craig Wallace's Mr. Webb offers gratifying presence and his marriage-morning moment with George is sweetly and wittily played.
OUR TOWN



To Feb. 24
Ford's Theatre
516 10th St. NW
$20 to $62
202-347-4833
fordstheatre.org
Of the smaller roles, the always-riveting Tom Story brings something simultaneously hilarious and unhinged to church choirmaster Simon Stimson, while Christopher Wilson (previously a stand-out in Ford's excellent Fly) brings energy and dimension to his few lines as Joe and Si Crowell. As the horse-drawing milkman, marking the passing of the days and the comfort of routine, Kevin McAllister's Howie Newsome is a gentle but lasting presence who succeeds in suggesting a life beyond his few words. Clearly getting the rhythm of Wilder's language, Frederick Strother's Constable Warren brings richness and credibility to this view of Grover's Corner.
All told, it's a solid ensemble and together they deliver the cohesive and palpable sense of daily human connection with all of its attendant needs that Wilder requires. For this facsimilie of life, in truth, is a necessary setup, a crucial prelude to Wilder's third and final act in which he steps from the physical to the metaphysical. Set above the town on a windswept hill, Wilder removes every comfort, creature and otherwise, and delivers an extended cri de coeur that both obliterates and makes precious the contrivances of all that has comes before. Sent as a message from beyond the grave, Wilder's Stage Manager finally and truly breaks the fourth wall and delivers it. The only question that remains is whether you will sign for it.