Come if you're new to the area. Come if you're looking for business connections. Come to see old friends and make new ones. Come to discover how you can be a volunteer with an organization that fits you. And come even if you've been before, because the 5th Annual Mega Networking and Social Event has new opportunities.
The event will be held on Wednesday, March 13, from 6:30 to 8:30 p.m., at Town Danceboutique, the city's largest gay nightclub. This is the biggest LGBT professional networking and social event of the year in the Washington area, which for the past two years has attracted more than 1,600 attendees. If you've never been to Town, it's in a Metro-friendly location near the U Street stop. Registration is free and available now, online. There will be complimentary appetizers and a cash bar.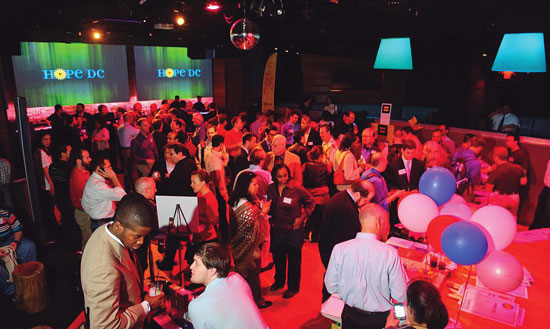 CAGLCC Mega Networking
(Photo by photographybyalexander.com)
If You've Never Been
Mega Networking is hosted by the Capital Area Gay and Lesbian Chamber of Commerce (CAGLCC). The Chamber is the nonprofit, nonpartisan, largely volunteer network of more than 400 LGBT and ally members – in addition to the nearly 5,000 LGBT supporters who own or are employed by businesses, nonprofits and government agencies in D.C., Virginia and Maryland.
Once you check in, be sure to explore all of this mega building. Check out both the first and second floor, where you'll find more than two dozen of CAGLCC's community partners. You can learn about or sign up as a volunteer with organizations involved in politics, civil rights or health care. Looking for a group geared to your age group? One designed for Latinos? Women? Business owners? They – and others – will all be there.
Of course, the best reason is there's no better place to make new friends or visit with old ones. There will be nearly 2,000 people coming and going during the event.
If You've Been Before and Wonder What's New
This year there are a few changes to this successful event, based on suggestions the Chamber received last year. They include a special space for local women-owned businesses, and a quiet room where you can get to know more about those businesses. Upstairs, you'll find the Chamber Lounge, a great place to meet the members, and even enjoy cookies by Q Caterers.
If you've been before, why come again? This event is a great annual opportunity to connect with LGBT professionals who come to mix, mingle, and have a great time. It's also a chance to meet a group of individuals whom you'll only see at this event. You'll find individuals to support your community program, or find a program you want to support.
Sponsorships, vendor tables and co-sponsorships of the Women's Lounge are available, as are opportunities for community partners interested in participating. For details, contact the Chamber's Executive Director Mark Guenther.
Register now at meganetworkingdc.com – free and quick – and plan to head to Town after work on March 13 for our biggest party of the year. There's only one Mega Networking event and no better way to become part of our community, make new connections and have a good time!
The 5th Annual Mega Networking and Social Event is Wednesday, March 13, 6:30 to 8:30 p.m., at Town Danceboutique, 2009 8th St. NW. Admission is free. For sponsorship opportunities, email Mark Guenther at mguenther@caglcc.org or visit caglcc.org/5megaeventsponsor.
Winner of the 2012 NGLCC Chamber of the Year Award and ranked No. 18 for Local Chambers of Commerce in the Washington Business Journal's "Book of Lists," the Chamber means Business. For more information, visit caglcc.org.
Robert E. McLean, a CAGLCC member and a certified association executive, owns REM Association Services, a full-service association management company in Arlington.