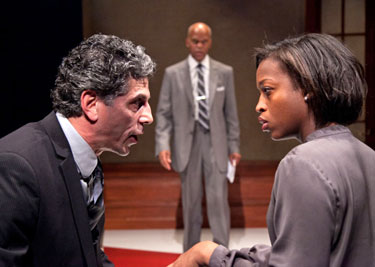 Race
AND IF YOU THINK GLENGARRY GLEN ROSS is unsettling, try Race, which David Mamet wrote 25 years later – and just after he renounced his former self as a "brain-dead liberal" and came out as a misanthropic conservative. ("I began to question what I actually thought, and found that I do not think that people are basically good at heart," he wrote as part of an anti-progressive, bomb-throwing essay in the Village Voice in 2008.) First staged to mixed-to-poor reviews on Broadway in 2009, Race is now gracing the Goldman Theater at the DCJCC in a Theater J production directed by John Vreeke that is both part of a local mini-Mamet festival with Round House and also the basis for a symposium this weekend at the DCJCC on the subject at hand: "Race in America: Where Are We Now?"
Naturally, Mamet wouldn't answer that with any sense of optimism. Race, which focuses on a wealthy white man, Charles (played by Leo Erickson), who until we meet him has never spent a moment questioning his race or how others might perceive him – especially the black women he sees as sexual objects. After a hotel maid accuses Charles of rape, he seeks out counsel from a firm with two black lawyers – whom he wants to hire specifically because they're black.
Race


-1/2
To March 17
Theater J
$35 to $60
800-494-8497
theaterj.org
Theater J stages Race without an intermission – just as Round House does with Glengarry Glen Ross – with the goal of keeping theatergoers focused. You might not wish for an intermission – it only runs 80 minutes – but you'd certainly prefer a break from some of the tedious exchanges in the play. It harps for too long on the idea that everyone, black or white, is playing the race card in some way or another – and pretty much to bad ends, if not bad intents, every time. The cast stumbles here and there with the play's Mamet speak, but once again we have a theater company mostly doing right by Mamet.
The question is when will Mamet do right by these obviously good-hearted theater professionals? When will he do right by us?