"Eighties music makes people smile, or at least it does for me every time I play it," says Adam Koussari-Amin. "It was just such a funny, funny 10 years."
Koussari-Amin is now provoking lots of smiles and laughter, producing, with Khelan Bhatia, an '80s music-based monthly party at Duplex Diner. The name, BreakfastClub, naturally derives from John Hughes's seminal movie from the decade.
"We were lamenting the fact that there doesn't seem to be a really popular '80s night," says Bhatia, who notes that he only caught the tail end of Cobalt's former retro Flashback party.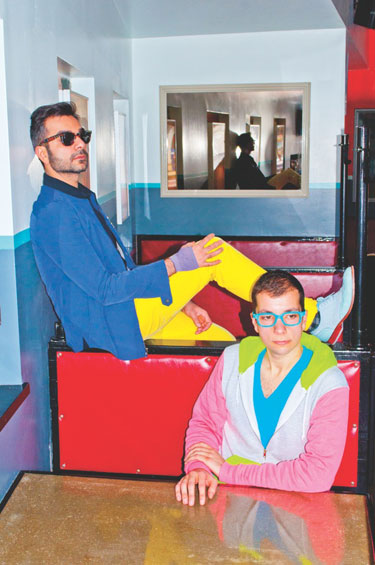 BreakfastClub at Duplex Diner: Khelan Bhatia and Adam Koussari-Amin
(Photo by Todd Franson)
"We try to differentiate ourselves a little bit by doing some '80s remixes," says Koussari-Amin, who also spins as part of the monthly alt-electronica CTRL party. "Taking songs that were great back then [and] making them more for today's crowd." Bhatia offers as an example Gigamesh's contemporary remix of Michael Jackson's "Don't Stop 'Til You Get Enough."
BreakfastClub, which throws its fifth party next Friday, Feb. 15, also stands out for the way the two DJs help partygoers get in the mood, passing out silly sunglasses, fishnet gloves, headbands, candy cigarettes and candy bracelets. Patrons are encouraged to bring their own '80s-excess accessories, to say nothing of donning legwarmers, parachute pants and halter tops. And the staff at the Diner help the cause too. "They love the accessories as much as we do," says Koussari-Amin.
Of course, the hosts themselves barely remember the featured decade firsthand. Koussari-Amin is only 27 and Bhatia is 35.
Says Bhatia, "You have to remember that as soon as 1990 hit, nostalgia for the '80s began."
The next BreakfastClub is Friday, Feb. 15, starting at 9 p.m., at the 18th & U Duplex Diner, at 2004 18th St. NW . Call 202-265-9599 or visit duplexdiner.com.