Jason Barnes grew up a fan of the fairy-tale character Puss in Boots. "Any character whose fashion is like his main power is good for me," he laughs. So when it came time to coin a name for his performance artist alter ego, Barnes knew he should start there. "I'm also a huge Francophile. And obviously I'm black," he explains the christening, "so Pussy Noir just came from there."
The 27-year-old Barnes first publicly portrayed Pussy in February 2010 at Columbia Heights' Wonderland Ballroom, during that year's big snowstorm. He's since gone on to perform at many WTF parties at Town, and will do that again this Sunday, Feb. 17. The next night, he'll perform at Number Nine as part of the P Street bar's RuPaul's Drag Race viewing party.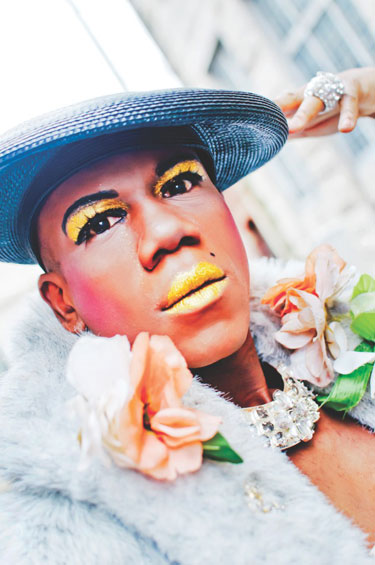 Pussy Noir
(Photo by Todd Franson)
And that's just the start of what should be Pussy's busiest and most visible year yet. "I'm taking a lot of this year to pursue entertainment as a full-time job," says Brown, who supports himself with part-time office work during the week.
A D.C. native, Barnes always "wanted to be famous" as an entertainer. He went to D.C.'s Duke Ellington School of the Arts for high school, studying vocal music. But it wasn't until he went to college in New York and started performing with a friend in a burlesque show that he got the idea to take up what he calls "androgynous/drag/burlesque." Grace Jones is an obvious influence on Barnes's alter ego. "It's that male strength and that female strength," he explains. The focus, he says, is on "beauty" and what he calls "the cool factor, rather than going for the more traditional Vegas glam, or new wave/punk styles."
Soon enough, Pussy will also start actually singing and not simply lip-syncing. "That's something I've been practicing for a couple of months now," he says, "getting back into voice training. I'm very excited about that."
Pussy Noir performs at WTF: Fashion Haus on Sunday, Feb. 17, at Town Danceboutique, 2009 8th NW. Cover is $5. Call 202-234-TOWN or visit towndc.com. She also performs at RuPaul's Drag Race viewing party on Monday, Feb. 18, at Number Nine, 1435 P St. NW. No cover. Call 202-986-0999 or visit numberninedc.com.