How does one justify a play with the English language's most vulgar word in its title? Well, that's not my bailiwick here. The best I can do is to try to justify going to see it, whatever initial hesitation you might harbor.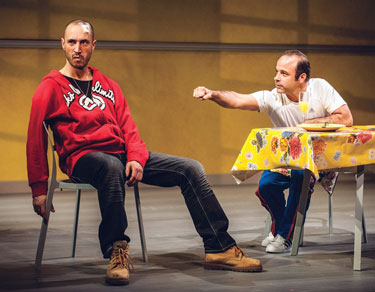 The Motherfucker with the Hat: Cortese and Ariza
(Photo by TeddyWolff)
Because, yes, Stephen Adly Gurgis's The Motherfucker with the Hat does ultimately warrant you seeing it. It warrants the attention it gets simply from its shocking title alone. For starters, Studio Theatre's sharp production, directed by Serge Seiden with great assist on sets by Debra Booth, is riotously funny. It's also infinitely smarter and more sophisticated than you might take it for at first blush – and so are its mostly Nuyorican characters. And as it turns out, the mofo of the show's title isn't at all who we're first led to believe it is, and the show's main theme is about that duplicity: the yin and yang of every single sentient being. How we're all individually, inescapably, both good and bad, sensitive and self-absorbed, genuine and fake – just putting on appearances. "Funny how people can be more than one thing, ain't it?" says the show's protagonist Jackie.
Played with awe-inspiring vigor and ferocity by Drew Cortese, Jackie is struggling to get his life back on track after doing time. We meet him happy – newly sober in rehab, and just after landing a new job, feats he intends to celebrate with his childhood sweetheart, Veronica; just one step in trying to rekindle their romance. Problem is, their relationship seriously lacks trust and honesty – plus, Veronica is the opposite of sober – so the party's over before it even begins, with the drama kicked off as soon as Jackie sees a mysterious man's fedora on Veronica's table. Rosal Colon is utterly disarming as Veronica, and you might find yourself rooting for her, even when you realize you shouldn't. Meanwhile, Quentin Maré plays Jackie's slick-talking Alcoholics Anonymous sponsor, Ralph D, who we come to realize is the most tormented character in the play – and it's not simply because his wife Victoria, passionately played by Gabriela Fernandez-Coffey, is so corrosive with him.
Ralph D is the most exposed character by play's end, but we come to see that every character is duplicitous to one extent or another. Certainly this applies to sidekick Cousin Julio, who is both gay and straight, butch and effeminate – though he is, it must be said, all heart. And, in the hands of Liche Ariza, funny as hell.
Seiden coaxes great performances here. And even as a few scenes drag on longer than they need to, you're still not quite ready to say goodbye to the characters when the house lights come up. You'll take to them, foul language and all.
THAT'S MORE THAN can be said for the characters in the musical Cabaret, at least as portrayed by the cast assembled by Keegan Theatre. Paul Scanlan makes for a hunky, come-hither Emcee and Maria Rizzo a seductive Sally Bowles – and the Kit Kat Club performers, both boys and girls, definitely entice. But you're not bowled over or totally drawn to them. As entertaining as it generally is, Keegan's Cabaret fails to generate serious heat and passion. You don't leave with many lasting impressions of what transpired and no clear sense why the company opted to stage this famous Weimar Republic-based American musical from 1966.
The Motherfucker with the Hat





1/2
To March 10
Studio Theatre
$39 to $82
202-332-3300
www.studiotheatre.org
Cabaret



1/2
To March 2
Church Street Theater
$40
703-892-0202
www.keegantheatre.com
Oh, sure, you'll be charmed by the standards written by John Kander and Fred Ebb, from "Wilkommen" to "Maybe This Time" to the bittersweet title number. Also still compelling is Joe Masteroff's book, based on the play by John Van Druten and stories by Christopher Isherwood. (That's Christopher, mind you, and not the New York Times theater critic Charles Isherwood, as the inside page of the Keegan program erroneously notes.) But directors Christina A. Coakley and Michael Innocenti mostly coast on the show's laurels, especially those of the successful 1998 Broadway revival. While Innocenti's set is suitably rustic, it's not exactly alluring in a seedy kind of way. It also doesn't help that Bradley Foster Smith is unconvincing in his portrayal of fledgling American writer Clifford Bradshaw, woefully lacking in charisma and charm. It's hard to see what keeps Sally, for one, by his side for so long.
It's all just a bit dull.