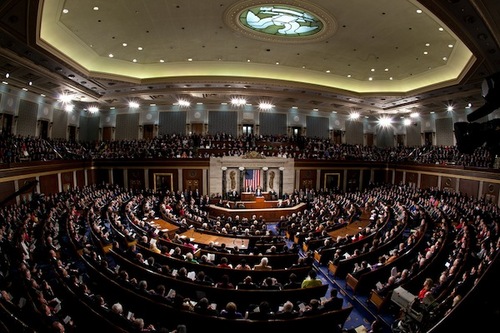 The Thursday deadline is rapidly approaching for the Obama administration to file a brief in the Proposition 8 case before the Supreme Court. But while all eyes are on the White House, notably absent from the discussion of the broader constitutional questions raised by the landmark case before the Supreme Court are some of the LGBT community's closest allies: congressional Democrats.
It remains unclear if congressional Democrats will file a "friend of the court" brief in the Proposition 8 case. Sources from multiple LGBT-rights organizations involved in the challenge to California's ban on same-sex marriage say they are unaware of any efforts among Democrats on Capitol Hill to make their views heard on what is expected to be one of the most high profile Supreme Court cases in recent history.
Drew Hammill, a spokesman for Minority Leader Nancy Pelosi (D-Calif.), confirmed to Metro Weekly what many expected — that Pelosi is leading a brief from congressional Democrats to be filed this week in the DOMA case. Hammill, however, provided no information on any similar efforts being taken in the Proposition 8 case.
Although Democrats, particularly those in the House, have been emphatic in their opposition to the 1996 Defense of Marriage Act (DOMA) and actions by House Republicans to defend that federal ban on same-sex marriage in court, they have been less vocal about the Proposition 8 case, including whether they believe the Constitution protects the right of same-sex couples to marry.
With Obama's absence from addressing that question, it appears many Democrats have refrained from doing so as well. While that silence has not been all together surprising considering the sweeping argument attorneys for the plaintiffs are expected to make that state bans on same-sex marriage are unconstitutional, it was magnified this week.
Indeed, on Monday The New York Times reported more than 80 prominent Republicans had attached their names to a brief that will be filed Thursday arguing same-sex couples have a constitutional right to marry. The number of signees has now exceeded 100 and includes two Republican members of the House of Representatives — Ileana Ros-Lehtinen of Florida and Richard Hanna of New York.
"We're calling on the Supreme Court to correct this injustice and to bestow constitutional freedoms for all," Ros-Lehtinen said in a statement to The Miami Herald. "It should not be constitutional that we continue to deny to LGBT Americans rights enjoyed by others. We must act now to ensure the rights guaranteed by the U.S. Constitution are applied to all Americans."
Although the brief is signed primarily by Republicans who do not hold public office, the move by Ros-Lehtinen and Hanna goes further than the president himself has on same-sex marriage. While Obama made history as the first sitting president to endorse same-sex marriage, he has declined to say whether he believes the Constitution guarantees same-sex couples the right to marry.
"You have seen no expression from the president on the constitutional or legal aspects of this," White House press secretary Jay Carney told reporters last week. "He has an opinion, obviously, about Proposition 8 as policy, but we have no comment and nothing to say at this point about an issue that is properly looked at as a legal and constitutional matter over at the Department of Justice."
Lead attorneys in the case, including Ted Olson, who served as solicitor general for President George W. Bush, have argued that a public stance from the Obama administration would aid their cause and fuel the political climate that can affect the opinions of justices seeking to be on the right side of history. Although the Democratic Party has closely aligned itself with LGBT issues in recent years, particularly after Obama declared his support for same-sex marriage in May 2012, Democrats on Capitol Hill have been mum as to whether they will take a public stance on the Proposition 8 case. Much like the president himself, Democratic leadership has not indicated whether they believe the Constitution protects the right of same-sex couples to marry.
"Obviously, it would have national implications in a state case, so I don't know what the Justice Department thinking is on that," Sen. Tammy Baldwin (D-Wisc.) told Metro Weekly when asked if she thinks the Obama administration should weigh in. On the brief signed by Republicans, Baldwin added, "It's a sign of progress and really some folks who a few years ago had a very different position are evolving much the way our president has, so I've been encouraged."
Pelosi herself has come close to stating that she believes banning same-sex marriage is unconstitutional, but has not said so directly.
"By taking up the Prop 8 case, the Supreme Court will have the opportunity to make a strong statement that laws, in California and nationwide, must not target the LGBT community unfairly and that families across our state and our country deserve fair and equal treatment under the law," Pelosi said in a statement in December after the Supreme Court announced it would hear arguments in the Proposition 8 case. "We have now reached a landmark moment in the history of civil rights in our nation."
In a letter to Obama sent Feb. 26, out gay Rep. Mark Takano (D-Calif.) became one of the few congressional Democrats to publicly urge the president to weigh in, writing that it is "critical that the Supreme Court find Proposition 8 to be unconstitutional. It is time for marriage equality."
Oral arguments are scheduled to begin before the Supreme Court on March 26 with a ruling expected in June.
[Photo: Barack Obama delivers his 2011 State of the Union address to Congress (Official White House Photo by Lawrence Jackson).]