White House press secretary Jay Carney today left open the possibility that the Obama administration will take a public stance and file a brief in the Proposition 8 case before the Supreme Court.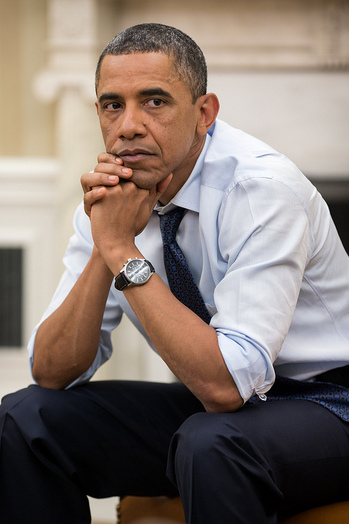 Responding to reports that the administration has not yet made a final decision as to whether to file a "friend of the court" brief in the case, Carney said he had "no comment on that case to which the United States is not a party at this time."
"I don't have a hint for you either way," Carney added. "That's a question I would take to [the Department of] Justice."
Carney's answer today was a slight departure from previous statements, in which he has simply said "the administration is not a party to this case" and referred questions to the Justice Department.
Plaintiffs in the case challenging California's Proposition 8, which amended the state's constitution in 2008 to ban same-sex marriage after already granting that right to gay couples, have argued that a public stance from the Obama administration would aid their cause and fuel the political climate that can affect the opinions of justices seeking to be on the right side of history.
In December, shortly after the Supreme Court announced it would take up the Proposition 8 case, lead attorney Ted Olson urged the Obama administration to make its positions known.
"I would hate to predict what the United States government is doing, but given the stand the president of the United States and the attorney general of the United States made with respect to marriage equality, we would certainly hope that they would participate," Olson said. "And I'm quite confident that if they did participate that they would support our position in this case that the denial of equal rights is subject to close scrutiny by the courts and cannot withstand that scrutiny. It's a denial of rights, and it's quite clear that it is."
Plaintiffs in the Proposition 8 case filed their one and only brief with the Supreme Court today, previewing oral arguments that will begin next month and arguing with sweeping language that the measure "denies gay men and lesbians their fundamental right to marry in violation of the Due Process and Equal Protection Clauses."
Although Obama has voiced his opposition to Proposition 8, he has not addressed the broader issues raised in the rulings against Proposition 8, in particular whether he believes the U.S. Constitution prohibits states from banning same-sex marriage.
That was a position reiterated by Carney today: "Again, I think you have seen no expression from the President on the constitutional or legal aspects of this. He has an opinion, obviously, about Proposition 8 as policy, but we have no comment and nothing to say at this point about an issue that is properly looked at as a legal and constitutional matter over at the Department of Justice."
During an interview with San Francisco's KGO-TV yesterday, Obama said the solicitor general was still looking into the issue.
"I have to make sure that I'm not interjecting myself too much into this process, particularly when we're not a party to the case," Obama said. "I can tell you, though, obviously, my personal view, which is that I think that same-sex couples should have the same rights and be treated like everybody else, and that's something I feel very strongly about and my administration is acting on wherever we can."
The Obama administration has until Feb. 28 — one week from today — to issue a brief in the case.
[Photo: Barack Obama (Official White House photo by Pete Souza)]