You can't force a square peg into a round hole. That's what "Above & Beyond" is for — comedy, readings, discussions, poetry, multimedia, tasting, tours. Everything from a night with Kevin Smith and Jason Mewes at The Warner to an engagement with John Waters at The Howard Theatre to Vicki Lawrence (and Mama) at the Ram's Head to some truly extraordinary bird lectures at National Geographic Live, it's all here, in the etc. of the arts.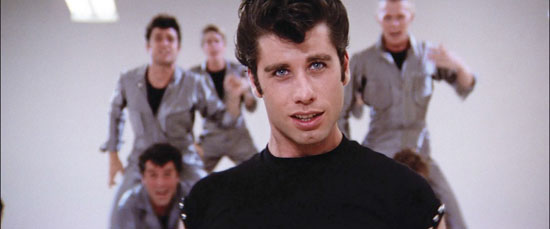 Travolta in Sing-A-Long Grease at Wolf Trap
9:30 CLUB
815 V St. NW
202-265-0930
930.com
Demetri Martin — The wry comedian offers a night of standup (3/23)
THE ALDEN
McLean Community Center
1234 Ingleside Ave.
McLean, Va.
703-790-0123
Upright Citizens Brigade Touring Company — The improv comedy troupe that nurtured Amy Poehler, Ian Roberts and many writers for Saturday Night Live and The Daily Show with Jon Stewart comes to town (3/23)
Brian Greene and Icarus at the Edge of Time — Physicist and bestselling author narrates the screening of this film, about a boy challenging the power of a black hole, with music by Philip Glass (3/24)
Morning Movies — This free monthly weekday morning series of classic films, selected by Alden staff, is intended for those who want to play hooky: Dr. Strangelove (4/3); American Graffiti (5/1)
Gustafer Yellowgold — A kid-friendly multi-media show, featuring live music, animated illustrations and storytelling, about a friendly creature from the sun living in the woods (4/20)
ARLINGTON CINEMA N' DRAFTHOUSE
2903 Columbia Pike
Arlington
703-486-2345
arlingtondrafthouse.com
Comedian Orny Adams (3/22-23)
ThreeGuysOn presents The Final Draft — Hosts of popular podcast present this comedy show every Friday night
Open Mic Stand-Up Comedy (3/23)
Porkchop Volcano — This short form improv troupe offers a monthly show of rapid-fire laughs based on audience suggestions (3/23)
Annie Sing-A-Long Party with Raspberry Brothers — All together now: The sun'll come out… (3/24)
Comedian Duncan Trussell (3/27)
Cool Cow Comedy Showcase — Every Thursday night
Comedians Rich Vos and Bonnie McFarlane (3/29-30)
Comedian Dan Levy (4/5-6)
1st Annual DC Web Series Festival — A celebration of an emerging new art form (4/6)
Comedian Chris Franjola (4/12-13)
Comedian Dave Coulier (4/19)
Comedian Jen Kirkman (4/19-20)
Comedian Sarah Colonna (5/3-4)
Comedian Rebecca Corry (5/10-11)
ARTISPHERE
1101 Wilson Blvd.
Arlington
703-875-1100
artisphere.com
The River and the Mountain — A staged reading of Beau Hopkins's play, the first-ever play with an openly gay character from Uganda, home to the "Kill the Gays" bill; reading will naturally be followed by a talk back to discuss the controversy it's provoked (3/23)
Improvised Shakespeare Company — Yet another Chicago improv group, this one focused on creating a comical Elizabethan-style Shakespeare play on the fly, based on audience suggestion (4/19)
ATLAS PERFORMING ARTS CENTER
1333 H St. NE
202-399-7993
atlasarts.org
Marc Bamuthi Jospeph/The Living Word Project — Word Becomes Flesh uses poetry, dance and live music to document nine months of pregnancy from a young single father's perspective, presented as a series of performed letters to his unborn son (3/22-24)
Deafhood Foundation's Deafhood Monologues — An episodic play of deaf experiences, chronicles and reflections, told through poetry, stories and presentations in American Sign Language, and inspired by the unlikely combination of Understanding Deaf Culture: In Search of Deafhood and The Vagina Monologues (4/5)
Marc Bamuthi Joseph/The Living Word Project — red, black & GREEN: a blues (rbGb) is a full-length, multimedia performance that explores environmental justice, social ecology and collective responsibility in our climate change era (5/10-12)
Tantehorse Company — Czech actress Mirenka Cechova brings her company to town for a performance of Light in a Darkness & The Death of the Marquis de Sade/Dante, which combines surreal and decadent poetry with elements of physical theater and modern dance (5/31-6/2)
BARNS AT WOLF TRAP
1645 Trap Road
Vienna
703-255-1900
wolf-trap.org
Broadway's Next H!t Musical – Improvisers invent a new Broadway musical smash on the fly, based on audience suggestions, whip-smart accompaniment and razor-sharp talent (4/12-13)
26th Annual Evening of Comedy – Nationally recognized comedians perform side-splitting stand-up (5/3-4)
BLACK CAT
1811 14th St. NW
202-667-4490
blackcatdc.com
She's A-Shake-A-Ning — a Brown Girls Burlesque presentation (3/22)
Dr. Who Happy Hour – One episode of Dr. Who and drink specials every Friday, for free (3/22, and every Friday)
Hellmouth Happy Hour – One episode of Buffy the Vampire Slayer and drink specials every Saturday, for free (3/23, and every Saturday)
Dive and American Skin — double-feature screening (3/24)
Punk Rock Karaoke — A benefit for DC Books to Prisons (3/29)
BLACK FOX LOUNGE
1723 Connecticut Ave. NW
blackfoxlounge.com
Tula's Cabaret — Weekly Sunday night drag show hosted by Tula, Sylvia and Sarah (3/24)
La-Ti-Do — Regie Cabico and Don Mike Mendoza host this spoken word & musical theater show every Monday night (3/25)
Spill! — Jefferson hosts this monthly queer-focused storytelling event (3/27)
Filipino and Friends (3/27)
Bare! — Jefferson hosts this straight, or really all-comers, version of Spill! (4/3)
The Academy of Washington — A night of drag in the lounge (4/7, 4/14)
DC Metro Team Network (4/8)
DC Gay Professionals Network (5/7)
THE BIRCHMERE
3701 Mount Vernon Ave.
Alexandria
703-549-7500
birchmere.com
Former SNL Stars: Jon Lovitz, Tim Meadows, Chris Kattan Live! (4/4)
Kathleen Madigan — "Gone Madigan" (4/11-14)
John Hodgman w/Paul & Storm (5/3)
Sylvia Browne — New York Times best-selling author and physic offers "An Evening of Insights & Live Readings" (5/30)
The Official Blues Brothers Revue — Dan Aykroyd and Judith Belushi produce this show, music directed by The Late Show with David Letterman's Paul Shaffer and starring Wayne Catania and Kieron Lafferty (9/27)
BUSBOYS AND POETS
2021 14th St. NW
202-387-POET
busboysandpoets.com
Tuesday Night Open Mic Poetry – Wide-ranging topics and speakers for two hours every Tuesday
SPARKLE Queer Open Mic – Queer-friendly, queer-focused reading series, hosted by Regie Cabico and Danielle Evennou (3/27, at 1025 5th St. NW location)
Sunday Kind of Love Open Mic Poetry – Featuring emerging and established poets in an open-mike segment
Story League Story Contest – Every third Wednesday of the month brings "story shows," or collaborative story-performing exercises in which storytellers get guidance on honing their craft; the best wins $100
Nine on the Ninth Open Mic Poetry – The 9th of every month, at 9 p.m.
CLARICE SMITH PERFORMING ARTS CENTER
University of Maryland
College Park
301-405-ARTS
claricesmithcenter.umd.edu
Creative Dialogue: A Conversation about Women and Resistance – Artistic panel discussion focused on the tensions women across cultures face in public demands and private desires (4/1)
Women on the Front Line — Iranian poet and human rights activist Sheema Kalbasi presents her new documentary about the fight for women's rights in Iran, followed by a panel discussion and Q&A (4/2)
Cathy Davidson – Author of Now You See It: How the Brain Science of Attention Will Transform the Way We Live, Work and Learn explores the changing nature of innovation on account of our digital age in a talk that's part of the Arts & Humanities Dean's Lecture Series (4/18)
Creative Dialogue: Considering the Human Condition: On Behalf of Nature – WAMU's Kojo Nnamdi moderates a panel discussing how science, art and spirituality can influence the way we are living on the planet (4/29)
DAR CONSTITUTION HALL
1776 D St. NW
202-628-1776
dar.org/conthall/
The Royal Comedy Tour — This tour features comedians including Tony Rock, Chris's brother; Mark Curry from Showtime at the Apollo and Fat Actress; Earthquake; Bruce Bruce; and Sommore, billed as "the original 'Queen of Comedy"' (3/22)
Aziz Ansari — The Parks and Recreation star offers two nights of sure-to-be-funny stand-up (3/29-30)
Bill O'Reilly and Dennis Miller: Bolder & Fresher Tour 2013 — Probably best to steer clear of Constitution Hall this night of conservative comedy (4/26)
Chris Tucker — During a short Rush Hour 3 spell, this actor/comedian was the highest paid man in the business (4/27)
Anthony Bourdain — The raucous celebrity chef (5/13)
DAVIS PERFORMING ARTS CENTER
Georgetown University
3700 O St. NW
202-687-ARTS
performingarts.georgetown.edu
The Georgetown Improv Association – monthly night of improv inspired by audience suggestions and showcasing the performers' (hopefully) quick wit (4/13)
DC IMPROV
1140 Connecticut Ave. NW
202-296-7008
dcimprov.com
Flip Orley (Now-3/24)
DC Improv Comedy School Comics (3/22)
Funniest College Variety Showcase (3/27)
Kevin Pollak (3/28-30)
Shawn & Marlon Wayans (4/4-7)
Five Minutes To Funny Graduation Show — Chris Coccia hosts (4/10)
The District Funniest College Finals (4/11)
Sebastian Maniscalco (4/12-14)
Kevin Nealon (4/18-21)
Michael McDonald (4/26-28)
Moshe Kasher (5/2-5)
Bobby Lee (5/10-12)
Aries Spears (5/16-19)
Live Podcast Recording w/Greg Proops (5/21)
Godfrey (5/23-26)
LaVell Crawford (5/31-6/2)
Bobby Slayton (6/6-9)
Frank Callendo (6/13-16)
D.L. Hughley (6/20-23)
John Witherspoon (7/11-14)
Gilbert Gottfried (8/2-4)
Gary Owen (8/8-12)
Tommy Davidson (9/5-8)
Gary Valentine (9/26-28)
Earthquake (10/3-6)
FILMFEST DC
The Washington, DC International Film Festival
202-274-5782
filmfestdc.org
Filmfest DC is back for a 27th year and a program including over 80 features, documentaries and shorts from all over the world. Among other highlights on tap, there's the Opening Night Film Underground, a drama based on WikiLeaks founder Julian Assange starring Anthony LaPaglia and Rachel Griffiths. (4/11-21, Various Venues)
FOLGER SHAKESPEARE LIBRARY
201 East Capitol St. SE
202-544-7077
folger.edu
Living History: Geraldine Brooks, Julie Otsuka and Dolen Perkins-Valdez — A PEN/Faulkner lecture by three female novelists and subtitled, "Reclaiming female voices from the threat of historical silence" (3/28)
Shakespeare's Birthday Lecture 2013: Andrew Hadfield – University of Sussex professor offers a lecture titled "Graymalkin and Other Shakespearean Celts" (4/8)
Folger Gala – The venue's most important fundraiser of the year (4/11)
Shakespeare's Birthday Open House – Jugglers, jesters, musicians and actors all re-create the time and stories of Shakespeare for this party, complete with a birthday cake and tour of the reading rooms (4/21)
Billy Collins — Former U.S. Poet Laureate reads from his body of work (4/29)
33rd Annual PEN/Faulkner Award for Fiction Ceremony — America's largest peer-juried literary prize (5/4)
Paul Muldoon — Pulitzer Prize winner shares favorite poems by other poets as well as reads from his own work in this Folger Poetry Board Reading event (5/13)
FORD'S THEATRE
511 10th St. NW
202-397-7328
ticketmaster.com
One Destiny — Two costumed actors explore the key facts of the fateful night of Lincoln's assassination in this 35-minute, one-act play that runs during the daytime (3/26-5/18)
History on Foot Walking Tours – Actors playing characters from Civil War-era Washington lead two weekend morning tours through downtown D.C.: "Investigation: Detective McDevitt" follows a detective investigating the Lincoln assassination, while "A Free Black Woman: Elizabeth Keckly" focuses on a confidante to first lady Mary Todd Lincoln (McDevitt runs through October; Keckly is by appointment)
HILL CENTER
Old Navy Hospital
921 Pennsylvania Ave. SE
202-549-4172
HillCenterDC.org
Wonder Women!: The Untold Story of American Superheroines Film Screening – Film traces fascinating evolution and legacy of Wonder Woman, from the birth of the comic book superheroine 70 years ago to real-life superheroines today (3/26)
Talk of the Hill with Bill Press: former Senator Chris Dodd (3/28)
Toki Underground's Chef Erik Bruner-Yang – Cambodian New Year Cooking Class (4/6)
Golden Slumbers Film Screening and Panel Discussion – Davy Chou's documentary summons the spirits of Cambodian cinema's Golden Age that was decimated by Pol Pot and the Khmer Rouge in the mid-1970s; Chou participates on a panel with film's music advisor, a Cambodian human rights activist, reporter and State Dept. rep (4/7)
Elizabeth Alexander – Poet from Obama's 2009 Inauguration kicks off new quarterly Hill Center Poetry Series, in collaboration with Library of Congress, hosted by The Washington Post's Ron Charles (4/10)
Nick Flynn – Poet appears as part of the Hill Center Poetry Series (10/1)
THE HOWARD THEATRE
620 T St. NW
202-588-5595
thehowardtheatre.com
Paul Mooney (4/12)
John Waters – An evening with the beloved Baltimore filmmaker, performing his comedy routine This Filthy World (5/15)
Burlesque-A-Pades – The Potani Sisters' show, billed as the nation's top touring burlesque revue (5/25)
JOSEPH MEYERHOFF SYMPHONY HALL
1212 Cathedral St.
Baltimore
410-783-8000
ticketmaster.com
Baltimore Speakers Series: Nando Parrado – A Uruguayan rugby player, one of 16 survivors of a plane crash in the Andes Mountains that inspired the movie Alive (4/16)
Jerry Seinfeld (4/27)
Bill Burr — Standup comedian and The Monday Morning Podcast host (5/30)
LISNER AUDITORIUM AT GWU
730 21st St. NW
202-994-6800
lisner.org
Capital Funk's 6th Annual Hip Hop Showcase — George Washington University's hip-hop dance crew offers a night of dance, spoken word, singers, rappers and beat boxers (4/27)
Poetry Out Loud — The National Endowment for the Arts and the Poetry Foundation hosts this national championship for high school students (4/30)
LYRIC OPERA HOUSE
140 West Mount Royal Ave.
Baltimore
410-547-SEAT
lyricoperahouse.com
Cathy Rigby Is Peter Pan — Yes, she's still starring as the flying boy (3/22-24)
Brian Regan (4/5)
Theresa Caputo Live! — Star psychic of the TLC show Long Island Medium (4/7)
John Pinette — The 'big man' of standup offers a lot of laughs (4/12)
Kathy Griffin (4/19)
Daniel Tosh — "The June Gloom Tour" (6/20-21)
NATIONAL GEOGRAPHIC LIVE!
Grosvenor Auditorium
NGS Headquarters
1600 M St. NW
202-857-7700
nglive.org
Anastacia Taylor-Lind — National Geographic photographer captured a changing China in a journey along the Yangtze River to the river city of Fuling (3/26)
Alison Wright — Photographer has devoted her career to capturing the human spirit through her work, as documented in Face to Face: Portraits of the Human Spirit (4/4)
Pirates of the Whydah — In partnership with the National Geographic Museum's exhibition Real Pirates comes this talk by explorer Barry Clifford about his recent discovery of a 400-year-old sunken boat, the first fully verified pirate shipwreck ever discovered (4/11)
Birds of Paradise: Extreme, Bizarre, Extraordinary — The duo behind a current National Geographic Museum exhibition on New Guinea's spectacular birds of paradise return to discuss their popular work (4/25)
National Geographic Birding Adventure — National Geographic's Jonathan Alderfer will lead an outing to Dyke Marsh, one of Washington's largest remaining tidal wetlands, teeming with birds (4/27, 5/11)
Isabel Allende — The famous Chilean-American author of The House of the Spirits converses with National Geographic Traveler's Don George (5/1)
The Call of Everest — A discussion pegged to a new National Geographic book and the 50th anniversary of the first American to reach the summit of Mount Everest (5/6)
Buzz Aldrin — The legendary space explorer and author of new book Mission to Mars (5/8-9)
Garrett Oliver: Beer From Where? — Brooklyn Brewery brewmaster, also editor of Oxford Companion to Beer, offers this annual spring tasting (5/15)
National Geographic Bee 2013 — Jeopardy's Alex Trebek hosts this competitive event for the last time (5/22, National Theatre)
Pirate Family Festival — Bringing the exhibit Real Pirates to life with historical re-enactors and activities geared toward the young and young-at-heart (6/22)
RAM'S HEAD ON STAGE
33 West St.
Annapolis
410-268-4545
ramsheadonstage.com
Vicki Lawrence & Mama, A Two Woman Show — Well, okay, it's really just one woman, playing herself and the matronly drag alter-ego that was a hit on TV (5/18)
Capitol Steps (6/15)
SIXTH & I HISTORIC SYNAGOGUE
600 I St. NW
202-408-3100
sixthandi.org
Ezekiel Emanuel – Brothers Emanuel tells the story of the American family that produced its author, a prominent bioethicist, Hollywood talent agent Ari, and, most famously Rahm (3/28)
Joshua Cogan (3/29)
Erica Brown – Happier Endings: A Meditation on Life and Death guides readers toward preparing for and accepting death by one of our leading religious scholars (4/9)
Amy Schumer – Up-and-coming edgy but likeable comic (4/11)
Ben Katchor – Hand-Drying in America is a new graphic narrative about the cultural influence and significance of urban planning and architecture by this MacArthur Fellowship-winning cartoonist (4/16)
Maybe Baby? – Author and editor Michelle Cove leads a discussion about the increasing decision by women not to have children and especially what it means for Jewish culture (4/18)
Terry McMillan – The author of How Stella Got Her Groove Back, Waiting to Exhale and other popular novels over the past few decades reads from her recent work and takes part in a moderated discussion (4/20)
W. Kamau Bell — One of the nation's fastest rising socio-political comics, now host of FX's Totally Biased with W. Kamau Bell (4/21)
Michael Pollan – Cooked focuses on making food and drink using the four basic elements of fire, water, air and earth, and is the latest from the famed ethical food journalist (4/25)
Wham City Comedy – This Baltimore collective presents a cross-genre variety show incorporating stand-up, videos, monologues and sketches (4/28)
Lee Woodruff – Those We Love Most explores how tragedy can reunite a broken family, written by the CBS This Morning correspondent (4/30)
Professor Blastoff Live w/Tig Notaro, Kyle Dunnigan and David Huntsberger (5/5)
Paul Farmer – To Repair the World: Paul Farmer Speaks to the Next Generation assembles short speeches made by this Harvard Medical School doctor and global health activist (5/7)
Ross Matthews — The great super-gay comic comes to town! (5/9)
Lewis Black — Back in Black, Black is Back (5/19)
STRATHMORE
5301 Tuckerman Lane
North Bethesda
301-581-5100
strathmore.org
Arts and the Brain Lecture Series — "Know Thyself: How Patients' Self-Perception and Imagination Support Health" (3/28, Mansion); "Beauty and the Brain: Neuroscience of Sculptural Aesthetics" (4/18, Mansion); "Step in Time: The Effects of Music Experience on the Adult Brain" (5/30, Mansion); "Healing Tones: Music Therapy and Post-Traumatic Stress Disorder in Veterans" (6/6, Mansion)
Reinventing Radio: An Evening with Ira Glass — This American Life host (6/29, Music Center)
THE STATE THEATRE
220 North Washington St.
Falls Church
703-237-0300
thestatetheatre.com
The Whitest Kids U' Know – Live show mixing skits from the sketch-comedy IFC TV show (3/22)
Creed Bratton – A regular from The Office who was a guitar rocker before he became a sitcom sensation (3/28)
Doug Stanhope – Standup comic who's appeared on any number of Comedy Central shows (5/9)
VERIZON CENTER
601 F St. NW
202-628-3200
verizoncenter.com
Ringling Bros. and Barnum & Bailey: Dragons (3/21-24)
WARNER THEATRE
513 13th St. NW
202-397-SEAT
warnertheatre.com
Sarah Silverman — The acerbic comedian returns (4/25)
Ron White – "A Little Unprofessional" is the name of the game for this standup comedian, a charter member of the Blue Collar Comedy Tour (4/20)
Jay and Silent Bob's Super Groovy Cartoon Movie – Kevin Smith and Jason Mewes bring their fictional characters from the screen to the stage (4/21)
Jillian Michaels – If you can't get enough of this personal trainer on TV, then you're definitely gonna lose it with her in person (4/24)
Mike Tyson: Undisputed Truth – Spike Lee directs this stage show featuring the boxing brute with the pipsqueak voice (4/26-27)
Super Why! — The CGI-animated kids show (5/10)
Love Lucy Live on Stage (6/1-14)
Daniel Tosh (6/22-23)
Tracy Morgan – "Excuse My French" and whatever else the 30 Rock star may say in his latest standup show (6/29)
WOLF TRAP
1645 Trap Road
Vienna, Va.
703-255-1900
wolf-trap.org
A Prairie Home Companion with Garrison Keillor — The old-timey public radio celebrity once again kicks off the season at Wolf Trap's gorgeous amphitheater, the Filene Center (5/24-25)
New York Gilbert & Sullivan Players: The Mikado — Satirical operetta set in Japan spins a mythical tale of romantic triangles (5/31-6/1)
Rock of Ages — The jukebox musical featuring '80s classic rock tunes (6/7-8)
Bill Cosby (6/15)
Wolf Trap's 24th Annual Louisiana Swamp Romp — Marcia Ball, Steve Riley & The Mamou Playboys and more re-create the exuberant New Orleans spirit alongside mouthwatering Cajun food (6/16)
Sing-A-Long Grease (6/22)
Trap: Frozen Planet in Concert — Stunning imagery of the icy Earth with an original score (6/28)
BUDDY – The Buddy Holly Story — Another jukebox musical, this one exploring the music from the dawn of rock'n'roll (7/2-3)
Sing-A-Long Sound of Music (8/31)
The Lord of the Rings: The Fellowship of the Rings — A live orchestra and the City Choir of Washington perform Howard Shore's score as this epic film is shown on huge screens in HD (9/6-7)