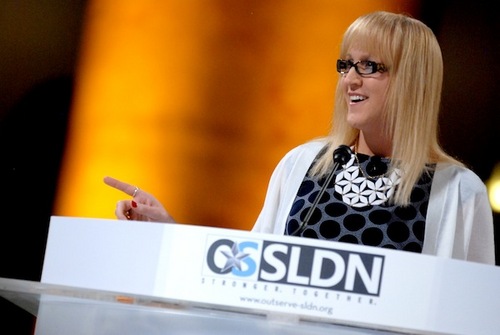 The leader of the nation's largest LGBT military organization set her sights on complacency Saturday night, telling an audience of nearly a thousand that the fight for equality in the American armed services is far from over.
"We need to be stronger because at its heart, our movement isn't just a fight to pass laws or enact policies; it's a campaign to change hearts, minds and, ultimately, a nation," OutServe-SLDN Executive Director Allyson Robinson told the audience. "It's not enough to check off the items on our policy agenda one by one and say one day, 'We're done.' We're working to create a military that truly embodies the values of fairness and equality it protects, one that leads the nation in inclusion rather than lagging behind it."
Robinson's highly personal speech, which chronicled her struggle to come out as transgender, was her first "State of LGBT Military Service Address" since being named the head of the newly combined LGBT military organization in October.
Already, the Army veteran and 1994 graduate of the United States Military Academy at West Point has made historic advances for equality in the military, using her position to increase pressure on the Pentagon to extend benefits to same-sex military families. Those efforts, which began after the repeal of "Don't Ask, Don't Tell" more than a year ago, came to fruition last month when Leon Panetta extended a number of benefits to gay servicemembers in one of his last acts as defense secretary.
Panetta's February order included key benefits long called for by advocates, including military IDs for spouses of gay servicemembers, legal services and access to Morale, Welfare and Recreation programs. However, benefits such as health care and housing allowances were not included due to the restricted definitions of "spouse" and "marriage" under the federal Defense of Marriage Act. The added benefits should be extended by Aug. 31, though with a hard deadline of Oct. 1, and will affect an estimated 5,600 active-duty servicemembers, 3,400 National Guardsmen and reservists and 8,000 retirees.
"In the four months since our merger, we've broken through years of Pentagon intransigence to win much-needed benefits for our families, … shaped the national debate about what it takes to be secretary of defense and lead today's armed forced, … prevailed upon now-Secretary Chuck Hagel to make the strongest, most unequivocal commitment to LGBT equality ever expressed by a nominee for the position, … looked blatant, entrenched discrimination dead in the eye at Fort Bragg – and won," Robinson said to cheers from the packed audience at Washington's National Building Museum.
"We're definitely stronger together. But to get to where we need to go, we will need to be stronger still."
With a litany of victories over the past few years, Robinson is aiming for new heights for LGBT equality in the military and the scope of OutServe-SLDN's reach. In her speech Saturday, Robinson announced a new membership goal to grow the organization from 6,000 to 14,000 active-duty servicemembers by the end of 2014. According to Robinson, the number is equivalent to one for every soldier, sailor, airman, Marine and coast guardsman kicked out under DADT.
"LGBT troops still lack even the most basic nondiscrimination protections – protections that have been the standard with other American employers for years. The Defense of Marriage Act still denies LGBT military families the most important support services – things like health insurance and survivor benefits," said Robinson. "Qualified Americans who are transgender and who want to serve in uniform are still forbidden from doing so by medical regulations that have become ridiculously obsolete. And despite the repeal of 'Don't Ask, Don't Tell,' thousands of our troops are still in the closet, afraid of what coming out might mean for their careers, their families."
After becoming the first transgender person ever to lead a major organization that advocates on behalf of LGBT people, Robinson's selection as executive director of OutServe-SLDN last year signaled the newly combined organization's focus on bringing transgender equality to the American military. Due to a medical regulatory ban, not only is evidence of transition therapy grounds for disqualification for potential recruits, so is openly identifying as transgender, which the Pentagon considers a psychiatric condition.
Transgender veterans who transition after leaving the armed forces face other obstacles as well. Upon discharge from the military, some transgender veterans who seek to change the name on the form used to secure veteran benefits are not always able to do so. Although the Department of Veterans Affairs issued a directive in June 2011 providing health care for some transgender medical needs, such as hormone treatments, the VA does not provide sex-reassignment surgery.
With an ambitious end goal less than two years off, Robinson says she is aware that the next leg in OutServe-SLDN's fight for equality will not be easy. Since the successful repeal of DADT, the focus among many in the community has largely shifted away from the military and the inequalities that still remain, to the marriage-equality campaigns that have come to define the movement. But Robinson's message to supporters on Saturday was clear.
"Now, that historic victory is just that — history," Robinson said of the repeal of DADT. "But the fight for full LGBT equality in our armed forces is far from over. In fact, it's just getting started."
[Photo: Allyson Robinson delivers her State of LGBT Military Service Address (Credit: Ward Morrison/Metro Weekly).]