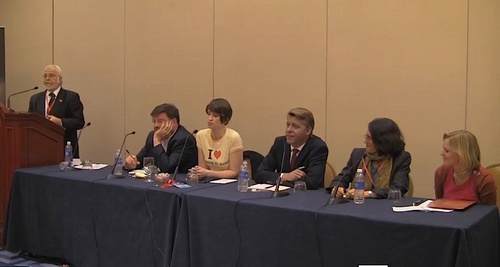 The conservative movement's attempt to grapple with gay rights was on full display during the first day of the Conservative Political Action Conference as leaders from the old guard and the new pitted exclusion against inclusion.
"We have tolerated something in our movement for far too long – anti-gay bigotry," Jimmy LaSalvia, executive director of GOProud, told a room packed with CPAC attendees and journalists on the first night of the conference, March 14.
"Let me be perfectly clear. I don't believe that just because someone opposes same-sex marriage, that that automatically makes them a homophobe," LaSalvia continued. "There are, however, a few in our movement who just don't like gay people, and in 2013 that's just not okay in America anymore."
LaSalvia's presence on Thursday's panel, "A Rainbow on the Right: Growing the Coalition, Bringing Tolerance Out of the Closet," was another chapter in a long history of tensions between GOProud and the American Conservative Union (ACU), which organizes CPAC.
Although GOProud participated in CPAC in 2010 and 2011 to the protests of social conservatives, the group was kicked out of the conference last year after former GOProud board President Chris Barron labeled conservative attorney Cleta Mitchell a "nasty bigot" and blamed her for the decision by the Heritage Foundation to remove itself from the conference over GOProud's participation. Despite an apology from Barron, GOProud has not be invited back.
"America's Future: The Next Generation of Conservatives," was what the ACU titled this year's conference held at the Gaylord National Resort & Convention Center at National Harbor, Md. Despite the forward-looking slogan, CPAC has come under fire in recent weeks for decisions to exclude GOProud and not invite Gov. Chris Christie, claiming that the New Jersey Republican is too moderate. In many ways, GOProud's exclusion has elevated the organization's profile further as LaSalvia has been quoted in news reports across the country.
At Thursday's panel, which was not organized by the ACU but a CPAC sponsor, the Competitive Enterprise Institute (CEI), a free market and limited-government nonprofit focused on economic and environmental policy, LaSalvia said that those who "demonize gay people and oppose homosexuality" are increasingly out of the mainstream.
"I believe that this issue contributes more to conservatives' image problem than any other, because it's an issue that cuts across all demographic groups," said LaSalvia. "And it has to be addressed. It's time."
CEI organized the panel because they "wanted to send a message of inclusion, not just to Jimmy LaSalvia and GOProud, but a broad message that we very much value the diversity of voices," CEI's communications director, Christine Hall, told Metro Weekly. "I think, like a lot of people, there are many within this organization who were distressed by the decision by some on the ACU board not to have GOProud sponsor the event last year."
LaSalvia was joined by a number of allies on the panel, including Republican consultant Liz Mair, who also serves on GOProud's advisory board; Washington Post blogger Jennifer Rubin; CEI founder and Chairman Fred Smith; National Review's Jonah Goldberg; and CNN contributor Margaret Hoover. All made the conservative case for marriage equality, arguing that marriage — whether between a straight couple or gay couple — strengthens society.
"We cannot be at war with America on issues of fairness, on issues of equality," Rubin said, adding that respect and tolerance of gay Americans is a "gateway issue" for potential Republican voters. "In 10 years or so, no one is going to be talking about this. In 10 years, I don't know if there will be a Republican Party. There's nothing that says political parties have to last forever."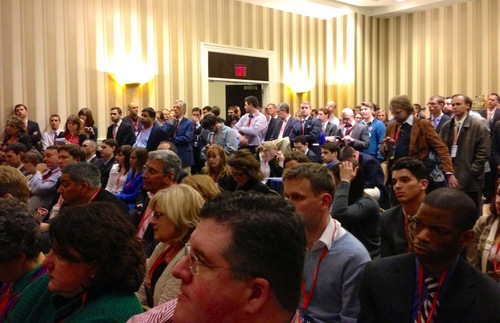 A three-day event running March 14 to 16, CPAC is the highest profile, most anticipated conservative event of the year. Prospective presidential candidates flock to the conference, as Sens. Marco Rubio (R-Fla.) and Rand Paul (R-Ky.) did this year. But it is also a time for discussion among conservative leaders, and a period of reflection on the direction of the movement. After a series of devastating defeats last November, this year in particular there is a mood at CPAC that attendees long for a solution to their electoral woes.
The divisions that continue to exist within the movement, particularly between young and old conservatives on marriage equality, were in plain view during CPAC.
"Just because I believe that states should have the rights to define marriage in a traditional way does not make me a bigot," Rubio said during his Thursday speech. While the line drew applause, it was tepid compared to the reaction to his statements on abortion that followed.
In a series of emails republished by the blogs Brietbart Unmasked and Right Wing Watch, Ali Akbar, president of the National Bloggers Club, wrote that Al Cardenas, the chairman of the ACU, should be protected when he attends the invitation-only "Blog Bash" event organized by Akbar.
"No one, no one is to talk to him or be allowed to talk to him about GOProud or anything like that," Akbar wrote in one email. "When he's making his way through the room – if you hear anyone say GOProud or other bullshit – put your body between their mouths and the Chairman's body," Akbar wrote, adding that Cardenas "knows most of that room disagrees with the ACU Board on a variety of issues."
While young conservatives discussed the political reality of marriage equality winning at the ballot box in four states last November, during a panel moderated by Cleta Mitchell, titled "Stop THIS: Threats, Harassment, Intimidation, Slander & Bullying from the Obama Administration," Brian Brown, president of the National Organization for Marriage (NOM), said there was nothing conservative about "redefining" marriage.
"Those who are claiming the legacy of the civil rights movement are fundamentally wrong when they say that the civil rights movement or conservatism supports redefining something as true and simple as it takes a man and a woman to make a marriage," Brown said to a ballroom largely filled with empty seats.
Opposition to marriage equality remains strong among the older base of the Republican Party, but it is rapidly becoming a nonissue for the next generation of conservatives — a fact conservative leaders are seemingly aware of as gay marriage went largely unmentioned on the main stage at CPAC. Indeed, nearly half of Republican Millennials aged 18 to 29 believe same-sex couples should have the right to marry compared 19 percent of Republicans 65 or older.
"If you believe that conservative ideas are better for governing this country, we are failing miserably to make our case to an entire set of Americans who are the largest generation of Americans in United States history," Margaret Hoover said Thursday. "There will be 100 million Millennials voting by 2020."
Speaking at Thursday's panel hours before news broke that Ohio Republican Sen. Rob Portman now supports same-sex marriage after learning that his son is gay, LaSalvia expressed hope for a more inclusive future. "Look around the room," a visibly moved LaSalvia said to the relatively young audience. "You are looking at the new conservative coalition. It's starting right now, here in this room. When history is written, you can say you were there."
[Photos: The pro-gay CEI panel including Fred Smith (left) Jonah Goldberg, Liz Mair, Jimmy LaSalvia, Jennifer Rubin and Margaret Hoover. The crowd at Thursday's panel (Screenshot courtesy of CEI. Photo by Justin Snow/Metro Weekly).]