The Washington region is exceptionally rich in classical music, and you could easily spend springtime soaking up all kinds of chamber, symphonic and chorale music, from old school to Hollywood, opera to avant-garde. Among the many intriguing highlights to come in the coming months, the Washington National Opera offers an operatic version of the pioneering musical Show Boat. And all three of the region's largest orchestras will perform Carl Orff's intense Carmina Burana. The National Symphony Orchestra's production will even take place outdoors, under a starry sky at Wolf Trap. Talk about a musical rush.
THE ALDEN
McLean Community Center
1234 Ingleside Ave.
Mclean, Va.
703-790-0123
aldentheatre.org
Concerts at the Alden: Joni Chan, piano — Recital co-sponsored by the Music Friends of the Fairfax County Public Library. (4/7)
ARTISPHERE
1101 Wilson Blvd.
Arlington
703-875-1100
artisphere.com
National Chamber Ensemble: The Art of the African-American Spiritual – Soprano Aundi Marie Moore, an alumnus of the Washington National Opera's Domingo-Cafritz Young Artist Program, joins to explore African-American music. (3/23)
UrbanArias: Paul's Case — A new mini-opera from Gregory Spears and Kathryn Wallat, based on the story by Willa Cather. (4/20-28)
National Chamber Ensemble: The Three B's – Bach, Beethoven and Brahms – Pianist Carlos Rodriguez joins for a performance of three masterpieces from the German greats. (6/1)
ATLAS PERFORMING ARTS CENTER
1333 H St. NE
202-399-7993
atlasarts.org
Congressional Chorus — Imagine: A 1970s Cabaret features music of Queen, the Bee Gees, ABBA, John Denver and Donna Summer. (3/21-24)
Great Noise Ensemble — One of Washington's most ambitious new music ensembles and currently an Atlas Artist-in-Residence. (4/5, 5/17)
International Contemporary Ensemble – A double bill featuring two new ambitious cycles of music from Phyllis Chen and Carla Kihlstedt. (4/11)
Capital City Symphony – Highlights from Puccini's La Boheme factor into this program of "Opera! Scenes and Songs." (4/14)
Maya Beiser & Michael Harrison – "The post-modern diva" and "the American maverick" captivate audiences worldwide with their cello and piano playing. (5/10)
Capital City Symphony – Cellist Brannon Cho joins in a Season Finale concert of Dvorak's Cello Concerto, plus Tchaikovsky and Stravinsky. (5/19)
Newspeak Ensemble — An eight-piece ensemble committed to the mysterious, nuanced and compelling music of its time. (6/21)
BACH SINFONIA
Cultural Arts Center at Silver Spring
Montgomery College
Silver Spring
301-362-6525
bachsinfonia.org
Most Beloved Bach – A program of Bach's masterworks for the full ensemble, including the Orchestra Suite No. 2, the Brandenburg Concerto No. 3 and the Concerto for Two Violins. (4/7)
Nuevo Mundo Barroco – Compositions used in liturgical services and civic occasions in Mexico and South America factor into this "New World Baroque" program timed for Cinco de Mayo. (5/5)
BALTIMORE SYMPHONY ORCHESTRA
410-783-8000
bsomusic.org
Trpceski Plays Rachmaninoff (3/22-24)
Disney's Fantasia (4/5-6)
Bond and Beyond: 50 Years of 007 (4/11-14)
Wagner's The Ring: An Orchestral Adventure – Marin Alsop leads the BSO to perform a condensed version of Wagner's four-cycle opera by contemporary Dutch composer and arranger Henk de Vlieger. (4/18, 4/21)
Off The Cuff: Wagner: A Composer Fit for a King – Writer/director Didi Balle has created a semi-staged play relating the complicated relationship between the composer and his benefactor, King Ludwig II. (4/19)
Midori – Violin prodigy is all grown up and still inspiring acclaim. (4/25-27)
Time for Three (5/2, 5/4)
Chaplin's Masterpiece: Modern Times – BSO performs Chaplin's own score for his 1936 silent film, a brilliant, biting satire on the mechanical age. (5/10-12)
Romeo & Juliet – Carlos Kalmar conducts selections from Prokofiev's impassioned ballet. (5/23-25)
BSO SuperPops: The Magic of Motown (5/30-6/2)
Music of the Movies: John Williams conducts the BSO — The world's most heralded film composer picks up the baton to lead the orchestra in a program of his scores as a fundraising concert for BSO musicians. (6/4)
Carmina Burana – Alsop leads the BSO in a collaboration of this masterpiece with Morgan Stage University Choir and Peabody Children's Chorus. (6/6-9)
West Side Story – Music & The Movie – Alsop conducts the BSO in a performance of Leonard Bernstein's 10-time Oscar-winning score accompanying the movie version of the great musical. (6/13-16)
Masters of Baroque — Violinist Jonathan Carney leads a program of works by Vivaldi, Bach and Handel. (7/11-12)
Gershwin's Greatest Hits (7/25-26)
BARNS AT WOLF TRAP
1635 Trap Road
Vienna
877-WOLFTRAP
wolftrap.org
Peter Kolkay w/Alexandra Nguyen and Deirdre Chadwick – Bassoonist is paired with a pianist and oboist in a recital as part of Wolf Trap's Discovery Series. (4/5)
Wolf Trap Opera Company: The Journey to Reims – A new production of Rossini's opera, sung in Italian with English surtitles. (6/21, 6/23, 6/29)
Steven Blier with Wolf Trap Opera Company – Wonders to Wander to: Songs and Stories of Faraway Lands is a recital featuring four Filene Young Artists singers telling stories from musical fables by Porter, Bolcom, Coward and Schumann. (7/6-7)
Wolf Trap Opera Company's Aria Jukebox – Company director Kim Witman accompanies singers performing favorite opera highlights selected by the audience. (7/14)
Wolf Trap Opera Company: Falstaff – A new production of Verdi's classic. (8/9, 8/11, 8/14, 8/17)
CLARICE SMITH PERFORMING ARTS CENTER
University of Maryland
College Park
301-405-ARTS
claricesmithcenter.umd.edu
Wu Man – Chinese-born musician is the world's premier virtuoso on the pipa, the traditional, four-stringed Chinese lute. (3/28)
SIREN – Acclaimed Graduate Fellowship Woodwind Quintet performs a recital of 20th century composers. (3/30)
Windscape Quintet (4/4)
Bach Cantata: Wachet Auf — An informal performance by students and friends of the UMD Choral Activities, part of a series exploring the 200-plus cantatas by the great master. (4/11)
Maryland Opera Studio: Idomeneo and La Boheme in repertory. (4/12-21)
Brad Mehldau and Chris Thile — The pianist and mandolin player team up for a concert. (4/12)
Robert Dilutis – Clarinetist and one of the UMD School of Music's newest faculty members makes his solo debut on campus. (4/14)
Orpheus Chamber Orchestra with Gabriel Kahane – American composer and singer-songwriter Kahane, who inhabits a classical-pop world alongside sometime-collaborators Sufjan Stevens and Rufus Wainwright, is the first composer-in-residence for this UMD-affiliated orchestra. (4/20)
UMD Koto Ensemble and Washington Toho Koto Society — Springtime in Japan. (4/28)
TEMPO (4/29)
Gamer Symphony Orchestra – An eight-year-old, 110-strong orchestra, the first collegiate ensemble exclusively devoted to performing orchestral arrangements of video-game music and using it as an educational tool. (5/4)
Annual Pops Concert – UMD Wind Ensemble, University Band, Community Band team up for this 37th annual audience favorite. (5/4)
Prince George's Philharmonic (5/11)
National Orchestral Institute and Festival – Selected talented young musicians from around the country partake in a month of professional development and music-making, culminating in a student-led National Festival Chamber Orchestra concert. (6/8)
CHORAL ARTS SOCIETY
202-244-3669
choralarts.org
Brass, Brahms and Britten – An elegant evening of works designed for brass, organ and chorus. (4/14, National Presbyterian Church)
Broadway's Show-Stoppers with Brian Stokes Mitchell – The society and orchestra offer a "wall of sound" in a Mother's Day performance of Broadway's greatest hits led by Tony Award-winning star of Man of La Mancha and Ragtime as well as recent Glee guest in this co-presentation with WPAS. (5/12, Kennedy Center)
THE CITY CHOIR OF WASHINGTON
202-495-1613
thecitychoirofwashington.org
Diamond Jubilee: A Coronation Anniversary Concert – A concert celebrating the musical pageantry of a coronation, capped by the world-premiere performance of Sir John Tavener's Three Hymns of George Herbert, composed in honor of the Diamond Jubilee of the Coronation of Queen Elizabeth II. (4/21, Washington National Cathedral)
COOLIDGE AUDITORIUM AT THE LIBRARY OF CONGRESS
Thomas Jefferson Building
10 First St. SE
202-707-8000
loc.gov/concerts
Gabriel Kahane and Timothy Andres — The wide-ranging singer-songwriter Kahane and pianist Andres perform from their own repertoire as well as that of Hanns Eisler and Charles Ives. (4/5)
Christophe Rousset — French Baroque expert and harpsichordist offers a musical travelogue. (4/13)
Stile Antico — Ensemble of young British singers performs choral masterpieces in "Treasures of the Renaissance." (4/17)
Keller Quartet — Founded only 16 years ago, this Hungarian quartet is already a world-renowned ensemble known for musical curiosity and adventure. (4/18)
Left Bank Concert Society with Patricia Green — Soprano joins the Washington ensemble to perform George Walker's Poem for Soprano and Chamber Ensemble, including T.S. Eliot's "The Hollow Men." (4/20)
Orchestra 2001 w/Ann Crumb and Patrick Mason — Soprano and baritone perform with this orchestra the final volume of George Crumb's seven-volume American Songbook. (5/3)
Attacca Quartet — Rising stars, currently Juilliard's Graduate Resident String Quartet, make their Washington debut. (5/22)
Jennifer Koh and Reiko Uchida — Violinist and pianist offer an intriguing mix of masterpieces from past and present. (5/23)
International Contemporary Ensemble — John Adams conducts Schoenberg and Stravinsky plus the world premiere of a "Library of Commission." (5/24)
D.C.'S DIFFERENT DRUMMERS
202-269-4868
dcdd.org
Spring Concert: Space Odyssey — The symphonic band and the wind ensemble blast off for spring. (3/23, Columbia Heights Education Campus)
DAVIS PERFORMING ARTS CENTER
Georgetown University
3700 O St. NW
202-687-ARTS
Sara MacKimmie and Jennifer Ellis Kampani — Two sopranos perform French Baroque works as part of Georgetown's free Friday Music Series. (3/22)
Gary Louie and Kirsten Taylor — saxophonist and pianist, also a husband and wife duo, perform works by Decruck, Poulenc and Albright for a Friday Music Series concert. (4/19)
World Percussion Ensemble (4/21)
FAIRFAX SYMPHONY ORCHESTRA
703-563-1990
Joni Henson and Brennen Guillory – Zimmerman ensures the season ends with a bang in a concert featuring a guest soprano and a guest tenor in a program of Verdi and Wagner, both of whom would have turned 200 this year. (5/11)
FOLGER CONSORT
Folger Elizabethan Theatre
201 East Capitol St. SE
202-544-7077
folger.edu
Vienna: Music for Maximilian – At the turn of the 16th century the imperial court in Vienna amassed the largest musical establishment in Europe. (4/12-14)
GAY MEN'S CHORUS OF WASHINGTON, D.C.
202-293-1548
gmcw.org
Side by Side – The chorus's two stellar vocal ensembles, Rock Creek Singers and Potomac Fever, share the spotlight in a wide-ranging, genre-hopping program. (4/20, Church of the Epiphany)
Disco Inferno: Spring Affair Gala Fundraiser — The chorus's largest annual fundraiser. (4/27, Grand Hyatt Washington)
Seven – A sexy and satirical show filled with campy production numbers and songs exploring, exploiting – even celebrating – those pesky, deadly sins. (6/1-2, Lisner)
KENNEDY CENTER
202-467-4600
kennedy-center.org
Kalichstein-Laredo-Robinson Trio – The Kennedy Center's chamber ensemble-in-residence makes its annual appearance with a brand-new piano composition by Stanley Silverman, along with Brahms and Beethoven. (4/29)
Andrew Tyson – Young Concert Artists presents this 25-year-old pianist in his Washington recital debut. (4/30)
Opera Lafayette: Actéon – Choreographer Sean Curran's semi-staged production of Charpentier's opera features a cast of seven vocalists and a chamber ensemble. (5/1-2)
Apollo Ensemble – Pro Musica Hebraica presents this group in a program titled "Jewish Baroque Treasures from Italy and Amsterdam." (5/13)
Dawn Upshaw with Crash Ensemble – Acclaimed soprano and Dublin's new music company perform a program including Dennehy's multimedia song cycle based on poetry of William Butler Yeats. (5/14)
Yvonne Caruthers's Politics, Propaganda, Prokofiev: The Intriguing Saga of Alexander Nevsky — NSO cellist examines the score for Sergei Eisenstein's 1938 Russian propaganda film. (6/1)
The WPI Foundation presents: 2013 World Pianist Invitational (6/15)
The Capitol Symphonic Youth Orchestras present Spring Fantasy (6/16)
Carnegie Hall's National Youth Orchestra of the USA — Valery Gergiev conducts. (7/13)
LISNER AUDITORIUM AT GWU
730 21st St. NW
202-994-6800
lisner.org
Vijay Iver – The celebrity jazz pianist. (4/16)
LYRIC OPERA HOUSE
140 West Mount Royal Ave.
Baltimore
410-547-SEAT
lyricoperahouse.com
Bravissimo Bel Canto! Gala Concert — The Bel Canto period will be celebrated in a program featuring mezzo-soprano Daneila Mack, tenor Alex Shrader and baritone Daniel Belcher. (4/13)
Michael Feinstein: The Gershwins and Me — The "Ambassador of the Great American Songbook" talks about his experiences with American music pioneers the Gershwins. (5/9)
Verdi's Rigoletto (5/17-19)
NATIONAL PHILHARMONIC
Music Center at Strathmore
5301 Tuckerman Lane
North Bethesda
301-493-9283
nationalphilharmonic.org
Bach: Sleepers Awake! – An all-Bach program, from two Brandenburg Concertos to his Cantata No. 140, which gives this program its title. (4/6)
Denyce Graves: The Melodies of Brahms – Superstar mezzo-soprano performs as the soloist in Brahms's Alto Rhapsody, part of an all-Brahms program. (5/4-5)
Wagner 200th Anniversary Celebration – Gajewski leads the orchestra in selections from each of Wagner's 10 best-known operas. (6/1)
Carmina Burana – Soprano Audrey Luna, tenor Robert Baker and baritone Leon Williams join the orchestra and chorale, led by Stan Engebretson, in a performance of Carl Orff's rousing masterpiece. (6/8-9)
NATIONAL SYMPHONY ORCHESTRA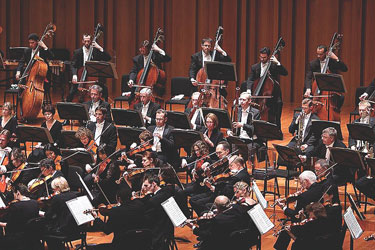 National Symphony Orchestra
Kennedy Center Concert Hall
202-467-4600
kennedy-center.org
Arabella Steinbacher plays Beethoven – Violinist continues the NSO's seasonal Beethoven exploration with the master's Violin Concerto. (3/28-30)
Emanuel Ax plays Chopin – Hugh Wolff conducts the NSO and this pianist in a performance of Chopin's Piano Concert No. 2. (4/4-6)
NSO Pops: Chris Botti – American jazz trumpeter offers a wide-ranging repertoire of pop, jazz and classical. (4/18-20)
Andreas Haefliger plays Beethoven -– More Beethoven, this time his Piano Concerto No. 1 in a program led by young and exciting Amsterdam-born conductor Jaap van Zweden. (4/25-27)
Beyond the Score: Tchaikovsky's Symphony No. 4 – Half concert, half multimedia educational experience, led by conductor Jaap van Zweden. (4/26)
Alisa Wellerstein plays Elgar – Christoph Eschenbach conducts the NSO in a performance of Elgar's Cello Concerto. (5/2-4)
Music of Schnittke & Shostakovich – Eschenbach offers a preview of the NSO's Carnegie Hall program Spring for Music: A Tribute to Slava. (5/3)
NSO Pops: The Musical Journey of Stephen Schwartz – Reineke leads the Pops and the Washington Chorus in a tribute to the 10th anniversary of Wicked and the 65th birthday of its composer with a concert performance of Schwartz's songs. (5/16-18)
Jeremy Denk plays Ravel – Composer John Adams returns to the NSO to conduct his City Noir as well as Ravel as performed by celebrated pianist. (5/30-6/1)
Augustin Hadelich & Nadezhda Serdyuk – Violinist makes his much-anticipated NSO debut performing Dvorak's Violin Concerto conducted by another young star, Jakub Hrusa, and also featuring the Washington Chorus. (6/6- 8)
David Hardy plays Dutilleux – NSO principal cellist performs in a program led by dynamic young British conductor Matthew Halls. (6/13-15)
Jean-Yves Thibaudet plays MacMillan & Saint-Saens – Star pianist plays two programs with the NSO led by Krzysztof Urbanski. (6/20-22)
SHENANDOAH CONSERVATORY
Shenandoah University
Winchester, Va.
540-665-4569
ConservatoryPerforms.org
Doc Severinsen with Alan Baylock Jazz Orchestra (3/22)
Sibelius Symphony No.7 (3/23)
Cantus Singers and Shenandoah Chorus (4/12)
STRATHMORE
5301 Tuckerman Lane
North Bethesda
301-581-5100
strathmore.org
UrbanArias: Blind Dates — The local mini-opera company brings three staged, short operas to Strathmore for a special Friday Night Eclectic concert. (3/22, Mansion)
Kristin Lee – 25-year-old violinist has already won many plaudits. (4/4, Mansion)
Carnegie Mellon Philharmonic and Choirs (5/5, Music Center)
Cameron Carpenter – "Not Your Grandma's Organist," The Wall Street Journal has proclaimed about this flamboyant classical crossover artist. (4/12, Music Center)
Maurizio Pollini – The New York Times says this pianist's playing is "powerful and precise." (4/14, Music Center)
2013 Spring Gala w/Michael Feinstein — The ambassador of the Great American Songbook performs Gershwin standards in a program based on his recent book The Gershwins and Me, about his early apprenticeship with Ira Gershwin. (4/20, Music Center)
Marian Anderson String Quartet – Quartet offers what the Los Angeles Times calls a "big sound and bold theatricality." (4/25, Mansion)
Mak Grgic – Prize-winning 24-year-old Slovenian guitarist performs Bach, Ravel, Debussy and Brahms in transcriptions for guitar. (5/9, Mansion)
Kathleen Battle w/Cyrus Chestnut and the Heritage Signature Chorale – "Underground Railroad" explores the music that expressed the suffering and salvation of enslaved Africans as they found their way to freedom. (5/18, Music Center)
WASHINGTON BACH CONSORT
National Presbyterian Church
4101 Nebraska Ave. NW
202-429-2121
bachconsort.org
The B Minor Mass – The monumental Mass in B Minor that Bach worked on throughout his life. (4/28)
THE WASHINGTON CHORUS
202-342-6221
In addition to performances with the National Symphony Orchestra and the Baltimore Symphony Orchestra, the famed Washington Chorus offers: Comin' Up Shoutin' – Singer/songwriter and recording artist Melanie DeMore leads a concert exploring the rich sounds of the African-American heritage. (5/19, National Presbyterian Church)
New Music for a New Age – This year's edition of the award-winning series presents the works of Tarik O'Reagan. (6/30, National Presbyterian Church)
WASHINGTON CONCERT OPERA
Lisner Auditorium
The George Washington University
730 21st St. NW
202-364-5826
concertopera.org
Maria Stuarda – The concert opera's Antony Walker conducts sopranos Brenda Harris and Georgia Jarman in Donizetti's vocal battle royal between England's dueling queens. (4/7)
WASHINGTON NATIONAL OPERA
Kennedy Center Opera House
202-295-2400
dc-opera.org
Manon Lescaut – Patricia Racette takes on the role of the first tragic heroine in a long list of Puccini favorites in what The Baltimore Sun calls an "impassioned, sensual production" by John Pascoe. (Now to 3/23)
Norma — Angela Meade plays the druid priestess secretly carrying on a love affair with the enemy's leader in the midst of the Gallic-Roman wars, who then exacts revenge when her lover's affections shift. (Now-3/23)
Celebrity Concert Series: Diana Damrau – Possessing what The New York Times calls a "lustrous, agile coloratura soprano voice, and charisma galore," opera star makes her WNO debut in an evening of dazzling music featuring WNO Orchestra conducted by Keri-Lynn Wilson. (4/8)
Show Boat – A spectacular new opera production of this pioneering musical, one that the Chicago Tribune raves is a "joyous, beautifully mounted entertainment [that] should keep rolling along for a long while to come." (5/4-26)
WASHINGTON PERFORMING ARTS SOCIETY
202-833-9800
wpas.org
Amit Peled – Peabody Conservatory faculty member and cellist returns after a 2011 sold-out show, this time accompanied by pianist Alon Goldstein, in a program featuring Beethoven, Brahms and Chopin. (3/24, Kennedy Center)
Andras Schiff — Famous pianist performs Bach's Complete French Suites as part of WPAS's Celebrity Series. (4/7)
What Makes It Great? with Rob Kapilow – Musicians from the Curtis Institute of Music team up again with Kapilow, this time to perform Schuman's Piano Quintet in E-flat Major as part of another discussion co-presented by Smithsonian Associates. (4/7, National Museum of Natural History)
Dresden Staatskapelle -– Celebrity orchestra, under new music director Christian Thielemann, offers an all-Brahms program with violinist Lisa Batiashvili. (4/16, Strathmore)
Evgeny Kissin – Star pianist performs Schubert's Impromptu pieces as well as sonatas by Hadyn and Beethoven and Liszt's Hungarian Rhapsody No. 12 in C-sharp minor. (4/24, Kennedy Center)
Rafal Blechacz – Polish piano master performs Bach, Beethoven, Chopin and Szymanowski. (4/27, Kennedy Center)
Metropolitan Opera National Council Audition Winner Matthew Grills — Tenor performs a mixed program accompanied by Tyson Deaton. (4/28, Kennedy Center)
The Philadelphia Orchestra – Violinist Hilary Hahn joins the orchestra led by its new director Yannick Nézet-Séguin to perform Korngold's Violin Concerto. (5/1, Kennedy Center)
Carducci String Quartet (5/4, Kennedy Center)
Shai Wosner – Pianist performs a mostly Schubert program part of the WPAS's Hayes Piano Series. (5/11, Kennedy Center)
Markus Groh – In addition to Beethoven, Liszt and Wagner, this Hayes Piano Series guest offers a 2004 piece by Osvaldo Golijov. (6/1, Kennedy Center)
WOLF TRAP
1645 Trap Road
Vienna, Va.
703-255-1900
wolf-trap.org
NSO @ Wolf Trap: Jerry Garcia Symphonic Celebration featuring Warren Haynes — Billed as a groundbreaking orchestral tribute to the late Grateful Dead front man. (6/26)
NSO @ Wolf Trap: Carmina Burana — The Choral Arts Society of Washington and soloists from the Wolf Trap Opera Company present Carl Orff's epic choral masterpiece. (7/12)
NSO @ Wolf Trap: La traviata — the Wolf Trap Opera Company joins to celebrate Verdi's bicentennial birthday by performing his most popular opera. (7/19)
NSO @ Wolf Trap: 1812 Overture — Piano prodigy Benjamin Grosvenor joins in a program that includes Tchaikovsky's Fourth of July staple. (7/26)
NSO @ Wolf Trap: America the Beautiful — A symphonic tribute to Ansel Adams featuring his striking photography as well as Chris and Dave Brubeck's "Ansel Adams: America," among other pieces. (7/27)
NSO @ Wolf Trap: Wicked Divas — A concert of diva showstoppers from Phantom of the Opera, Gypsy, Chicago and of course Wicked, from Broadway soloists. (7/28)
NSO @ Wolf Trap: Bugs Bunny at the Symphony II — Cartoons of the iconic "Wascally Wabbit" screened as the NSO plays live. (8/1-2)
NSO @ Wolf Trap: Singin' in the Rain — The classic Hollywood musical screens as the NSO plays the score live. (8/3)