Witty, creative and analytical, Aaron isn't one for dull conversation. The Indiana native first came to the District to attend Gallaudet, where he studied sign language interpretation and has been working as an interpreter for almost two years. In a departure from that day-to-day world, Aaron may be the man you want on your side if the world suddenly experiences a zombie apocalypse, as a lighthearted "what if" game with his friends has turned into what he calls an "awkward" hobby of strategizing. When he's not saving the future from flesh-eating ghouls, he likes to go to JR.'s for Thursday drink specials and Town on Fridays for Bear Happy Hour.
What's on your nightstand?
Multiple alarm clocks, to make sure I wake up in the morning.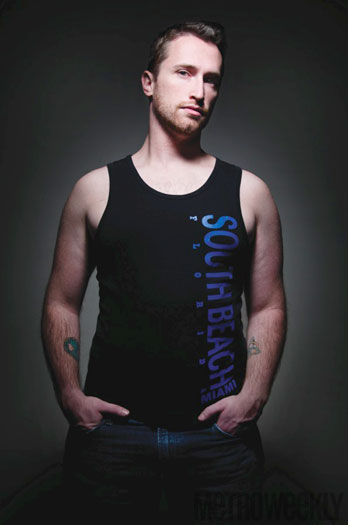 Coverboy: Aaron
(Photo by Julian Vankim)
What's in your nightstand drawer?
My nightstand is actually my windowsill. Condoms are kept in the second drawer of the dresser. My desk is cluttered, with maybe a glass of Jameson from the night before – I'm a big whiskey fan.
What are your television favorites?
The Walking Dead. Once in a while I'll watch The Big Bang Theory or one of the time-consuming shows on the Discovery or History channels.
What was your favorite cartoon when you were a kid?
A tie between Rocko's Modern Life and Animaniacs.

What superhero would you be?
Phoenix – from X-Men comic books, not the movie – in male form, of course. The telekinetic power to mold or shape anything, obliterate anything, would be great.
Who's your greatest influence?
My grandmother. She was the one who taught me how to be calm and composed, no matter what stress came in, and how to be cheerful, no matter what kind of situation came up.
What's your greatest fear?
Solitude.
Pick three people, living or dead, who you think would make the most fascinating dinner guests imaginable.
George Takei, for comedy. Stephen Hawking for scientific discussion. For philosophical discussion, I'd probably go for Mahatma Gandhi.