David is determined to make the most of his time in D.C., the city he claims he "fell in love" with when he moved here three years ago. This 25-year-old Oklahoma native admits to partaking in "nerdy" activities like taking tours and visiting art galleries. He's also a fan of D.C.'s vibrant local music scene, which takes him to places like the 9:30 Club, the Black Cat and U Street Music Hall. While he's a regular visitor to Masa 14 for brunch, you may also catch him taking advantage of the happy hour specials at the Westend Bistro at the Ritz, Number Nine or Nellie's.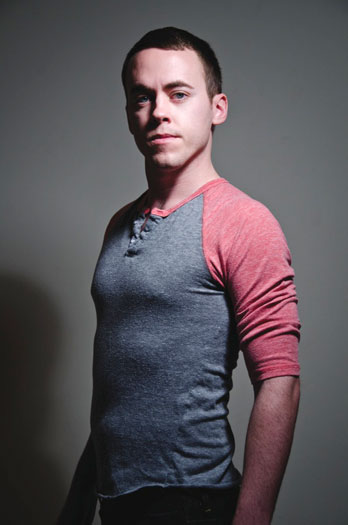 Coverboy: David
(Photo by Julian Vankim)
What's on your nightstand?
An iPad, magazines and a charcoal drawing of a man's torso that I picked up at New York Pride. It was my first "big city" gay pride.
What's in your nightstand drawer?
Sunglasses – a ridiculous amount of them. I save things like concert ticket stubs, maps and assorted things. But I'm not a pack rat. My house is spotless, but that drawer is my one place for saving and storing things.
Where do you keep the condoms and lube?
The bottom drawer of the nightstand.