In one of the most memorable moments during today's Supreme Court arguments on DOMA, Justice Elena Kagan shut down one of the key arguments being made by the lawyer for House Republicans.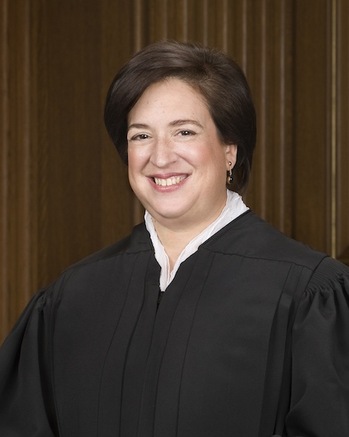 During questioning of Paul Clement, the lead attorney defending DOMA for the Republican-controlled House Bipartisan Legal Advisory Group (BLAG), Kagan took issue with the argument that Congress approved the Defense of Marriage Act in 1996 in order to provide uniformity to the states.
"For the most part and historically, the only uniformity that the Federal Government has pursued is that it's uniformly recognized the marriages that are recognized by the State. So, this was a real difference in the uniformity that the Federal Government was pursuing," Kagan said. "And it suggests that maybe something — maybe Congress had something different in mind than uniformity."
Kagan questioned, "do we really think that Congress was doing this for uniformity reasons, or do we think that Congress's judgment was infected by dislike, by fear, by animus, and so forth?"
According to Clement, there is nothing unusual about the federal government getting involved with marriage, as they did in prohibitions on polygamy and providing benefits to the spouses of freed slaves after the Civil War. In 1996, Clement said, the federal government had reason to act unusually as no state had ever recognized same-sex marriage before and Hawaiian courts were weighing the issue.
And that's when Kagan pounced.
"Well, is what happened in 1996 — and I'm going to quote from the House Report here — is that 'Congress decided to reflect an honor of collective moral judgment and to express moral disapproval of homosexuality.' Is that what happened in 1996?" Kagan asked to gasps and murmurs from the courtroom.
"Does the House Report say that? Of course, the House Report says that," Clement responded. "And if that's enough to invalidate the statute, then you should invalidate the statute. But that has never been your approach, especially under rational basis or even rational basis-plus, if that is what you are suggesting."
Clement added that while the House Report from when DOMA passed provides reasoning BLAG is not invoking to defend DOMA, it made sense for Congress to act when "an unelected State judiciary in Hawaii is on the verge of deciding this highly contentious, highly divisive issue for everybody."
It was one of several moments that elicited audible reaction from the otherwise hushed courtroom audience. Justice Ruth Bader Ginsburg — another liberal justice likely to argue DOMA should be struck down — caused a stir of laughter when she said DOMA creates separate classes of marriage: "full marriage, and then this sort of skim milk marriage."
[Photo: Elena Kagan (Courtesy of the U.S. Supreme Court)]