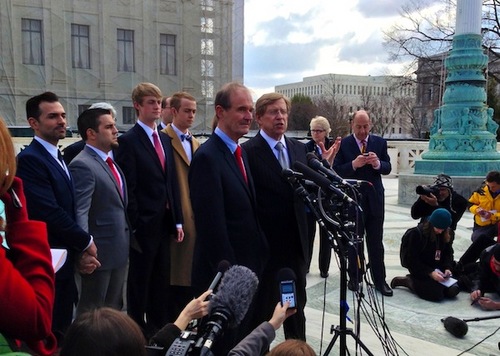 It's been a long time coming, but on Tuesday morning opponents of California's ban on same-sex marriage finally got their day in the nation's highest court.
During 90 minutes of oral arguments in the Proposition 8 case, Hollingsworth v. Perry, both sides fielded a number of pointed questions from the nine Supreme Court justices that ranged from the societal purpose of marriage to whether there was reason for the court to consider the case at all.
Tuesday's arguments were the pinnacle of what has been a long legal battle stretching back to California courts in 2009. For supporters of marriage equality, the Supreme Court is where the case has always belonged.
"This was a more than four year journey that we started and it went from federal district court to the Ninth Circuit Court of Appeals to a yearlong detour to the California Supreme Court and now, finally today, before these nine justices and the United States Supreme Court, and this is where this issue should be and should be decided," Human Rights Campaign President Chad Griffin told Metro Weekly on the steps of the Supreme Court building.
As the co-founder of the American Foundation for Equal Rights, Griffin spearheaded the suit against Proposition 8 in 2009 and personally recruited the star legal duo of Ted Olson, the former solicitor general for President George W. Bush, and David Boies. The conservative and liberal attorneys faced each other on opposing sides in 2000 when they argued Bush v. Gore before the Supreme Court. Olson told reporters Tuesday that his teaming up with Boies was "intended to make the point to America that this is not a Democratic issue or a Republican issue, conservative or liberal, this is an issue of American constitutional rights."
Griffin was among dozens of key players who were inside the hushed courtroom for Tuesday's arguments as thousands of people on both sides rallied outside.
Evan Wolfson, founder and president of Freedom to Marry, has been one of the driving forces pushing marriage equality to the forefront of the broader LGBT-rights movement.
Wolfson said Tuesday's arguments and those that will come on Wednesday in the Defense of Marriage Act case were a validation of years of work on the ground in multiple states. According to Wolfson, the momentum in the polls and the prospect of achieving marriage equality in more states this year is reason to keep working, no matter what the Supreme Court decides.
"This argument was obviously lively and choppy and engaged and I think rather than sitting around handwringing and speculating what we need to do is go out and continue creating that momentum that's going to get us there," Wolfson said. "We have four states we can win if we do our work right over the next few months and others shimmering within reach and we have more people to persuade and bring on board."
Indeed, the fight for marriage equality has benefited greatly after four historic wins at the ballot box last November. That reality, along with polling that shows a shift in support for same-sex marriage — particularly among younger people — has led not only to support for marriage equality becoming the norm in the Democratic Party, but also an increased acceptance in the Republican Party for those who support marriage equality.
"One of the things these cases have demonstrated is that our society is evolving in a very positive way and that evolution occurs first and foremost not in the political process or the courts, quite frankly," said former Republican National Committee chair Ken Mehlman. "It occurs around dinner tables when moms and dads realize that one of their kids might be gay or people realize that a colleague they work with might be gay."
Mehlman has worked tirelessly to bring gay people into the Republican fold since coming out in 2010. He helped organize the brief filed in the Proposition 8 case calling for marriage equality for all same-sex couples that was signed by more than 100 GOP leaders.
That shift in tone was present inside the courtroom as well. Although some wondered what language might be used by some of the more conservative members of the court – including Justice Antonin Scalia, who is well known for his off-the-cuff remarks – there was no mention of anti-gay terms like "homosexual marriage" or "sodomy" during Tuesday's arguments. At most, conservative members of the court questioned if it was best for children to be raised by two parents of the same sex.
Dustin Lance Black, the Oscar-winning screenwriter of Milk who has been involved in the fight against Proposition 8 since the start, said that tone was likely connected to a shift in the country caused by more people coming out, just as Harvey Milk urged.
"If I had to guess I'd say everyone up there knows someone who is gay or lesbian now," Black said of the justices. "And so they're learning about us and they don't want to be hurtful to people who are in their family or they work with, and so I think a lot of people are learning to be much more kind to their LGBT brothers and sisters and learning what is hurtful and not hurtful."
In fact, among those seated in the section reserved for guests of Chief Justice John Roberts during Tuesday's arguments was 48-year-old Jean Podrasky — a lesbian from San Francisco and Roberts's cousin.
It likely won't be until late June when the high court issues a ruling in the landmark case — the first ever before the Supreme Court to address the issue of same-sex marriage. Few are willing to predict how the high court will rule, but the cautious nature of the questions asked Tuesday have led some to speculate there will be no sweeping ruling bringing marriage equality to all 50 states. Nevertheless, opponents of Proposition 8 remain confident that the court will at least rule to allow same-sex weddings to resume in California. But as both sides wait to see how exactly the court will rule, a focus remains on the work ahead.
"Whatever the court does in June, we'll be in a stronger place in July and we'll either have our victory or we'll get it soon thereafter if we keep the work going," Wolfson said. "Now, what the court is going to do, none of us knows."
[Photo: Attorneys for the plaintiffs, David Boies (left) and Ted Olson, outside the Supreme Court on March 26, 2013 (Credit: Justin Snow/Metro Weekly).]