Feeling a tad lackluster in the set department, director/designer and costumer John Pascoe's interpretation of Puccini's Manon Lescaut seems to have lost some burnish since its WNO premiere in 2004. With Act 1's giant staircase, skewed mirrors and a lot of A.C. Moore-style foliage, the feel is more diorama than late 1770s French village, even if the aristocratic bust-atop-plinth delivers a pleasingly sinister vibe. Matters improve with the austerity of Act 2's grand boudoir and the surreal touches of Act 4's desert, but such visual unevenness isn't the best choice for an already choppy narrative.
And choppy it is, for Puccini and his librettists (a series of whom came and went during the project) sought to differentiate this opera from Massenet's previous (and very successful) version. Though it is succinct, it wants for flow. And though Pascoe's attempts to bring cohesion are thoughtful, first by suggesting events emerge from the pages of the novel upon which the opera is based and then in the movement of the intermezzo to a more emotionally interesting place, both feel more grafted than natural. Matters are not helped when, in the opening moments of the third act harbor scene, the action is so oddly choreographed as to dampen an otherwise potent pace.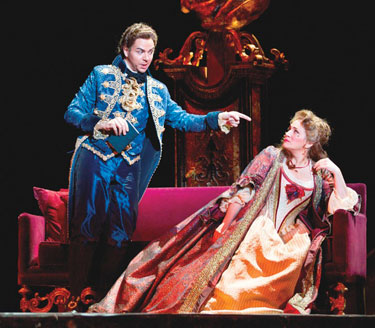 Washington Nation Opera's Manon Lescaut
(Photo by Scott Suchman)
But it's hard to fault Pascoe. Manon is, without doubt, a fickle younger sister to the more musically and theatrically iconic heroines of Puccini's later works and it will forever be, despite its genius, a genius-in-progress.
And it starts with a plot in need of further explanation (that was likely in the book). Already spotted by the elderly, wealthy and predatory Geronte de Ravoir, the coy and beautiful Manon entrances the young and impoverished writer, Chevalier Renato des Grieux, whom she has only just met. Evading Geronte, the two run away to Paris. Lescaut, Manon's opportunistic brother, nevertheless encourages Geronte to pursue his sister knowing she will soon tire of Renato's poverty.
With no reference at all to the lovers' life in Paris or Manon's betrayal of it, Act 2 opens with her fully installed in Geronte's fabulous home and already bored and repelled by everything except his wealth. Thus, when she pines for Renato, it's somewhat hard to understand why – is she diva-bored or genuinely conflicted?
When Lescaut arranges a secret meeting between the lovers, they are quick to reunite but Geronte is soon on to them and any chance of escape is partly hampered by Manon's scrabbling for jewels too cumbersome to carry. Geronte's revenge is Manon's exile to a penal colony in Louisiana. After a desperate plea at the dock, Renato is allowed to join her on the voyage. Though the lovers make it to the New World, they soon (if inexplicably) find themselves lost in a desert where Manon succumbs to the elements, but not before, in something of a dehydrated delirium, she expresses her love for Renato and regret for her foolish ways.
But despite her 11th hour cri de coeur, without the guilelessness of a Mimi or a Cio-Cio San or the honor of a Tosca, Manon can never reach the sweet spot of operatic tragedy. That's a tough road to hoe for an opera without a happy ending.
Having said that, Puccini nonetheless delivers with majestic dimension the charms of Manon's piquant ways, the velvety evocations of passion between the lovers, and her later recognitions of loss. It's a magic that gathers and gains, even if its true power comes later in Boheme, Tosca and Butterfly.
Really, it's for the music and what can be drawn from it that one comes to Manon. And, as with any Puccini, it is to hear what the soprano can make of it. Debuting in the role, vocally Patricia Racette delivers what Puccini requires: the song of the cosmic siren. Utterly simpatico, she sings from somewhere deep in the universe in a voice that has seen the stars on its way to the soul. Rich and gorgeous in tone, Racette delivers depth and dimension and owns the aural space. As an exceptionally expressive and credible actor, even if she might need some more time with the character, she finds all that is charming and compelling in Manon. As such, she allows the suggestion that perhaps her addiction to wealth is more practical than greedy and her final respect for love, the blooming of a nascent wisdom versus a Kardashian-style reinvention.
Manon Lescault




To March 23
Kennedy Center
Opera House
$25 to $310
202-234-7174
kennedy-center.org
And although this production belongs to Racette, her job would be much harder without a convincing Renato. Looking the part and generating some convincing fervor, tenor Kamen Chanev evokes at least some of what the truncated story does not show. And though he took a little time getting there, a slightly robotic delivery later gave way to some pleasingly bold high notes and an attractively virile tone as Renato's passion, and later despair, heightens.
Nicely understated but nevertheless charismatic, baritone Giorgio Caoduro made for a convincing Lescaut and sang with a pleasing density. And as the geriatric Geronte, bass-baritone Jake Gardner sang expressively and layered his aristocrat with equal measures of entitlement, menace and powdered creepiness. Bringing much subtlety but plenty of power when necessary, conductor Philippe Auguin had the WNO orchestra in fine form.
Manon may never be a heroically tragic heroine, but she will, for all eternity, live her short – if nearly frivolous – life in the hands of one of opera's greatest composers. When sung by a soprano of Racette's caliber, it's a story not to be missed.