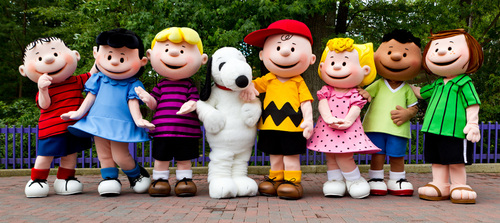 While there is no news about Peppermint Patty's support for gay-marriage, Kings Dominion is buzzing about the Peanuts gangs' takeover of the park's 2013 season.
When Kings Dominion opened in 1975 it had just 15 attractions. Today, the Virginia amusement park opens its 2013 season with more than 60 attractions including a updated and expanded children's area.
In addition to the rides, the Planet Snoopy section has several new live shows, a healthy food market, and an expanded Family Care Center with changing stations and napping areas.
An expansion of its live entertainment offerings is also part of King Dominion's 2013 seasons, highlighted by a high-energy BMX bike show and a Broadway-style musical revue.
The new All Wheel Sports includes bikers, skaters and gymnasts who were semifinalists on Season 7 of NBC's "America's Got Talent." The show will be in the Peanuts Showplace Theater in Planet Snoopy daily, June 22 through Aug. 18.
At the Kings Dominion Theatre, the On Broadway musical revue will run June 15 through Aug. 18.
The additional live entertainment schedule includes:
Charlie Brown's All Star's: Help cheer on Charlie Brown, Lucy and Linus as they gear up for the big baseball game in this all-new family musical, running March 29 through Oct. 27.
Schroeder's Sing-Along: Warm up your voice and join Schroeder and the Peanuts gang for singing and dancing fun, running March 29 through Oct. 27.
Got Country: Kick back and relax as country music takes center stage as we celebrate some of today's hottest hits, running March 29 through Sept. 2.
Karaoke Superstars: Take to the microphone with the biggest hits from the 50's to today and be a star on stage, running March 29 through Sept. 2.
Pop Fusion: Keep the party going as Kings Dominion presents today's most electrifying hits, running April 27 through Sept. 2.
Peanuts Rockin' Party: Join the Peanuts gang for a rockin' party on International Street, photo opportunities, along with meet and greets following the show.
Dominion at Dusk: The sky lights up at night with "Dominion at Dusk", featuring more than one million LED lights in "Snoopy's Starlight Spectacular", a chance to join singers and dancers with a new live show, "Street Beats" and time to blast off with our nightly fireworks show. "Dominion at Dusk" will start at dusk on all 10:00 PM park closings, April 27 through Sept. 1.
Of course, Kings Dominion continues to offer plenty of fun for adult visitors from its original 1975 Rebel Yell coaster to the WindSeeker swing ride that opened in 2012.
LGBT-Welcoming
Kings Dominion is owned and operated by Ceder Fair Entertainment Co., which has an LGBT inclusive nondiscrimination policy:
"Cedar Fair prohibits harassment of or discrimination against any of its employees and guests, regardless of whether that harassment or discrimination is targeted specifically to the person, based on an individual's age, race, religion, sex, color, creed, ancestry, citizenship status, national origin, military status, veteran status, gender identity or expression, sexual orientation, marital status, pregnancy, genetic information or condition, physical or mental disability, or other protected characteristic."
Each September, the Washington, D.C.-based nonprofit Brother Help Thyself hosts an official Gay and Lesbian Night at Kings Dominion. The date for 2013 is still pending, and information will be posted at brotherhelpthyself.net.
Tickets cost $51.99 for adults online and $61.99 at the gate. Through June 16, the park is hosting an "Everyone Pays Kid's Price" sale, and tickets cost $39.99. The sale is available online only at kingsdominion.com.