The sidewalk on both sides of First Street NE was packed with people Tuesday morning as the U.S. Supreme Court heard the first of two days of oral arguments regarding marriage equality. Demonstrators on both sides of the debate marched, held signs, chanted, prayed and occasionally broke into dance.
Tuesday, March 26, the court heard arguments in Hollingsworth v. Perry, the case concerning Proposition 8, a 2008 ballot measure that banned same-sex marriage in the California Constitution after that right had already been won. Wednesday, it was time for United States v. Windsor, Edith Windsor's challenge to the Defense of Marriage Act's federal definition of marriage.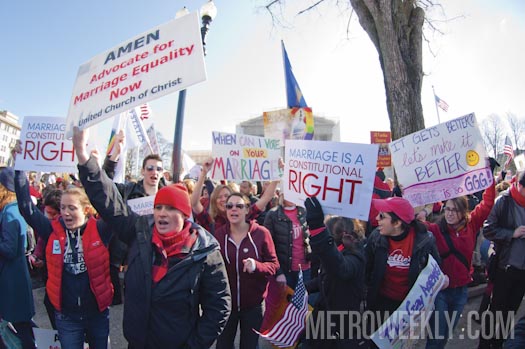 (Photo by Todd Franson)
Tuesday's marriage-equality supporters, who hope the court will at least overturn the California ban, gathered in front of the court for a rally organized by the United for Marriage coalition. That rally featured several speakers, including former Episcopal Bishop of New Hampshire Gene Robinson, who is gay; his daughter, Ella Robinson; Gary Hall , dean of the Washington National Cathedral; Baltimore Ravens linebacker Brendon Ayanbadejo; Republican strategist Margaret Hoover; and Janet Murguia, president of the National Council of La Raza.
Opponents of marriage equality, led by the National Organization for Marriage (NOM) and various religious groups opposed to same-sex nuptials, marched from the National Mall, past the Capitol and down First Street, flanked by pro-equality demonstrators.
While the two sides exchanged heated words at times, Tuesday passed peacefully. Throughout the day, activists on both sides engaged in civil – if unresolved – dialogue.
Shanae H., who declined to give her last name, said she was representing the Victory in Jesus Holy Church in Landover, Md., and had come to the courthouse to express her belief in traditional marriage.
"I decided to come out today because I do not believe that we as a people have the right to redefine marriage," she said. "Marriage is a holy term, it's a biblical term as well. Marriage is between one man and one woman. That's how it should stay."
Shanae said defining marriage should be left to individual states and should not be determined by the Supreme Court.
When asked how she felt about Maryland voters' decision to legalize same-sex marriage in November, Shanae said she was disappointed, but that she hoping the court would do what was "right" according to the "word of God."
"I have high expectations," Shanae said. "I'm hoping we won't redefine marriage."
At one point, Shanae got into a playful spat with Lauren Muth, of Baltimore, a supporter of marriage equality, as each tried to place her respective placard in front of the other's.
"I think it has the potential to be close, but I think, ultimately, the Supreme Court should come down on the right side of history, on the side of equality, and greater freedoms for all citizens," Muth said, leading Shanae to shake her head.
"[It might be] on the side of what's 'popular,' but if you look back on the times when we were in school and things, all these things that are 'popular' are not always the best thing," Shanae countered. "Just because it's popular doesn't mean it's best for us."
Many of Tuesday's opponents of marriage equality cited religious belief as the reason behind their opposition.
Pastor Lixin Zheng of the Harvest Church of New York, who traveled to Washington with multiple members of his congregation, said he took part in the NOM-backed march to express "God's intentions and design" of one man-one woman marriage.
"God loves everybody, but God intends his design one way, for the family," Zheng said. "For one man, one woman, 'to multiply and be fruitful.' … He especially said, 'I don't want people to destroy this design."'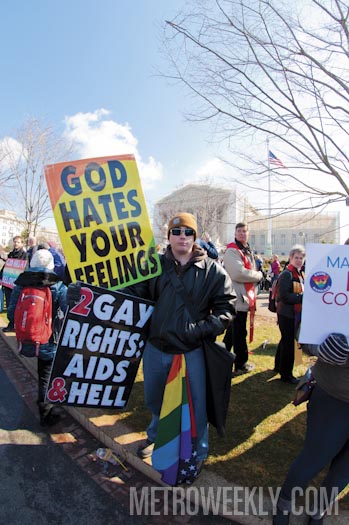 Westboro Baptist member
(Photo by Todd Franson)
When asked about the outcome of the Supreme Court cases, Zheng said he was hopeful that God would take over the justices' hearts to rule against marriage equality. He also distinguished himself from other anti-gay protesters, particularly the small but notoriously anti-gay Westboro Baptist Church of Topeka, Kansas – which is not affiliated with NOM or its partner organizations – also demonstrating at the Supreme Court.
"We love them," Zheng said of gay people. "Think about it as a parent, [when] they say to children, 'Don't do something,' that's because they love the children. We want to show this group of people that we love them, that God loves them too, and we want them to see what God sets as the design. That way, God will bless them."
Karen Solon, of Falls Church, also offered a religious argument, pointing out that the prohibitions against recognizing same-sex marriages violate the religious freedom of people from more liberal denominations whose ministers want to be allowed to perform those marriages.
"I am and always have been a staunch advocate for religious freedom in this country, and, to me, religious freedom is not the freedom to legislate your religion's views on everybody else," Solon, a Unitarian Universalist, told Metro Weekly. "So, to me, what the Supreme Court must do is ensure that each of us can worship and marry the person we choose to love in a civil ceremony, being treated equally under the law. And then what our churches do is up to the churches."
Asked about the fate of same-sex marriage in her own state, specifically, Solon expressed doubt that marriage equality will come to Virginia anytime soon if Supreme Court does not rule to overturn bans on same-sex marriage.
"I have been in Virginia since 1973 and it is embarrassing to me that, once again, my state might end up having to be dragged kicking and screaming into the concept of equality under the law," she said.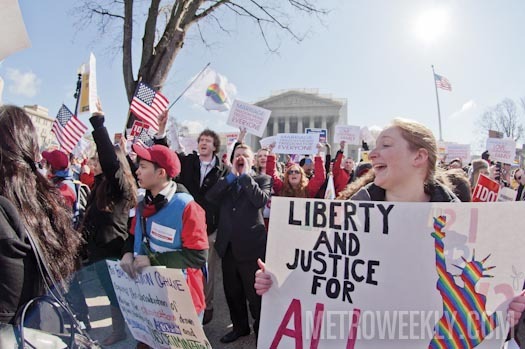 (Photo by Todd Franson)
Franco Ciammachilli, who voted against Proposition 8 as a California voter before moving to the District two years ago, said he couldn't predict how the court would rule, but also said that a decision to overturn Proposition 8 would be a "huge human rights victory."
"California is a trailblazer, and they set a really bad example and a pretty low bar for the states for gay rights," Ciammachilli said. "I think this is the time to reverse that."
Tonya Agnew and Amy Crampton, of Lafayette, Ind., took the opportunity to marry in a civil ceremony on the Capitol lawn amid the day's demonstrations. The couple of 15 years traveled with the younger of their two sons, 9-year-old Leo, to come to Washington for this historic moment.
"We've felt married from the beginning, but just to get the affirmation from our nation's capital is incredible," Agnew told Metro Weekly after the wedding ceremony.
Both newlyweds expressed "cautious optimism" about what the Supreme Court may decide in June, when rulings are expected. But Crampton said that even the decision to hear the two marriage cases was something she never expected to happen in her lifetime.
"Despite what happens in June, we're moving in the right direction," Crampton said. "And we'll always, always remember this day, for obvious reasons."
For more video coverage of the March 26 demonstrations, visit MetroWeekly.com/video.