Ah, spring. A time when temperatures are rising, flowers are in bloom and people are naturally anticipating doing it outdoors. And by "it," we mean seeing concerts. (Is your mind always in the gutter?) Whether it's country at Jiffy Lube Live, rock at Merriweather Post Pavilion or folk and classic pop/R&B at Wolf Trap's Filene Center, you can get your outdoor aural jollies starting as early as May. Of course, the region's indoor concert scene this spring is shaping up to be as rich and varied as ever, too, with many a new or underrated artist to check out. There's also a whole lot of boy-band fever coming to the Verizon Center. And at Ram's Head Live, Sisqo, performing a hometown show with his reunited hip-hop crew Dru Hill. So no, turns out, you're not alone there in the spring-has-sprung, thong-song gutter.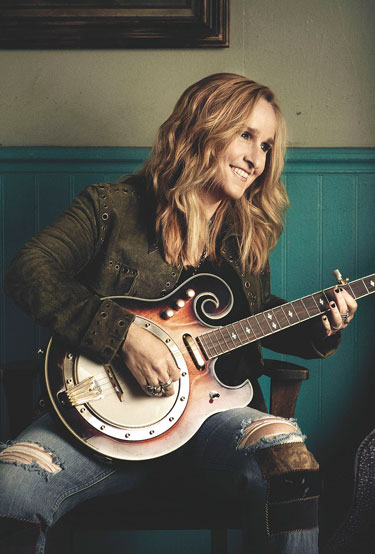 Melissa Etheridge at Wolf Trap
9:30 CLUB
815 V St. NW
202-265-0930
www.930.com
Bad Religion (3/22)
Dillon Francis – U Street Music Hall presents the "Wurld Turr" of this up-and-coming American electronic artist. (3/25)
Gloriana (3/26)
Craft Brewer's Conference Concert Series: The Feelies (3/27)
Escort – (3/28)
The Infamous Stringdusters (3/29)
Modestep (3/30)
Bajofondo – Brokeback Mountain composer Gustavo Santaolalla's electronic/folk duo with Juan Campodonico. (4/2)
Ozomatli – A hipper, Latino version of the Black Eyed Peas, also from the City of Angels. (4/3)
David Wax Museum (4/4)
Alice Smith – If you can only see one concert this season, make it this one; Smith is as understated and sophisticated as Christina Aguilera is crassly exaggerated, and every bit as vocally talented. (4/4)
Local Natives w/Superhumanoids (4/5-6)
Blowoff (4/6)
Frightened Rabbit (4/7)
The Black Crowes (4/8-9)
Hot Chip (4/10)
Cold War Kids (4/11)
Lianne La Havas – Don't "Forget" to mark your calendar for this folk-rock starlet, who proved at the Birchmere last year that she knows how to captivate a crowd. (4/12)
The Dan Band (4/13)
Galactic (4/14)
Andrew McMahon (4/15)
The Presidents of the United States of America (4/16)
Collie Buddz (4/17)
Rusko (4/18)
Living Colour — Yes, the black rock band is back. (4/19)
Papadosio (4/19)
JJ Grey and Mofro w/Sister Sparrow & the Dirty Birds (4/20)
The Joy Formidable (4/21)
Solange — A purveyor of cool, indie-pop/electronic music, wholly distinct from her bigger sister Beyoncé. (4/23)
Ben Rector (4/24)
Flying Lotus (4/25)
Robyn Hitchock & The Venus 3 (4/27)
Johnny Marr – Chances are by press time tickets will be sold out to see this guitarist, best known for his work with The Smiths. (4/29)
Jim James (4/30)
Tedeschi Trucks Band (5/1)
Ben Harper and Charlie Musselwhite – An evening of the blues. (5/2)
Beats Antique (5/3)
The Breeders (5/4)
Foals & Surfer Blood (5/5)
Black Rebel Motorcycle Club (5/6)
Shout Out Louds (5/7)
The Airborne Toxic Event (5/8-9)
Josh Ritter & The Royal City Band w/The Felice Brothers (5/10-11)
James Blake (5/12)
Ghost B.C. (5/13)
Father John Misty (5/16)
SOUNDBITES – Music * Food * Change — A benefit for DC Central Kitchen featuring a performance by Deathfix and others, plus DJ sets from Will Eastman and Rich Morel; yes, that means Morel is pulling double duty. (5/19)
Futurebirds (5/23)
Chris Hardwick (5/25)
Fall Out Boy — Surprise! At the Club! And surprise! It sold out in seconds! (5/31)
Best Coast — Trippy rock, just as you'd expect from California. (6/4)
Tomahawk (6/5)
Animal Collective (6/10-11)
Junip (6/15)
Glen Hansard (6/16)
Amadou & Mariam (6/18)
Dawes (6/19)
Who's Bad: The World's #1 Michael Jackson Tribute Band (6/22)
THE ALDEN
McLean Community Center
1234 Ingleside Ave
McLean, Va.
703-790-0123
aldentheatre.org
Asphalt Orchestra — A self-described "marching band," but one that The New York Times calls "part parade spectacle, part halftime show and part cutting-edge contemporary music concert." (4/6)
The Fabulous Hubcaps — Band performs pop songs from the mid-20th century for an evening of dancing, with cash bar and refreshments available. (4/19)
ARTISPHERE
1101 Wilson Blvd.
Arlington
703-875-1100
artisphere.com
The Revelers — A Louisiana supergroup. (3/22)
Bossalingo — Jazz with Cuban and Brazilian rhythms. (3/28)
Elijah Balbed Quintet — Local jazz band. (4/4)
Cimarron — Grammy-nominated Colombian supergroup devoted to roots music. (4/5)
Pan American Trio — A newly formed instrumental ensemble dedicated to an eclectic repertoire of music from the Americas. (4/11)
Sarah Hughes Trio — Jazz group lead by an alto saxophonist and local music educator. (4/25)
Urban Jazz and Dance Show with Backpack Jax and KLP Dance Crew — Two French hip-hop dance groups perform as part of a transatlantic hip-hop festival sponsored by Alliance Française. (5/16)
Global Dance Party w/Elikeh, Black Masala and Nappy Riddem — Three local global music groups perform at this party. (5/18)
Sierra Leone Refugee All Stars w/DJ Underdog — Formed in West African refugee camps, Newsweek raves, "It's as easy to fall in love with these guys as it was with the Buena Vista Social Club." (6/1)
ATLAS PERFORMING ARTS CENTER
1333 H St. NE
202-399-7993
atlasarts.org
People Get Ready — Brooklyn-based band known for genre-defying creativity. (4/19)
Jazz at the Atlas: MODATT — Free-form improvisational jazz trio formed in 2011 at New York's Blue Note. (4/24)
Jazz at the Atlas: Luciana Souza Duo — One of jazz's leading singers teams up with compatriot Brazilian guitarist Romero Lubambo (5/11)
Jazz at the Atlas: Darcy James Argue's Secret Society — Swing era-style 18-piece big band, which earned a Grammy nod for its record Infernal Machines. (5/18)
U.S. Army Blues — One of the nation's premier jazz ensembles traces John Adams's musical lineage back to the era of swing bands in this Library of Congress-sponsored concert. (5/25)
BARNS AT WOLF TRAP
1645 Trap Road
Vienna
703-255-1900
wolf-trap.org
Catie Curtis — New Yorker calls the energetic Catie Curtis, part of Massachusetts's thriving lesbian folk scene, a "folk-rock goddess." (3/28)
The Iguanas — New Orleans-meets-Mexico in a spicy musical gumbo. (3/29)
John Eaton — Bassist Tommy Cecil joins for a "Juke Joint Jam Session." (3/30)
Al Di Meola, Gonzalo Rubalcaba – Jazz guitarist and jazz pianist team up. (4/3-4)
HAPA – Hawaiian ballads, love songs, hymns and ancient chants. (4/6-7)
Edwin McCain w/special guest Erick Baker — Alt-rocker dubbed "the great American romantic" by The New York Times (4/10)
Holly Near — Social activist brings folk songs of justice and hope. (4/11)
Melissa Manchester — the Grammy-winning heartfelt balladeer. (4/18)
Paula Cole – "I don't wanna wait for our lives to be over," she cries. (4/19)
Andrea Marcovicci – "Cabaret queen" offers romantic classics. (4/20)
Joe Sample – Pioneering jazz pianist and composer offers an intimate, solo performance. (4/24)
John McCutcheon (4/25)
Robbie Schaefer – Clever, contemporary folk from guitarist of Eddie From Ohio. (4/26)
Patty Larkin (5/2)
BLACK CAT
1811 14th St. NW
202-667-4490
blackcatdc.com
Sinkane w/Ra Ra Rasputin, Helado Negro — Sudanese skate-punk. (3/22)
Kate Nash — Lily Allen-esque British pop star comes to town — but sadly the show's sold out. (3/23)
The Revival Tour feat. Chuck Ragan, Rocky Votolato, Toh Kay, Jenny Owen Youngs and Dave Hause (3/28)
Craft Brewer's Conference Concert Series: The Pietasters (3/27)
Javelin (3/28)
Pig Destroyer (3/29)
Cinema Cinema (3/30)
Alarms & Controls (3/31)
Fol Chen (4/2)
Mansions on the Moon (4/3)
Chelsea Light Moving — The latest band from Thurston Moore, formerly of Sonic Youth. (4/4)
Darwin Deez (4/5)
Redd Kross (4/5)
The Black Angels w/Allah-las, Elephant Stone (4/6)
Caveman (4/9)
Bonobo (4/10)
Chappo (4/11)
Pissed Jeans (4/12)
Cloud Cult — A very stirring and inspiring hazy rock band, akin to Bon Iver, but deeper. (4/13)
Suuns (4/16)
Twin Tigers (4/21)
Fu Manchu (4/22)
Goat (4/25)
Shabazz Palaces w/Theesatisfaction — The next coming of Erykah Badu and Lauryn Hill, the Black Cat boasts. (4/27)
Miss Shevaughn & Yuma Wray (4/29)
The Gun Outfit (4/30)
Stornoway (5/1)
Daughter (5/2)
Telekinesis w/Deep Sea Diver (5/6)
Steve Mason (5/7)
He's My Brother, She's My Sister (5/8)
Marnie Stern (5/9)
Twin Sister (5/13)
The Features (5/15)
Gold Panda w/Voices of Black (5/15)
!!! (5/18)
Lady Lamb The Beekeeper (5/20)
Forward (5/21)
Total Control (5/28)
Mount Kibme (6/1)
Twin Shadow (6/15)
Man…or Astro-Man? (6/23)
BLACK FOX LOUNGE
1723 Connecticut Ave. NW
blackfoxlounge.com
Kevin Robinson – A biweekly Thursday night of funk.
Special Agent Galactica – The sometimes-singing local drag queen, the alter ego of Jeffrey Johnson, hosts a biweekly Friday show.
CaShandra J Ensemble (3/22)
Aviva and the Flying Penguins (3/23)
Joe Vetter Duet (3/25)
Open Mic with Faheem — Pianist accompanies guests singing show tunes and standards. (3/26)
Peter Fields and Tara Hofmann (3/26)
Ethan Foote Jazz Ensemble (3/27)
Butch Warren Jazz Ensemble (3/28)
The Trillaterus Trio (3/28)
Wendy Lee Snyder and Daniel Sticco (3/29)
Frank Tarantino Jazz Duet (3/29)
Projeck GP Jazz Ensemble (3/30)
Anders Eliasson Ensemble (3/30)
David Lighton Ensemble (4/1)
Bill "Magic" Lavender Bey Ensemble – A monthly show. (4/2)
Jeron White Trio – A biweekly Wednesday night show. (4/3)
Aaron Myers & The Black Fox Lounge Jazz Ensemble – A regular Friday night show. (4/5)
Jeron White Jazz Ensemble (4/6)
David Schulman (4/11)
Gay Men's Chorus of Washington – GMCW hosts a monthly open-mike night. (4/13)
Acoustic Sauce (4/18)
Some Light It Hot Jazz Ensemble (4/20)
Studio Papillon (4/21)
Sulu DC (4/25)
WKP Jazz Ensemble (5/4)
DC Cabaret Network Open Mic (5/8)
Dave Mosick Jazz Duet (5/30)
Oren Levine's Vocal Showcase (5/31)
Catherine Satterlee — Vocalist is joined by pianist Davey Knific and bassist Karine Chapdelaine. (6/6)
THE BIRCHMERE
3701 Mount Vernon Ave.
Alexandria
703-549-7500
birchmere.com
Phil Perry (3/22)
Tom Rush (3/23)
Madeleine Peyroux (3/24)
Travis Tritt (3/25)
Hawaiian Slack Key Guitar Festival 2013 — Dennis Kamakahi, Bobby Moderow Jr., Stephen Inglis, LT Smooth and Paul Togioka perform at this event. (3/27)
Manhattan Transfer (3/29)
Cleve Francis (3/30)
Carolina Chocolate Drops — This great black bluegrass band gives good "hit 'em up style," including a rootsy cover of that Blu Cantrell hip-hop hit. (4/3)
Rachelle Ferrell (4/5-6)
Cellos: Luka Suljic & Stjephan Hauser (4/7)
Gad Elmaleh (4/8)
The Mavericks w/Seth Walker (4/9)
Marc Broussard w/Courier (4/10)
Brian Culbertson (4/15)
The Proclaimers w/JP (4/16)
Michael Nesmith — Hey, hey, he's a former Monkee! (4/17)
The Flatlanders: Joe Ely, Jimmie Dale Gilmore, Bitch Hancock w/Joe Pug (Trio) (4/18)
Keller Williams with More Than A Little Acoustic — A normally hard-charging, hard-living amped-up band offers an "acoustic set [that] will be tame and classy with tight funky grooves." (4/19)
Najee (4/20)
Graham Parker & The Rumour w/Lowell Thompson (4/21)
Leo Kottke (4/22)
The Milk Carton Kids w/Aoife O'Donovan (4/23)
Josh Rouse (4/24)
Billy Bragg w/Kim Churchill — The Tooth & Nail Tour. (4/25)
Junior Brown w/Sturgill Simpson (4/26)
Hiroshima (4/27)
Boney James — The Smooth Jazz Cruise presents The Beat Tour. (4/28)
Fourplay (5/1)
Hayes Carll (Band) w/Warren Hood & The Goods (5/2)
Howie Day (5/4)
Steve Tyrell (5/5)
Steve Earle & The Dukes w/The Mastersons (5/7)
Beth Hart (5/9)
Ryan Bingham w/Wild Feathers (5/10)
Gary Taylor (5/11)
Mother's Finest — A Mother's Day concert by this funk band with the perfect name for the occasion. (5/12)
Chris Mann (5/14)
Asleep at the Wheel (5/15)
Ramin Karimloo — "Broadway to Bluegrass Tour." (5/16)
The Fab Faux — One night this Beatles impersonation band will perform Rubber Soul in its entirety, the next they'll perform "The Cavern to the Rooftop Show." (5/17-18)
Don Williams (5/20)
Peter Tork — Hey, hey, he's a former Monkee, too! (5/21)
10,000 Maniacs (5/24)
Eric Roberson w/Anami Jordan (5/25)
Aaron Neville (5/29)
Maceo Parker (5/31)
Ottmar Liebert & Luna Negra (6/1)
Bruce Robison & Kelly Willis (6/8)
Wayne Newton (6/12)
Hot Tuna — An acoustic show. (6/13)
emmet swimming (6/15)
Tommy Emmanuel w/Anthony Snape (6/16)
Rahsaan Patterson (6/21)
The Seldom Scene & Jonathan Edwards (6/22)
Delbert McClinton w/Amy Black (6/29)
Rhonda Vincent & The Rage and Lou Reid & Carolina (7/12)
Dr. John (7/24)
Walter Beasley (7/26)
Bob Schneider (Band) (7/27)
Stephanie Mills — The legendary R&B and Broadway singer performs from her repertoire. (8/2)
Dick Dale (8/4)
Kris Kristofferson (8/6-7)
Marty Stuart& The Fabulous Superlatives (8/10)
Justin Hayward — The Moody Blues front man offers a solo show. (8/14-15)
Johnny Winter (8/24)
Valerie Simpson — The "Simpson" in "Ashford & Simpson" performs the duo's hits. (8/25)
BLUES ALLEY
1073 Wisconsin Ave. NW
703-549-7500
bluesalley.com
Kevin Eubanks – The jazz guitarist and former band leader on NBC's Tonight Show with Jay Leno. (Now to 3/24)
Rez Abassi (3/25)
Claire Daly Quartet (3/26)
Warner Williams, Jay Summerour & Friends (3/27)
Lee Ritenour – The fusion guitarist returns for an annual weekend run at Blues Alley. (3/28-31)
Brian Bromberg (4/2)
Otis Taylor – Roots rock and blues. (4/3)
Rudresh Mananthappa's Gamak (4/4-5)
James Carter Organ Trio (4/6-7)
Steve Smith's Vital Information NYC 30th Edition – A fusion drummer known for his work with rock band Journey as well as jazz group the Buddy Rich Big Band leads an all-star band. (4/10)
Cheikh Ndoye Band feat. Karen Briggs (4/12-14)
John Kocur Quintet (4/15)
Stan Kenton Alumni Band (4/17)
Earl Klugh (4/18-21)
Karrin Allyson – An extraordinary jazz vocalist who The New York Times raves is "one of the most charismatic figures on tour today." (4/25-27)
Jeanette Harris (5/1)
Kenny Garrett (5/2-5)
Grand Slam: Jim Hall, Joe Lovano (5/9-12)
Arturo Sandoval (5/16-19)
Lena Seikaly – Local jazz vocalist who often channels Ella Fitzgerald in her stylings; ain't nothing wrong with that. (5/24)
Lori Williams (5/25)
John Pizzarelli Quartet (5/30-6/2)
Antone 'Chooky' Caldwell (6/6)
Buster Williams, 'Something More Quartet' (6/13-16)
Trina Broussard (6/19)
Monty Alexander – Legendary Jamaican pianist. (6/20-23)
Veronneau – Acoustic quartet offering jazz from around the world, from swing to samba to gypsy. (6/26)
Pieces of a Dream (6/28-30)
Klymaxx feat. Bernadette Cooper – The woman who formed and named the R&B band known for its '80s hits "The Men All Pause," "Meeting in the Ladies Room" and "I Miss You." (7/19-20)
Shanice (7/26-28)
Terence Blanchard – Grammy-winning New Orleans trumpeter who's scored many Spike Lee joints and today leads a quintet featuring some of the brightest young talents in jazz today. (8/8-11)
BOHEMIAN CAVERNS
2001 11TH ST. NW
202-299-0800
bohemiancaverns.com
Ensemble Volcanic Ash (3/24)
Bohemian Caverns Jazz Orchestra – Esteemed big band performs every Monday night.
Herb Scott — Bohemian Caverns' Artist in Residence. (3/26)
Kendrick Scott — Oracle CD Release Party. (3/29-30)
Bill Cole's Untempered Ensemble (3/31)
Elijah Balbed — Another Bohemian Caverns' Artist in Residence performs every Tuesday night in April.
Christian Scott (4/4-5)
Warren Wolf — Berklee College of Music alum, a jazz multi-instrumentalist from Baltimore. (4/12-13)
Matthew Shipp Trio (4/14)
Mark Whitfield (The Trio) (4/19-20)
Bohemian Caverns Jazz Orchestra 3rd Anniversary (4/21)
Craig Taborn Trio (5/5)
Jason Adasiewicz Sun Rooms (4/26)
Brandee Younger (5/31-6/1)
Christie Dashiell (6/2)
Lonnie Liston Smith (6/6-7)
Lionel Loueke (6/8-9)
Alex Brown & Yotam (6/12)
Leonard Brown & Joyful Noise (6/13)
Pharoah Sanders (6/14-16)
CLARICE SMITH PERFORMING ARTS CENTER AT UMD
University of Maryland
College Park
301-405-ARTS
claricesmithcenter.umd.edu
Brad Mehldau and Chris Thile — Jazz pianist and Nickel Creek's alt-bluegrass mandolinist and singer team up for a tour-de-force concert. (4/12)
The Ninety Miles Project — Vibraphonist Stefon Harris, trumpeter Nicholas Payton and saxophonist David Sanchez will perform music created by the Cuban and American jazz musicians brought together for this project. (4/26)
Homay and Mastan Group — Founded in 2005 by Parvaz Homay, the Mastan Group has quickly become one of the most prominent traditional Persian music ensembles. (5/26)
DAVIS PERFORMING ARTS CENTER
Georgetown University
3700 O St. NW
202-687-ARTS
performingarts.georgetown.edu
Al Caldwell — "The Travelin' Black Hillbilly" plays banjo and bass and weaves stories for a concert as part of Georgetown's free Friday Music Series. (4/5)
David and Ginger Hildebrand: Music of the War of 1812 in America — A Friday Music Series concert highlighting the ballads, marches and dance tunes from this forgotten era of history. (4/12)
DC9
1940 9th St. NW
202-483-5000
dcnine.com
Footwerk (3/23)
Lost Civilizations (3/24)
Mount Moriah (3/27)
Broncho (3/28)
Rickolus (3/29)
The 1975 (3/30)
D. Regime (3/31)
A Night Out with Turnbill DCs — Featuring The Idle Gossip, El Quatro, DJs Mikhall Z. and Teddy "Dos Dedos" Garcia. (4/1)
IAmDynamite (4/2)
The View (4/3)
Wilson (4/4)
Wisdom in Chains (4/6)
Port St. Willow (4/8)
Skaters (4/9)
HRVRD (4/10)
Stereo Total (4/11)
ADAM E. Project (4/13)
Wovenhand (4/14)
Esben and The Witch w/Heliotropes (4/15)
Ivan and Alyosha w/The Lone Bellow (4/17)
Bleached (4/18)
Acid Mothers Temple (4/21)
EmptyMansions — BrooklynVegan presents this concert also with Scott Lucas and the Married Men. (4/24)
Real Diamonds (4/25)
Pickwick (4/27)
The Men (5/2)
Tera Melos (5/4)
The Cliks — Transgender-fronted lesbian band that really rocks. (5/5)
Har Mar Superstar (5/11)
Arum Rae (5/16)
Anti-Flag 20th Anniversary Tour (5/20-21)
The Bats (6/5)
Ours (6/6)
Merchandise (6/18)
ECHOSTAGE
2135 Queens Chapel Rd. NE
202-503-2330
echostage.com
The Execution Tour feat. Excision – With Paper Diamond, Vaski & special guest Dirtyphonics. (3/23)
David Guetta – Opening set by Roberto Gonzalez on Friday and Matt Goldman on Saturday. (3/29-30)
Calvin Harris – Too bad none of the pop stars he's recorded with, from Rihanna to Florence Welch, will likely appear, though it'll still be electronic love. (4/6)
Markus Schulz (4/13)
Alesso (4/19)
Dash Berlin (4/27)
FILLMORE SILVER SPRING
8656 Colesville Road
Silver Spring
301-960-999
fillmoresilverspring.com
Anberlin (3/23)
Garbage — The British alt-rockers return to the area supporting last year's great-named album Not Your Kind of People. (3/24)
Los Amigos Invisibles — The great Venezuelan disco/funk band.
Olly Murs — An up-and-coming British pop star. (4/19)
Drake White — WMZQ's Ones To Watch presents this concert. (4/25)
(4/4)
Meek Mill — Dreams Come True Tour. (4/6)
Stone Sour (4/11)
Big Sean (4/13)
Anthrax — Band headlines a Metal Alliance Tour 2013 with Exodus, Municipal Waste, Holy Grail. (4/14)
Death To All (4/26)
How to Destroy Angels (4/30)
Tech N9Ne (5/1)
Bullet for My Valentine (5/3)
Bassnectar (5/4-5)
Paramore (5/18)
THE HAMILTON
600 14th St. NW
202-787-1000
thehamiltondc.com
inGratitude: A Tribute to Earth, Wind & Fire (3/22)
Wheeler Brothers (3/23)
Gospel Brunch with the Howard Gospel Choir (3/24, 4/7)
Nicki Bluhm & The Gramblers (3/24)
Craft Brewer's Conference Concert Series: Elephant Revival (3/25); The Mother Hips (3/26); The Revivalists (3/27); Cris Jacobs Band (3/28); Here We Go Magic (3/29)
A Tribute to Bob Marley featuring Junior Marvin and Love of Bob Marley's Wailers (3/30)
Tyrone Wells (4/4)
HariKaraoke Band (4/5)
The Bad Plus (4/10)
Alejandro Escovedo (4/11)
Gospel Brunch with the Uptown Gospel Singers (4/14)
Jeff Lorber Fusion (4/15)
Ben Ottewell of Gomez (4/19)
The Vespers (4/21)
Les Claypool's Duo de Twang (4/27)
Red Molly (4/28)
Justin Furstenfeld of Blue October (5/3)
The SteelDrivers (5/4)
Bruce in the USA – "The World's #1 Tribute to Bruce Springsteen and the E Street Band." (5/10)
Dream Discs: Van Morrison's Moondance and Bruce Springsteen's The Wild, The Innocent & The E Street Shuffle ­– Featuring performances by Brian Simms, Billy Coulter, Daryl Jr. Cline, Kirk Philips and more. (5/11)
Martin Taylor (5/12)
Toots and the Maytals – With Anders Osborne. (5/22)
Seryn (5/23)
Joe Krown Trio & Royal Southern Brotherhood (5/29)
Start Making Sense – Talking Heads tribute band. (6/21)
The Black Lillies (6/22)
THE HOWARD THEATRE
620 T St. NW
202-588-5595
thehowardtheatre.com
Jefferson Starship – Classic rockers – with Cathy Richardson replacing Grace Slick – perform in its entirety Surrealistic Pillow, the 1967 album recorded when the band was still called Jefferson Airplane. (3/21)
Loose Ends (3/22)
James Cotton, Super Harp (3/23)
Howard Gospel Brunch featuring Patrick Lundy & The Ministers of Music (3/24)
The Afro-Cuban All Stars – One of the liveliest bands anywhere, as captured in the classic Wim Wenders film Buena Vista Social Club. (3/24)
Watsky (3/26)
Tevin Campbell (3/30)
John Scofield's Hollowbody Band featuring Mike Stern, Ben Street and Bill Stewart (4/4)
Incognito (4/5)
Shirley Jones of The Jones Girls (4/6)
Kill the Noise/Brillz/Style of Eye (4/6)
Bell Biv Devoe (4/7)
Bomba Esteréo (4/9)
Immortal Technique (4/10)
Netsky (4/11)
Ryan Leslie – D.C. native and Howard University alum. (4/13)
Blackstreet ft. Teddy Riley (4/16)
Fonseca – Another Colombian pop singer-songwriter, in the shadows of fellow mono-named artists Shakira and Juanes. (4/17)
Steven Wilson (4/20)
Shuggie Otis w/Jesca Hoop (4/21)
Sammy Adams & T. Mills (4/22)
Ben Kenney (of Incubus) — With special guest Deleted Scenes. (4/23)
Michael Rose & Sister Carol (4/24)
David Grisman & John Sebastian (4/26)
The Motet (4/26)
Rockapella – Motown and more show. (4/29)
Jarabe De Palo (5/4)
The Carl Palmer Band – Celebrating the music of Emerson Lake & Palmer. (5/8)
Currensy (5/11)
Sheila E. (5/16)
Brian McKnight (5/17)
The Blind Boys of Alabama & Bettye LaVette (5/18)
Artie Lange (6/1)
Mobb Deep – 20th Anniversary Tour. (6/6)
DC Jazz Fest: Buika (6/12); Susan Baca (6/13); John McLaughlin & The 4th Dimension (6/16)
Papa Grows Funk (6/21)
Syleena Johnson (6/22)
The Jill and Julia Show – Queer singer/songwriter Jill "I Kissed A Girl" Sobule and Saturday Night Live alum Julia Sweeney team up for a night of witty songs and social commentary. (7/7)
Luciano – One of today's most celebrated Jamaican roots reggae musicians. (7/9)
The Persuasions (7/12)
THE IN SERIES
202-204-7763
inseries.org
Cabaret Latino! — The great Puerto Rican mezzo-soprano Anamer Castrello stars in this Latino heat parade with Peruvian baritone José Sacin and Mexican/Cuban pianist. (4/13-21, Source)
Pocket Opera Double Bill: Love & Money — Stravinsky's The Soldier's Tale and Puccini's Gianni Schicchi offer characters from Dante's Inferno and Russian folk tales, all exposing human folly. (6/15, 6/16, 6/22-23, Atlas)
JIFFY LUBE LIVE
7800 Cellar Door Drive
Bristow, Va.
703-754-6400
livenation.com
Luke Bryan and the WMZQFEST — Jiffy Lube Live kicks off its season with a country bang, also featuring Thompson Square, Florida Georgia Line, Kristen Kelly, Chris Janson, Austin Webb & Rachel Farley. (5/18)
Brad Paisley (6/29)
Train (7/12)
Lynyrd Skynyrd & Bad Company (7/14)
Blake Shelton — The Voice judge and country superstar. (7/20)
The Dave Matthews Band w/Gogol Bordello (7/27)
Jimmy Buffett & The Coral Reefer Band (8/17)
Depeche Mode — Yes, it's true, the most popular electronic band of all time is back. (9/10)
JOSEPH MEYERHOFF SYMPHONY HALL
1212 Cathedral St.
Baltimore
410-783-8000
ticketmaster.com
MPT's Best of Doo Wop — Gene Chandler, Kenny Vance and the Plantones, Percy Sledge and The Marcells are just some of the acts on the bill. (5/11)
Chicago — The band, not the musical. (5/15)
Jackie Evancho — The classical crossover singer and America's Got Talent finalist performs with the Baltimore Symphony Orchestra. (5/18)
David Byrne & St. Vincent — A night of indie-pop/rock goodness. (6/13)
KENNEDY CENTER
2700 F St. NW
202-467-4600
kennedy-center.org
Charles Lloyd Birthday Celebration — Saxophonist appears for a star-studded party, also featuring Jason Moran. (3/22)
Supersized Jazz Club: Fats Waller Dance Party with Meshell N'degeocello and Jason Moran (4/5)
Supersized Jazz Club: Soulive — Brothers Neal and Alan Evans and guitarist Eric Krasno are touted by some as the future of funk. (4/6)
KC Jazz Club: Jason Marsalis Vibes Quartet — The youngest son of the indelible Marsalis family. (4/12)
The New Orleans Bingo! Show featuring the Preservation Hall Jazz Band — "A curious spectacle, a thrilling phenomenon and one of the very finest entertainments on the theatrical stage today," according to The New York Times (4/13)
KC Jazz Club: Frank Wess Quintet (4/26)
Kenny Barron & Dave Holland (4/27)
KC Jazz Club: Fred Hersch & Julian Lage (5/3)
Barbara Cook's Spotlight: Adam Pascal — Roger Davis from Rent drops by the Kennedy Center for a night of sure-to-be-rocking cabaret. (5/10)
Bobby McFerrin — Don't worry…. (5/13)
18th Annual Mary Lou Williams Jazz Festival — Today's top jazz artists perform over three nights and demonstrate the contributions women have made to jazz. (5/16-18)
DC Jazz Festival: Jazz Meets the Latin Classics — Conductor/saxophonist/clarinetist and NEA Jazz Master Paquito D'Rivera leads an all-star ensemble. (6/14)
LISNER AUDITORIUM AT GWU
730 21st St. NW
202-994-6800
lisner.org
Latin Jazz JAM — Grammy-winning percussion legends Horacio "El Negro" Hernandez and Giovanni Hidalgo offer a night of Latin jazz in celebration of Jazz Appreciation Month. (4/9)
Hugh Masekela — South African trumpeter, flugelhornist, cornetist, composer and singer. (4/12)
BeBe Winans — Perhaps the most famous male from the first family of gospel. (4/26)
LYRIC OPERA HOUSE
140 West Mount Royal Ave.
Baltimore
410-547-SEAT
lyricoperahouse.com
Brit Floyd — Billed as "the World's Greatest Pink Floyd Show." (4/13)
Beach House w/Lower Dens and Yo La Tengo (4/26)
Sarah Brightman — Dreamchaser World Tour. (9/20)
MERRIWEATHER POST PAVILION
10475 Little Patuxent Parkway
Columbia, Md.
800-551-SEAT
merriweathermusic.com
MC Rock Festival – Day One: W.A.S.P., Kix, Danger Danger, Bad Seed Rising (5/3); Day Two: Bret Michaels Band, Twisted Sister, Steel Panther. (5/4)
Sweetlife Festival – I.M.P. and sweetgreen present this third annual event featuring a stellar lineup, including Phoenix, Passion Pit, Kendrick Lamar, Yeah Yeah Yeahs, Gary Clark Jr., Solange and Holy Ghost! (5/11)
The Band Perry (5/18)
The National w/Dirty Projectors (6/6)
Capital Jazz Festival (6/7-9)
Of Monsters and Men (6/11)
The xx and Grizzly Bear — Two indie-rock hipster darlings, a British duo and a Brooklyn band led by gay Ed Droste. (6/16)
Alice Cooper, Marilyn Manson — A melding of two leading shock-metal minds. (6/17)
The Postal Service — Ah, the hippy-dippy electro-pop act is back. (6/18)
Vans Warped Tour (7/10)
Belle and Sebastian w/Yo La Tengo (7/12)
Phish (7/13-14)
Barenaked Ladies, Ben Folds Five, Guster — Last Summer on Earth Tour. (7/15)
FUN. w/Tegan and Sara — The incredibly gay-supportive straight pop act, with an opening set from the indie-pop lesbian sister act. (7/20)
The Lumineers (7/26)
O.A.R. (8/1)
Keith Urban (8/8)
Zac Brown Band (8/22)
Alan Jackson (9/6)
PATRIOT CENTER
George Mason University
4500 Patriot Circle
Fairfax
703-993-3000
patriotcenter.com
Sigur Ros – I.M.P. Presents the eccentric Icelandic electronic-rock band, led by the eccentric gay singer Jonsi. (3/24)
Green Day w/Best Coast – I.M.P. Presents a concert rescheduled after Billie Joe's breakdown and stint in rehab. (4/4)
Atoms for Peace — The electronic supergroup featuring Radiohead's Thom Yorke and Nigel Goodrich and Red Hot Chili Peppers's Flea. (9/30)
RAM'S HEAD CENTER STAGE
Maryland Live! Casino
7002 Arundel Mills Circle, No. 7777
Hanover, Md.
800-522-4700
marylandlivecasino.com
Blue Label (3/22)
Radio Graffiti (3/23)
Mister Wilson (3/30)
Satisfaction — A tribute band to, naturally, the Rolling Stones. (4/3)
No Green, Jellybeenz (4/5)
The VIPS (4/6)
Rusted Root (4/9)
Burnt Sienna (4/10)
Kristen and the Noise (4/11)
Starcrush (4/12)
Hot Tub Limo (4/13)
Randy Houser (4/17)
Rollerblades (4/19)
Crazy in Stereo (4/20)
Steal the Sky (4/26)
Chris Cagle (4/27)
Rick Springfield — Yes, in case you hadn't heard, the '80s pop heartthrob is back, though not as hot as he once was, in any sense. (5/9)
Lee Brice (5/15)
RAM'S HEAD LIVE
20 Market Place
Baltimore
410-244-1131
ramsheadlive.com
Aaron Lewis (3/22)
Wax (3/29)
Florida Georgia Line w/Old Southern Moonshine Revival (3/30)
Journey Tribute with Voyage Feat Hugo (4/5)
They Might Be Giants — "14 and Over," the billing states, a reminder that this is a tour in support of the band's recent rock album, not the children's music it had been making over the past decade. (4/6)
Volbeat (4/10)
Mindless Self Indulgence (4/11)
Locash Cowboys (4/12)
Crack The Sky (4/13)
Milkshake (4/14)
Hatebreed (4/17)
The Fight to Unite Tour featuring Kottonmouth Kings (4/18)
Clutch (4/20)
Delta Rae (4/21)
Sevendust & Coal Chamber (4/22)
R5 (4/25)
Dru Hill — A hometown show for the reunited hip-hop crew that includes Sisqo. (4/26)
Several Species: The Pink Floyd Experience (4/27)
School of Rock Showcase (4/28)
All That Remains (4/29)
The Connection Tour with Papa Roach (5/1)
Limp Bizkit (5/3)
Relient K w/Hellogoodbye (5/5)
Craig Morgan (5/10)
Crystal Castles — Eerie and hard electronica. (5/11)
Alkaline Trio (5/17)
Chris Hardwick (5/24)
Metric — The great Canadian electro-rock band that should be a bigger deal in the U.S. (6/7)
Foals (6/10)
Get The Led Out — A Led Zeppelin tribute band from Philadelphia, a regular act at Ram's Head Live. (6/22)
RAM'S HEAD ON STAGE
33 West St.
Annapolis
410-268-4545
ramsheadonstage.com
John Corbett Band (3/22)
Rasputina (3/23)
Shovels & Rope (3/23)
Gino Vannelli (3/24)
Kenny Wayne Shepherd (3/25-26)
Stick Men featuring Tony Levin, Pat Mastelotto & Markus Reuter (3/28)
Creed Bratton (3/29)
Suede — The lesbian cabaret artist returns to the area. (3/30)
The Crawdaddies (3/31)
Family of the Year and the Mowgli's (4/1)
Alice Smith — The great pop-soul singer and D.C. native is a must-see live. (4/2)
Paul and Storm (4/3)
Incognito w/Maysa (4/4-5)
HAPA – Direct from Hawaii, sounding just like you'd expect. (4/5)
Graham Parker & The Rumour (4/6)
Rachelle Ferrell (4/7)
Marc Broussard (4/8-9)
The Band of Heathens w/Whitehorse (4/10)
The Bad Plus — Lively, avant-garde jazz trio. (4/11)
Charles Bradley & His Extraordinaires w/Paul & The Tall Trees (4/12)
Over The Rhine w/Ben Sollee (4/13)
Brian Culbertson (4/14)
Jimmie Vaughan (4/15)
Robert Cray Band (4/16)
Dave Mason Unplugged (4/17-18)
America (4/19-20)
Willy Porter and Robbie Schaefer (4/21)
Billy Bragg (4/22)
Hem (4/23)
K's Choice (4/24)
Desert Rose Band (4/25)
Hotel California — A Salute to the Eagles. (4/26)
Junior Brown (4/27)
Tommy Roe (4/27-28)
Hiroshima (4/28)
Scott Kirby Band (4/29)
David Knopfler — Performing in an acoustic duo with Harry Bogdanovs. (4/30)
David Nail (5/1)
Fourplay (5/2-3)
Steve Tyrell (5/4)
Howie Day (5/5)
Carl Palmer's ELP Legacy (5/7)
Spin Doctors — The band still has a pocketful of kryptonite, with little miss fans that can't be wrong. (5/8)
Hayes Carll w/Warren Hood & The Goods (5/9)
Pat McGee (5/10-11)
The Nitty Gritty Dirt Band (5/12)
Chris Mann (5/13)
Tinsley Ellis (5/14)
Simon & Garfunkel Retrospective — Performed by A.J. Swearingen and Jonathan Beedle. (5/15)
Southern Culture on the Skids — An affectionate parody of "white-trash-trailer-park culture." (5/16)
Ashley Forrest (5/19)
Ana Popovic (5/19)
Toots & The Maytals (5/20, 5/29)
10,000 Maniacs (5/22-23)
James McCartney (5/24)
Bobby Caldwell (5/25)
The Steel Wheels (5/26)
Peter Tork — The former Monkee. (5/26)
Aaron Neville (5/28)
The Bacon Brothers — Yes, Kevin is in this band, along with his one-degree-of-separation sibling. (5/31-6/1)
Ottmar Liebert (6/2)
Southside Johnny & The Ashbury Jukes (6/7)
Bruce Robison & Kelly Willis (6/9)
Hot Tuna w/Jill Sobule — An acoustic set. (6/11)
Poncho Sanchez (6/12)
The Zombies (6/17)
Patterson Hood & The Downtown Rumblers (6/18)
Delbert McClinton (6/21)
Rahsaan Patterson (6/22)
Hey Marseilles (6/23)
7 Bridges — The ultimate Eagles experience, formerly known as Tequila Sunrise. (6/23)
Ronnie Laws & Tom Browne (6/30)
Samantha Crain (7/24)
Lake Street Drive (7/25)
Bob Schneider Band (7/28)
Dick Dale — "The King of Surf Guitar." (8/2)
Justin Hayward — The Moody Blues front man. (8/3)
Kris Kristofferson (8/5)
Arrival from Sweden: The Music of ABBA (8/6)
Bruce In The USA (8/9)
Restless Heart (8/10)
The Persuasions (9/5)
ROCK AND ROLL HOTEL
1353 H St. NE
202-388-ROCK
rockandrollhoteldc.com
Crash Boom Bang (3/22)
San Cisco, Chaos Chaos (3/23)
Spaceghostpurrp, Raider Klan (3/24)
Clairy Browne & The Bangin' Rackettes (3/25)
Phosphorescent, Strand of Oaks — Muchacho Tour 2013. (3/26)
Floor, True Head, Sick Fix (3/28)
Harmonic Blue, 93 Buick, Supermoon, Bunny with Clothes (3/29)
Black Clouds, Your Skull, Rosetta, Nothing (3/30)
L'il Dude Big Heart — A multi-act concert benefit for the Alden Rivera-Schaeff Foundation. (3/31)
On An On, Savoire Adore (4/4)
Lucky Dub, Nayas, Kickoman (4/5)
Another Brother (4/6)
The Cave Singers, Bleeding Rainbow (4/9)
Chad Valley, Ghost Beach (4/11)
Jamie Lidell, Empress of, Ludwig Persik (4/12)
Wavves (4/13)
The Appleseed Cast (4/15)
Generationals, Splashh (4/17)
METZ, Odonis Odonis (4/18)
Vietnam (4/19)
Laura Stevenson, Field Mouse, The Droids We're Looking For (4/20)
Born Ruffians — Eclectic rock. (4/21)
The Parlotones (4/22)
Lost In The Trees — A great North Carolina psych-folk ensemble. (4/23)
Jay Brannan — The caustic gay singer-songwriter, and Shortbus star, returns to Rock and Roll Hotel. (4/29)
Boris — From the Past, the Present and through to the Future. (5/1-2)
Danny Brown, Kitty (5/4)
Palma Violets (5/7)
The Veils (5/10)
Kvelertak (5/19)
BOYSETSFIRE (5/24)
Peace (6/6)
Sea Wolf (6/9)
ICEAGE (6/12)
SIGNATURE THEATRE
4200 Campbell Ave.
Arlington
703-820-9771
signature-theatre.org
The Lost Songs of Broadway: 1970s — Showcasing forgotten songs from Broadway. (5/29-6/1)
SIXTH & I HISTORIC SYNAGOGUE
600 I St. NW
202-408-3100
sixthandi.org
Stephane Wrembel and His Band – A gypsy jazz guitarist increasingly making his mark. (3/24)
Mika – Unfortunately, Mika's first-ever concert in Washington, billed "An Intimate Evening," is already sold out. (4/10)
Rhye – A male electronic-soul duo led by a singer who sings in a soft, feminine voice that has drawn comparison to Sade or Tracey Thorn. (4/18)
Deerhunter — American indie rock group based in Atlanta led by gay singer Bradford Cox. (4/22)
Jake Shimabukuro – Rolling Stone has called this ukulele wizard a musical "hero," and his mastery of the previously under-the-radar Hawaiian instrument has been compared to Jimi Hendrix on guitar or Miles Davis on saxophone. (4/23)
Miri Ben-Ari – A former student of classical master Isaac Stern, this Grammy-winning Israeli violinist is now known for her fusion of classical style with jazz and R&B, plus collaborations with everyone from Patti Labelle to Kanye West to Britney Spears. (4/27)
Mika Karni & Kol Dodi — A multi-country Jewish folk group. (5/1)
Ute Lemper – The famed German cabaret and jazz singer offers "Last Tango in Berlin: Songs by Weill, Piazzola, Piaf, Brel and more." (5/18)
THE STATE THEATRE
220 North Washington St.
Falls Church
703-237-0300
thestatetheatre.com
The John K Band — Featuring John Kadlecik of Furthur. (3/23)
The Legwarmers – "DC's Biggest 80s Retro Dance Party." (4/5-6)
The Legendary Rhythm and Blues Revue – Featuring Tommy Castro and the Painkillers, Deanna Bogart, Magic Dick and Ronnie Baker Brooks. (4/19)
Lez Zeppelin – The all-female Zeppelin tribute band, with members who, despite the name, are actually coy about their real sexual orientation. (4/27)
Roger Clyne & The Peacemakers (5/2)
The Machine Performs Pink Floyd – "The Ultimate Tribute to Pink Floyd." (5/4)
Sons of Bill (5/10)
Donna The Buffalo (5/11)
White Ford Bronco – "DC's All 90s Party Band." (6/1)
Tab Benoit and the Voice of the Wetlands All-Stars (6/2)
Here Come The Mummies (6/6)
STRATHMORE
5301 Tuckerman Lane
North Bethesda
301-581-5100
strathmore.org
Neil Berg's 101 Years of Broadway — A cast of five Broadway stars recreates moments form the greatest musicals of the century. (3/24, Music Center)
Integriti Reeves — Jazz vocalist offers a concert as part of her year as Strathmore's Artist in Residence. (3/27, Mansion)
Chuck Redd: Great Tunes from the Silver Screen (3/29, Mansion)
Emmylou Harris & Rodney Crowell and Richard Thompson Electric Trio (3/29, Music Center)
Beatlemania (3/30)
Second String Band and Naseem Khuri — A night of American folk, presented as part of the Friday Night Eclectic series. (4/5, Mansion)
Isabelle De Leon — Strathmore Artist in Residence fuses rock and jazz with her jazz combo, for which she is the drummer. (4/10, Mansion)
Diana Krall — Maybe contemporary jazz's most popular performer. (4/10, Music Center)
Memphis Gold and Bob Israel (4/12, Mansion)
Under the Streetlamp — A quartet of singers from the Chicago cast of Jersey Boys. (4/13, Music Center)
Julie Fowlis: Music of the Scottish Isles — Gaellic singer could become the next global breakout star, if her song from Pixar's new animated epic Brave catches on. (4/15, Mansion)
VOCA PEOPLE — Jimmy Fallon has called this off-Broadway show, which mixes flawlessly sung a cappella harmonies with amazing beat-box simulations of every kind of instrument, "the coolest show ever." (4/18, Music Center)
Gladys Knight — "The Empress of Soul." (4/25, Music Center)
The Sweater Set — Friday Night Eclectic concert and CD-release party. (4/26, Mansion)
Chelsey Green — Violinist and former Strathmore artist in residence crosses genres, from classical to jazz to hip-hop, creating a new groove. (5/2, Mansion)
Allison Miller's BOOM TIC BOOM — A jazz-festival favorite. (5/3, Mansion)
Daisy Castro — Strathmore artist in residence and young violinist steeped in gypsy jazz. (5/8, Mansion)
Bela Fleck and the Marcus Roberts Trio — The man nominated in more Grammy categories than anyone in history performs with a piano-led trio that also includes drummer Jason Marsalis and bassist Rodney Jordan. (5/10, Music Center)
Rickie Simpkins — Original and traditional melodies including elements of bluegrass, gospel and gypsy jazz. (5/29, Mansion)
Owen Danoff — Strathmore artist in residence channels Paul McCartney as a bassist-turned lead singer, with his band. (6/5, Mansion)
UkeFest 2013: Uke and Guitar Summit (8/10)
TWINS JAZZ
1344 U St. NW
202-234-0072
Kip Williams & BopNation (3/22-23)
Allen Jones Group (3/24)
Dan Wallace Quartet (3/27)
Sote Brazilian Jazz (3/28)
Sarah Hughes-Brad Linde Quartet (3/29-30)
Jeff Denson (4/2)
Melvin Jones (4/3-4)
Thad Wilson (4/5-6)
Trio Ode (4/7)
Lyle Link — Tuesdays in April.
Avi Wisnia (4/10)
Shayna Dulberger Quartet (4/11)
JS Williams (4/12-13)
Ravi Joseph Quartet (4/14)
Danny Fox Trio (4/17)
Upton Blues Band (4/18)
The Flail (4/19-20)
Jason Hammers (4/21)
Afroroots by Eme & Heteru (4/24)
Tim Green — "Songs From This Season." (4/26-27)
Kurtis Adams (4/28)
Tribecastan (5/1)
Emy Tseng (5/2)
Freddie Redd Quintet (5/3-4)
Bobby Muncy (5/5)
Gypsy Jazz — Every Tuesday in May.
Sean McCluskey (5/9)
Mars 4tet (5/10-11)
The Tuesday Project (5/12)
Larry Brown (5/15)
Charley Gerard Quintet (5/16)
Kenny Rittenhouse (5/17-18)
Swag Funk (5/19)
Dan Wallace, Cord Quartet (5/22)
Ben Redwine and the Samba Jazz Project (5/23)
Lafayette Gilchrist Trio (5/24-25)
The Young Black Mechanics (5/29)
Joe Brotherton Quintet (5/30)
Allyn Johnson Quartet (5/31-6/1)
Nick Finzer (6/2)
Redwine Jazz — Every Tuesday in June.
U STREET MUSIC HALL
1115A U ST. NW
202-588-1880
ustreetmusichall.com
Disclosure – Barely two years into their career, these two brothers offer a sleek, soulful style whose popularity is rising so quickly tickets are already sold out. (3/22)
Bliss: Local Techno Showcase (3/23)
BoomBox – Duo offers an unlikely blend of Muscle Shoals-style rock and blues with psychedelic rock and underground house. (3/24)
The Last Nouveau Riche (3/28)
Passafire (3/29)
Ryan Beatty (3/30)
jozif (3/30)
Robotic Pirate Monkey (3/31)
Flume — Quirky but tuneful variations on dubstep and hip-hop. (4/3)
Xkore, Subscape (4/4)
DC House Showcase (4/5)
Claude VonStroke (4/6)
Congorock (4/7)
The 2 Bears (4/10)
Goldroom (4/11)
Julio Bashmore (4/12)
Schematic (David Elkins of Mae) (4/14)
DC Disco Showcase w/Volta Bureau (4/17)
Matt Costa w/Vandaveer, The Blank Tapes (4/19)
Chopteeth AfroFunk Big Band — Strong local ensemble. (4/20)
Gary Beck (4/20)
Akron/Family (4/26)
Turquoise Jeep (4/27)
Tittsworth, Willy Joy (5/1)
Oberhofer (5/3)
Peter Murphy — Celebrating 35 years of Bauhaus. (5/4)
Duke Dumont (5/10)
International Soul Society Festival 2013 (5/11)
Youngblood Hawke (5/15)
Orchard Lounge (5/17)
Bliss w/Ellen Allien (5/25)
Charli XCX (6/3)
Ariel Pink (6/10)
Eleanor Friedberger (6/27)
VERIZON CENTER
601 F St. NW
202-628-3200
verizoncenter.com
Maroon 5 w/Neon Trees, Owl City — That's a lot of light and melodious dance-pop for one bill. (4/3)
Fleetwood Mac (4/9)
Alicia Keys — Set The World On Fire Tour. (4/14)
Rihanna w/ASAP Rocky — Shine bright like a diamond. (4/29)
Taylor Swift (5/11-12)
New Kids on the Block w/98 Degrees and Boyz II Men — I can just hear all the grown women and a few gay men screaming, reliving their adolescent crushes. (6/14)
Bruno Mars — The reliably great pop tunesmith moves up to headline stadiums. (6/22)
One Direction — I can just hear all the girls and a few gay men screaming at their adolescent crushes. (6/23)
Beyoncé — Mrs. Jay-Z will stop for two nights right here in D.C., while Mr. Beyoncé makes Washingtonians travel up I-95 to catch his double-bill show with Justin Timberlake at Baltimore's M&T Bank Stadium a week later. (7/29-30)
Justin Bieber — We hear it's unofficially known as "The Cry Me a River and Go Bazonkers Tour." (8/3)
WARNER THEATRE
513 13th St. NW
202-397-SEAT
warnertheatre.com
Swim Deep + Shark Week — Two up-and-coming bands, including the D.C.-based Shark Week, perform in the Warner's lobby, of all places. (3/21)
Keyshia Cole — The underrated R&B singer returns. (3/30)
Great Big Sea – Canadian folk band. (4/17)
Faith Evans & Chico DeBarge (4/18)
Esperanza Spalding (4/22)
WASHINGTON WOMEN IN JAZZ FESTIVAL
Shannon Gunn and the Bullettes — An all-female big band. (3/22, Westminster Church)
Young Artist Contest featuring WSG 2010 Concert Winner Danielle Wertz (3/23, HR-57)
Jessica Boykin-Settles: "Look What I Got: The Magic and Artistry of Betty Carter" (3/24, Smithsonian Anacostia Community Museum)
Janel Leppin — Transparent Productions presents new works by this cellist and composer. (3/24, Bohemian Caverns)
Leigh Pilzer — "Introduction to the Great Women of Jazz." (3/26, the Hill Center)
Geri Allen — Legendary jazz pianist offers a concert as the festival finale. (3/27, Atlas)
WOLF TRAP
1645 Trap Road
Vienna
703-255-1900
wolf-trap.org
Widepsread Panic — A Grateful Dead and Allman Brothers-inspired Southern soul-pop symphony. (6/5)
Indigo Girls and Joan Baez — A night of compelling, socially conscious folk from the unparalleled harmonizing lesbian duo and a genre pioneer. (6/12)
The Go-Go's — The '80s-era girl group's still got the beat, as they prove every year at Wolf Trap. (6/13)
Celtic Woman — Emerald Isle female foursome billed as "Riverdance for the voice." (6/14)
Melissa Etheridge — The leading lesbian of rock returns to Wolf Trap. (6/18)
Juanes — Latin music's "Star of the Decade," according to Billboard, and every bit as famous as that other Colombian rock export whose hips don't lie. (6/19)
The Tenors — A Canadian foursome offers powerful pop ballads. (6/21)
The Turtles & Co.: Happy Together Tour 2013 — Relive hits from the '60s and '70s with musicians from bands including Three Dog Night, Gary Puckett & The Union Gap, Paul Revere and the Raiders and Gary Lewis & The Playboys. (6/23)
Steve Martin & The Steep Canyon Rangers (6/24)
The Temptations and The Four Tops — Baby, these Motown greats still need your loving, and they ain't too proud to beg or return for another year. (6/27)
Anita Baker — Caught up in the rapture of this R&B icon with an incredible vocal range. (6/29)
Straight No Chaser — A cappella innovators harmonize through an upbeat, eclectic songbook. (6/30)
Doobie Brothers (7/6)
Los Lobos and Los Lonely Boys — Los los bos boys, and fun for everyone who loves blues rock and Mexican folk. (7/9)
She & Him — The "She" is Zooey Deschanel, the "Him" is indie-rock darling M. Ward, and together they offer sparse retro-pop tunes. (6/24)
Michael McDonald and Boz Scaggs — A night of blue-eyed soul. (7/14)
Jethro Tull's Ian Anderson — Rock's reigning flutist performing his '70s-era masterpieces. (7/16)
The Ultimate Doo-Wop Show (7/20)
Frankie Valli & The Four Seasons — A second night of doo-wop classics, this time from the original Jersey Boys. (7/21)
Steve Miller Band — Fly like an eagle. (7/23)
Gordon Lightfoot — If you could read this Canadian folkie's mind…. (7/25)
Gipsy Kings — World music superstars return for an annual gig at Wolf Trap. (8/8)
Don McLean and Judy Collins — Two legendary singer/songwriters showcase their artistry. (8/9)
Mary Chapin Carpenter and Shawn Colvin — Virginia native Carpenter makes her annual trek to Wolf Trap, this time collaborating with the "Sonny Came Home" singer. (8/10)
Peter Frampton and B.B. King (8/11)
Huey Lewis & The News — It's hip to be square. (8/13)
Josh Groban (8/16)
ABBA – The Concert — Tribute band to the world's great pop ensemble. (8/17)
Chicago — Horn-driven icons of American music. (8/19)
Pat Benatar and Neil Giraldo with Cheap Trick (8/20)
Jennifer Holliday in Dreamgirls — And I'm telling you, oh yes, the original Effie White is reprising her Tony-winning role. (8/22)
Lyle Lovett and His Large Band (8/29)