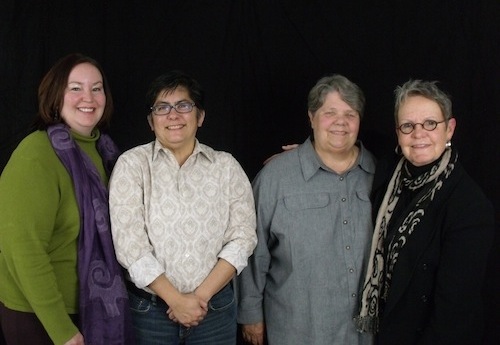 The saga surrounding New Mexico's ambiguous marriage laws continued today as two same-sex couples filed a lawsuit after they were denied marriage licenses by the Bernalillo County clerk.
Because neither the New Mexico Constitution nor state marriage laws explicitly ban same-sex marriage, the lawsuit argues it is unlawful for county clerks to deny civil marriage licenses to same-sex couples.
The lawsuit filed in Albuquerque's district court today comes after Santa Fe Mayor David Coss and City Councilor Patti Bushee announced Tuesday, March 19, that they are sponsoring a resolution calling on county clerks across the state to begin issuing marriage licenses to same-sex couples. The resolution introduced earlier this week mirrors the main arguments of today's lawsuit, stating that because New Mexico marriage laws are gender-neutral, that same-sex marriages performed in other states are already recognized in New Mexico, and that the New Mexico Constitution provides for equal protection, same-sex couples have a right to marry in the state.
According to the complaint, couples Miriam Rand, 63, and Ona Porter, 66, along with Rose Griego, 47, and Kim Kiel, 44, attempted to test that call for equality earlier today in the clerk's office for Bernalillo County but were denied marriage licenses.
"Ona and I have been together for over 25 years," Rand said in a statement. "Together, we raised children, we took care of our mothers when they were dying and are currently raising our granddaughter. We are family; we love and care for one another through good times and bad. We want our community to recognize our love and commitment for what it is: a marriage."
The lawsuit was filed on behalf of the couples by the American Civil Liberties Union (ACLU); the ACLU of New Mexico; the National Center for Lesbian Rights (NCLR); the Albuquerque law firm Sutin, Thayer & Browne, APC; and local cooperating attorneys Maureen Sanders, Lynn Perls and Kate Girard.
"The time has come for New Mexico to treat same-sex couples with the same dignity and respect we afford opposite-sex couples," Laura Schauer Ives, legal director of the ACLU of New Mexico, said in a statement today. "This means allowing loving, committed same-sex couples the freedom to marry. We believe that the New Mexico Constitution guarantees same-sex couples this freedom. Today we ask the courts to clarify and confirm that same-sex couples may seek happiness and protect their families within the institution of civil marriage in New Mexico."
New Mexico is the only state in the union that does not recognize nor prohibit recognition of same-sex marriages. Today's lawsuit is the latest in a history of challenges to New Mexico's ambiguous marriage laws and comes as the Supreme Court is poised to hear arguments in two landmark marriage-equality cases next week. On Feb. 20, 2004, the clerk in Sandoval County, N.M., issued marriage licenses to 64 same-sex couples before ordered to stop by the state attorney general. Since that decision, county clerks have not issued marriage licenses to same-sex couples.
"I would love to be able to issue marriage licenses [to same-sex couples], but under the current law, I feel I'm not free and clear to do so," Santa Fe County Clerk Geraldine Salazar told The New Mexican after city officials introduced their resolution earlier this week. "The Legislature creates the laws and the judges interpret the laws, and I, as a county clerk, do not create or interpret laws. And I feel that my oath of office does not allow me to act counter to the laws of New Mexico."
[Photo: The plaintiffs Kim Kiel (left), Rose Griego, Miriam Rand and Ona Porter (Courtesy of ACLU New Mexico).]
Read the lawsuit here: