Springtime is not just about blooming flowers. With school graduations, there is also something of the bloom of youth in the air. With Metro Weekly, in particular, that means the Next Generations Awards, which honor D.C.-area LGBT activists, artists and leaders younger than 30.
With the very start of spring comes the opening of the nomination period for the awards, running through Friday, April 5, with winners named in the May 9 issue of Metro Weekly and celebrated at a reception that evening.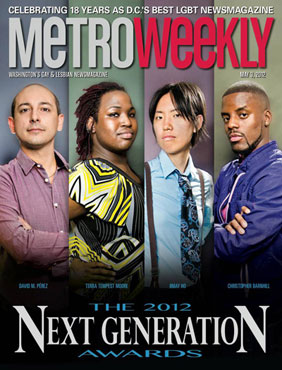 "This is a milestone year for the Next Generation Awards as we celebrate our fifth year of honoring young LGBT people," Metro Weekly co-publisher Sean Bugg said in a statement announcing the nomination period. "Looking back at the Next Generation honorees from the past four years and what they have accomplished makes it even more exciting looking forward to this year's winners."
One such honoree is Brian Watson, who was part of 2009's first group of Next Generation awardees.
"It means a lot," Watson says of the award. Serving as director of programs at Transgender Health Empowerment – and the person who runs THE's Wanda Alston House, the city's only transitional housing dedicated to LGBT youth – Watson has unique interaction with LGBT young people in D.C. "It's really important to encourage young people, to say, 'We see what you're doing and it's appreciated."'
To choose the rising stars for this special distinction, a variety of community leaders work independently, vetting all the nominees. While this year's judges have not yet been finalized, confirmed members of the panel include Allyson Robinson, executive director of OutServe-SLDN; and Paul Smith, partner in Jenner & Block LLP, who, with Lambda Legal, argued in Lawrence v. Texas, the 2003 Supreme Court case declaring sodomy laws illegal. Past judges have included Amy Austin, publisher of the City Paper; Cuc Vu, chief diversity officer at the Human Rights Campaign; and Ron Simmons, executive director of Us Helping Us.
To those young people who will join the Next Generation ranks in May, Watson suggests they use the award as a "stepping stone" to further achievements. He adds, however, that they should, in spring's floral fashion, stop and smell the proverbial roses. "They should use this as an opportunity to celebrate themselves."
Nominations for the 2013 Next Generation Awards may be submitted through Friday, April 5, online at MetroWeekly.com/nextgeneration.